More Summer Showcase Spotlights
Posted
11 months 1 week ago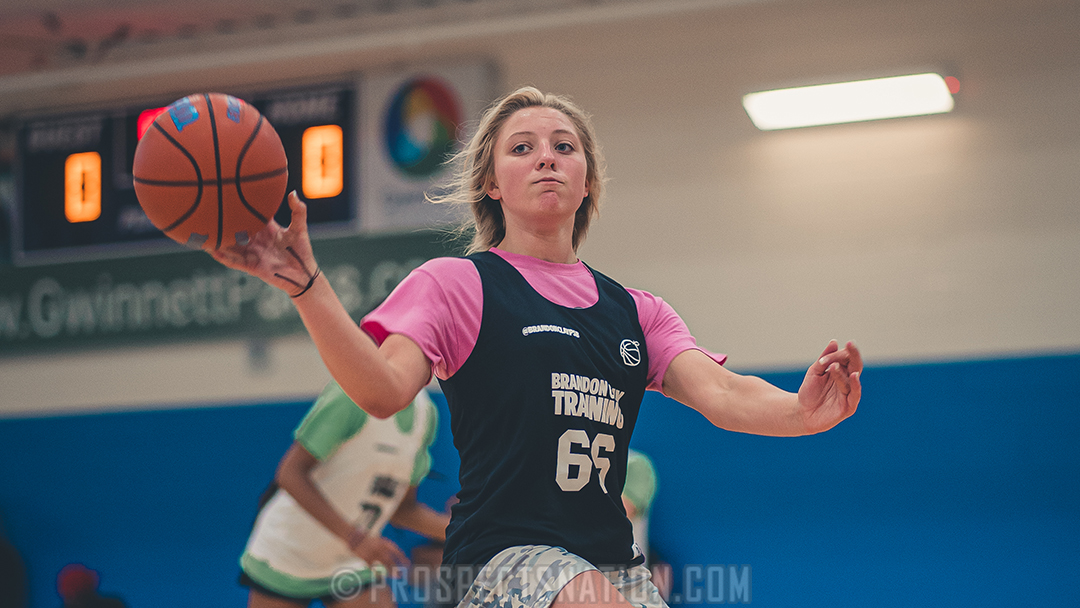 Gabby Spink of Haubstadt, Indiana, is a rising sophomore who made the trip to Greater Atlanta to train. *Photo by Anthony Lugardo.
BUFORD, Georgia – The Brandon Clay Summer Showcase allowed some of the nation's elite prospects to take center stage going into the month of June. We offered a spotlight training session ahead of the start of the sessions. Here are the latest takeaways from that workout:
Regarded as one of the nation's premier prospects in the rising junior class, Strong can consistently shoot the 3-pointer with a clean flick of the wrist. She has great size with elite skill at the wing position. In that regard, Strong is the perfect modern day front court player with the ability to switch any screen or handoff action.
Kalia Green (McDonough, Georgia), Eagle's Landing -- 2023
Green is a good athlete who will keep growing as she tightens her skill set toolbox. The physical tools are there for her to be a next level college prospect. For the time being, sharpening the footwork on Green's jump shot is crucial.

Spink's game is largely predicated on her ability to get downhill off the bounce. She plays extremely hard on both ends of the floor. Spink's jumper is rounding into an impressive weapon as well. She gets it done using her deceptive athleticism and can improve by continuing to space the floor using the 3. We'll see Spink at the Brandon Clay Summer Invite Midwest and Elite 32 this July.
Before leaving the states to suit up for the 20-and-Under Swedish National Team, Collins came in to sharpen her skill one more time with our staff. Collins will be the youngest on a roster full of current college players and pros but has the moxie to fit right in. She is getting downhill seemingly at will and defending well on the ball too. Like Spink, Collins will be with us the back half of July at the Brandon Clay Summer Invite South and Elite 32.

Clay is the owner of the JumpOffPlus.com International Scouting Report, PeachStateBasketball.com and ProspectsNation.com. He can be reached at brandon@prospectsnation.com.