Posted
1 year 5 months ago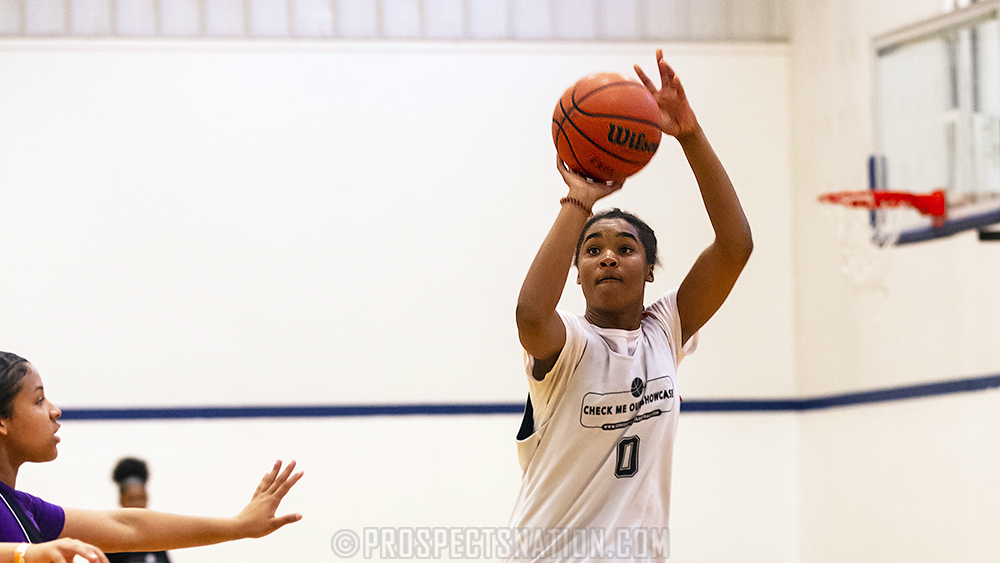 Dee Anderson of Cincinnati, Ohio, elevates for a jumper at the 2022 Check Me Out Indy Showcase. *Photo by David Duke.
NOBLESVILLE, Indiana – The 2022 Check Me Out Showcase camp tour, hosted by Elite Is Earned Basketball, is off and running. This past weekend the event made its first ever trip to the Hoosier State, drawing talent from nine different states.
The field was loaded with players in the conversation at the tops of their respective classes but beyond those players, the depth of talent and locked in focus, top to bottom, created a truly elite environment. Here's a second look from a loaded weekend.
Anderson had a phenomenal weekend, as was expected as her name comes up in discussions for No. 1 in the class. Her feel for the game on the offensive end was next level. She sliced through help side and found scoring angles. She's working on expanding her range and a miss did not deter her from taking the next shot if it was in rhythm. She competed hard throughout the weekend in whatever was thrown her way.
We just saw Macy a week earlier at USA Basketball U17 national team trials. Here in Indy the level of competition was really similar and Macy was thriving. She didn't back down from any matchup and showed her versatility as a player who can be a force around the basket and step away and knock down shots. Her energy and confidence were all the way up and that's a great way to start the summer.
Spreen has been on the radar for such a long time its hard for her to show you something new. Instead she continues to double-down on what has made her successful throughout her career, combining toughness and ball skill. She had to guard players half a foot taller than her often and never backed down. Her slashing and attacking style of play was fun to watch and her competitiveness was contagious on her teams on Sunday.
Lampley may have been one of the younger kids in the camp but you wouldn't know that walking in the gym. Her build and athleticism jump out immediately but it's how she uses it that has her on a sky high trajectory. She's a matchup nightmare given her physical traits and her ball skill. She found matchups to make her presence felt but what was even more telling is there were no DTM moments (doing too much). With four full summers ahead of her… look out.
Koch has been in the gym with us before and whether its innate confidence or being comfortable in a camp environment, she got the most out of her time. She's fearless on the floor and because she wasn't afraid to make mistakes she made some of the nicest passes in game play of anyone. For such a young kid to see the cuts her teammates are making before they happen is impressive and something that will only benefit her more as she gets stronger.
Williams has been on the floor with us several times over her high school career. She's a smooth operator at guard with good size and length. It's her fluid athleticism that fools you and schools you. She's a player that never appears to be at full throttle but somehow has no problems getting to her spots, jumping passing lanes or getting to the rim. Her growth in being a communicator on the floor shows that she has next
AROUND THE RIM
Riley Schellhammer of Fishers, Indiana, is just getting started. The 5-7 guard in the 2028 class has a really solid skill set at an early age to go with elite speed.
Xamiya Walton of Chicago, Illinois, is a crafty guard who plays with a lot of confidence. She also has the one skill that always translates to the next level, deep range. Her offers have been rolling in this early summer and we got to see why.
Her younger sister, Xyanna Walton, made the trip and while they're very different in build and style, they both compete hard. Xyanna is pushing close to 6-0, was willing to mix it up inside and be physical on the drive.
Speaking of sister acts, Caroline and Grayson Guy made the trip from Petoskey, Michigan, and both were ready to roll, front of the line with great energy. The big guards attacked all the skill work. Caroline showed great touch and Grayson can be a force with elite size.
Keep an eye out for Cianna Cunningham of Fishers, Indiana. The 2028 point guard can play fast and make plays in traffic already.
Lazaviona Hawkins of Hendersonville, Tennessee, is a 5-5 point guard in the 2025 class with a lot of upside. She was comfortable with the ball in her hands creating.
Atylia Green of Henderson, Kentucky, did a lot of good things. She's a strong guard who showed the ability to take contact and still finish in the air.
Another youngster to keep an eye on going forward is Haylee Noel of Union, Kentucky. The WV Thunder swing player has size and ball skill to be a matchup problem, especially in the 2027 class.
Natalia Franklin of Indianapolis, Indiana, is an intruiging prospect. She's got versatility in her game and at 6-1 she can be utilized in several positions on the floor.
Kennedy Johnson-Corley of Goodletsville, Tennessee, a 2023 to see this summer if you like long guards. The 5-11 prospect gets by her defender with a fantastic first step and her length really comes into play getting to her finishes.

Chris Hansen is managing editor of ProspectsNation.com and serves on the McDonald's All-American and Naismith Trophy selection committees. He was a co-founder of and the national director of scouting for ESPN HoopGurlz from 2005 until 2012 and is the director of the Check Me Out Showcase and ELITE is EARNED events. He can be reached at chris@prospectsnation.com.