More CMO All-American Spotlights
Posted
9 months 4 days ago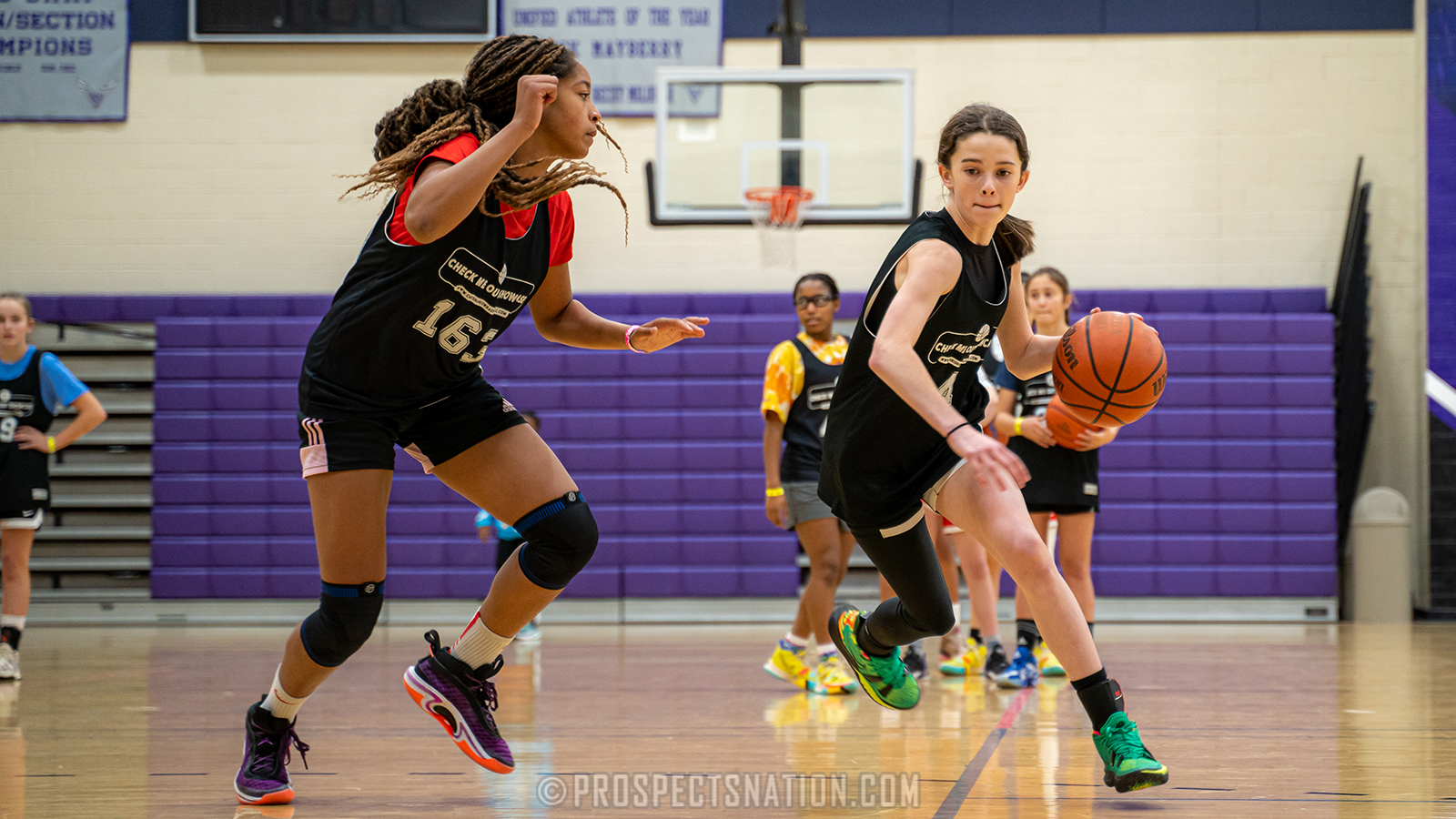 Kenzie Koch of Greenfield, Indiana, travelled to Arizona for the Check Me Out Middle School All-American Camp. *Photo by Anthony Lugardo.
SURPRISE, Arizona -- The Check Me Out Showcase circuit added an All-American Camp for Middle School players to take center stage. Brandon Clay Training joined the mix and offered a spotlight training session ahead of Sunday's camp. Here are the first takewaway from that workout.
Brandt has a quiet confidence about her entire game that extends to her shooting mechanics. Her shot is compact in motion with little wasted effort to get from pocket to release point. That should serve her well. In that regard, Brandt's next step reminds me of former camper Malia Smith where becoming more vocal will level her game up.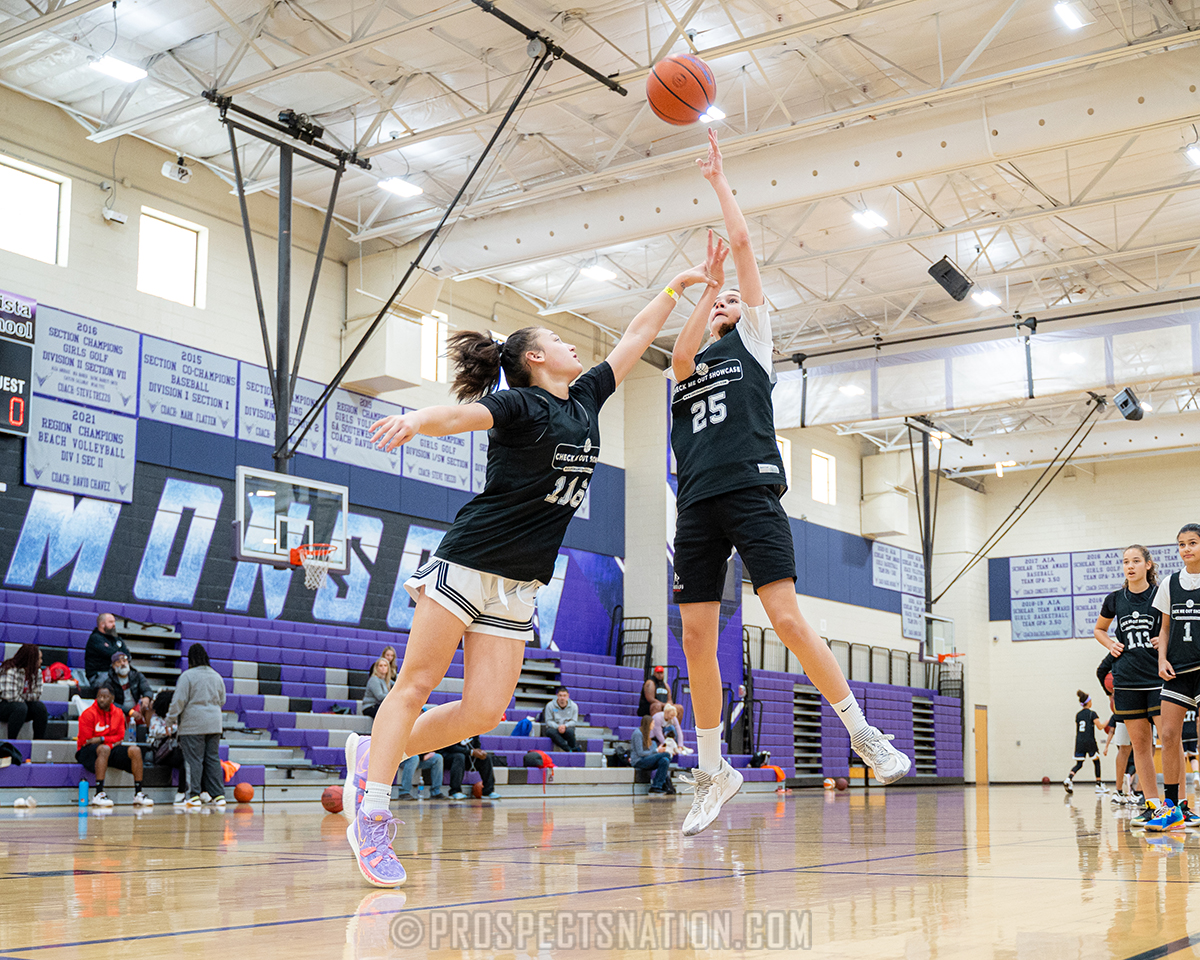 Finely Chastain of Celina, Texas, floats it over Brooklyn
Haywood of Vancouver, Washington. *Photo by
Anthony Lugardo.Chastain has been in the gym with me for multiple sessions now. Her footwork is crisp with her left hand finishing tall on her shot. Chastain has shown real progress from our session in Austin with keeping her shooting pocket if front of her body. Next will be ensuring that she doesn't try to aim the shot but just lets it go consistently instead.
Brooklynn Haywood (Vancouver, Washington), Home School – 2026
Haywood has a fantastic work ethic inside of drill work and gameplay. During the session, she did a really good job of making sure that her wrist snapped on every shot. Making sure that she doesn't fade at the end of her release especially from beyond the 3-point line is key.
Kayli Kellogg (Nacodoches, Texas), Central Heights – 2027
Kellogg is a smooth option in the backcourt who showed here that she can let it fly from the outside. She also has the skill set to make quality reads on where and when to take her shots. When Kellogg doesn't leave her release early, she makes more shots than she misses. Combine that with her high IQ and the future of her game is bright.
Koch shot pocket and follow through are much improved from our training session at the Indianapolis Academy in September. She can shoot it from the outside with balanced feet. As Koch grows and fills out, she too should become more vocal.
Stella Kott (Kirkland, Washington), Kirkland MS – 2028
Kott is a guard whose slender frame gives her plenty of upside. She showed the aptitude to understand the difference in a good shot and a bad one. In time, Kott will be more vocal and assertive on the floor. For now, she can build by not fading on her jumper.
Haylee Sweet (Des Moines, Washington), Sylvester – 2028
Sweet's shot mechanics improved in just an hour of shooting drills. Watching her take coaching and instruction in at a quick pace makes me believe that she can be a good shooter with time and reps. One of the younger guards that I worked with, Sweet will be one to track over the next several years.
Venable has a solid foundation to her outside shooting. She got more comfortable and louder as the session went on. She's got a smooth release capable of serving as a shot maker from beyond the 3-point line. Increasing her confidence to shoot when she has space is a major key.

Brandon Clay serves as the Director of Scouting for ProspectsNation.com and owns The BrandonClayScouting.com Evaluation Report, which is read by more than 200 colleges and universities nationwide. He also serves as the Executive Skills Director for the Brandon Clay Scouting Academy Series.