Minnesota Hosts Midwest's Best
Posted
4 years 11 months ago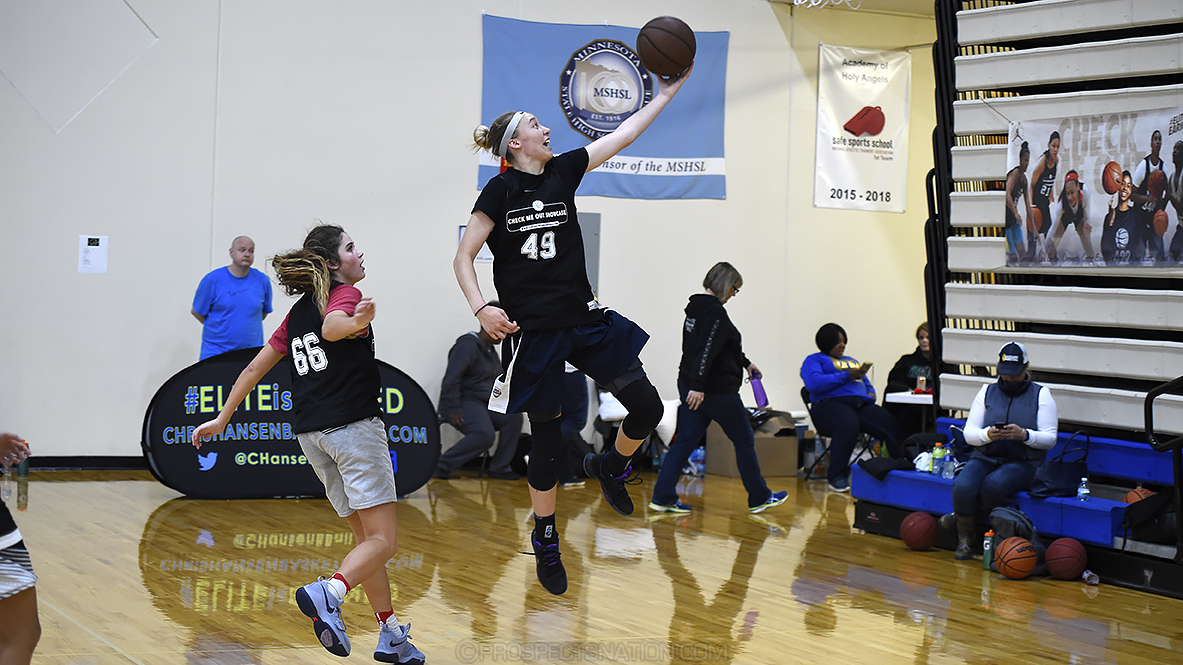 Paige Bueckers, one of the top guards in the country, extends for a bucket in the 2017 Check Me Out Midwest Showcase in Minneapolis. *Photo by Rob Kinslow.
MINNEAPOLIS, Minnesota – Check Me Out Minnesota has become an annual stop on the calendar with some of the best prospects from throughout the Midwest in attendance. This year we saw players from Minnesota, Iowa, Illinois, Utah, Colorado, California, Wisconsin, and Kansas spend the weekend with the Check Me Out staff. Here is a look at just a few of the standout performers from a busy weekend in the Midwest.
Standout Players
Throughout her prep career, Young has developed a reputation as one of the premier playmakers in the country. She is a naturally gifted passer who will set up teammates in both the halfcourt as well as in transition. This weekend we saw Young show signs of adding another dimension to her game as she consistently connected on perimeter jumpers. As the Maryland commit continues to develop and prepare for the college level, becoming a consistent perimeter shooter will be key. This weekend we saw Young show signs of development in that area.
Bueckers is developing into a dynamic, playmaking guard who can be a threat as a passer and as a perimeter scorer. The 5-foot-10 guard plays at her own pace and doesn't allow defenders to speed her up or affect her ability to dictate the game. Bueckers has a midrange game that allows her to keep defenders off balance and her ability to pass the ball with either hand is impressive for a player her age.
Carr is committed to play at Kansas State next season and this weekend we saw what the Big 12 will get to see for years to come. Carr is a classic scoring guard. She has deep perimeter shooting range, she understands how to use her body to create space, keeps defenders off of her, and she can get her shot off in tight spaces.
Martin is a crafty scorer with the ability to play on or off the ball offensively. She is the kind of wing who can thrive playing in space, playing in transition, or using screens in the halfcourt. With a strong perimeter jumper and elite size for the perimeter positions, Martin can be a tough match-up in a Power 5 conference.
Breakout Performers
Maura Singer (Littleton, Colorado) Columbine High School - 2019
Singer is a stretch four who brings athleticism and offensive versatility to a line-up. At 6-foot-3 she has excellent mobility and showed comfort facing the rim with the ball in her hands while also being able to score over smaller defenders in the post.
Addie Budnik (Highland Park, Illinois) Highland Park High School - 2020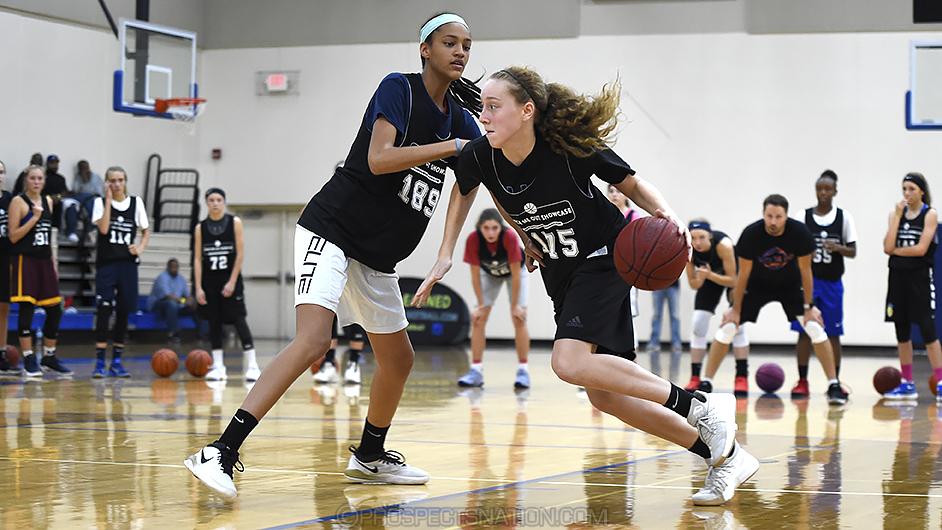 Addie Budnik of Highland Park, Illinois attacks at her
second Check Me Out Showcase. *Photo by
Chris Hansen.Budnik brings size and versatility to the forward positions. Budnik has a strong foundation of perimeter skills and can cause match-up issues playing as a stretch four or a big wing. Her length and fluidity help keep defenders off balance.
McKenna Hofschild (Prior Lake) Prior Lake High School - 2019
There aren't too many point guards who can run a team, create shots for others, and still contribute as a scorer as well as Hofschild can. She brings her style and confidence to any team and is one of those teammates that other players will enjoy playing with because she will always find the open person.
Ysareia Chevre (Oakdale, Minnesota) Tartan High School - 2020
Chevre is a well-rounded forward who brings toughness, playmaking, and rebounding to the floor. Defensively she will be able to guard multiple positions at a high level while offensively she is a tough, physical match-up who finishes well around the rim.
Around The Rim
Over the last few years, have had the chance to watch class of 2022 guard Ava Berg in multiple settings. This weekend we saw her show comfort shooting the ball from the perimeter and making plays as a help defender.
Lauren Frost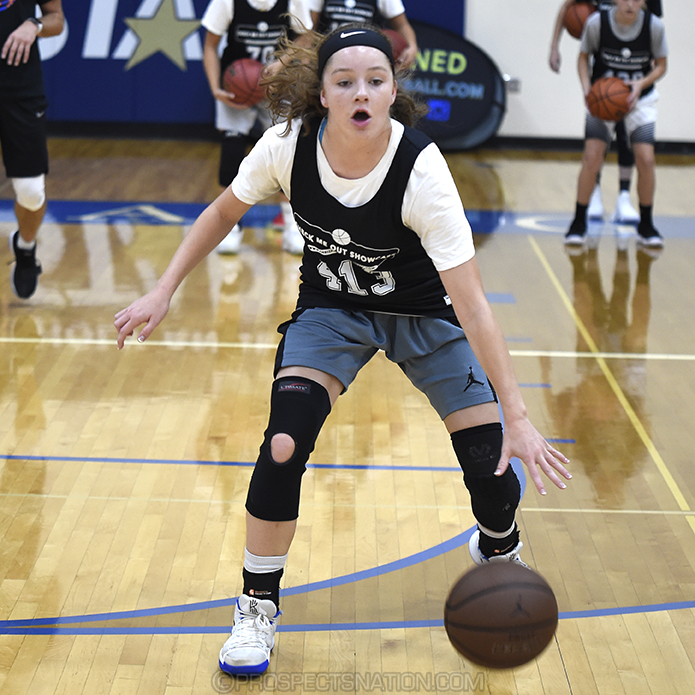 Lauren Frost has the handle and playmaking
ability to make things happen. *Photo by
Rob Kinslowis a class of 2020 guard who turned heads this weekend. She is a guard who can make shots from the perimeter, both off the catch and the bounce.
Class of 2020 wing Halle Douglass was active this weekend making plays as on both sides of the ball. Her ability to make open shots and hustle plays will take her a long way.
Kaylee Van Eps is a player to watch in the 2021 class. She is a strong perimeter shooter who has added to her game and is starting to show comfort handling the ball and acting as a playmaker.
Azsha Michael made her presence known on both sides of the ball this weekend. She is an uncommitted 2018 who can score in the paint, make a spot up jumper and guard multiple positions on defense.
#CheckMeOutNation
Yes @paigebueckers1 can score but the reason she is in the convo for #1 player in 2020 is everything else!#ELITEisEARNED pic.twitter.com/z8ydkGISLZ

— Chris Hansen (@ChrisHansenPSB) October 8, 2017
#CheckMeOutNation #Minnesota

Imani Perez (2022) has been a force on defense and on the glass! #EliteisEarned pic.twitter.com/5k2CttyxJw

— ELITE is EARNED (@ELITEisEARNED) October 8, 2017
#CheckMeOutNATION #Minnesota

Been super impressed with @jaylareliford today. Great instincts and goes hard on both ends of the court. pic.twitter.com/w5uJSDX5lJ

— Chris Hansen (@ChrisHansenPSB) October 7, 2017
Keil Moore is the Director of Scouting for the JumpOffPlus.com National Scouting Report and international scouting report. He serves on the Naismith Trophy Board of Selectors and has been a member of the women's basketball community for more than eight years as a trainer and evaluator. He can be reached at keil@prospectsnation.com.