May Day Challenge Day One Standouts
Posted
7 years 1 month ago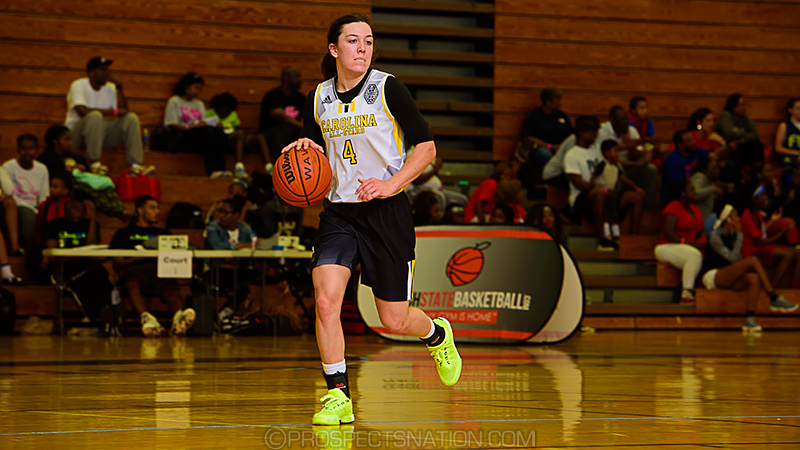 Kelly Fitzgerald was in command at the point guard position, elevating her stock. *Photo by Ty Freeman.
LAWRENCEVILLE, Ga., - The PSB May Day Challenge began the three-day event on Friday night. Although outside of the NCAA viewing period for college coaches, teams and players received extensive media coverage and attention during game play. Here is a recap of the standout performers from day one.
Elizabeth Dixon (Germantown, Tenn.), - Ridgeway High School – 2018
Dixon has made the most significant leap in the past 12 months. She is a paint protector standing 6 feet 4 inches. Her ability to swat shots from the paint makes her an interior player that can anchor a team's defense consistently. However, her athleticism gives her versatility to play at the top of a press or finish in transition. She showed skill on the offensive end as she is a threat to hit the pick and pop jumper or finish in traffic in the lane. Dixon has interest from dozens of schools nationwide after her spring performances. She is an ELITE 100 watch list player following her performance this weekend at the May Day Challenge.
#PSBMayDay
Liz Dixon finished w/ 21 & is in the ELITE conversation. #EBASuper64 invite

INFOhttps://t.co/rCZ7KQhmFB pic.twitter.com/wIwyByNkKj

— Jonathan Hemingway (@JLHemingwayPSB) May 7, 2016
Brooke Moore (McDonough, Ga.), - Henry High School – 2018
Moore made a statement as one of the region's top shooters at the May Day Classic. Her ability to get her shot off quickly with accuracy makes her an impact player on Alfred Motton's FBC team. Range and degree of difficulty are not a concern for the 5-8 shooting guard. Combine that with the fact that she has supreme confidence in her shooting abilities and Moore is a threat to score double digits on each outing.
Latrice Perkins (Statham, Ga.), - Winder Barrow High School – 2018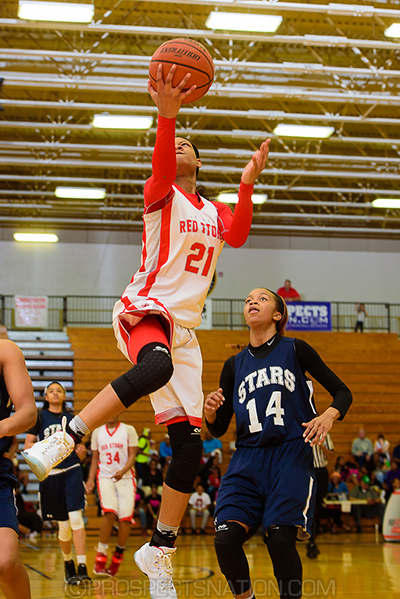 Latrice Perkins of Statham, Ga.
*Photo by Ty FreemanWe have watched the Georgia Red Storm multiple times this spring and have been impressed with the growth of Perkins, a 5-11 guard. The rangy wing specializes at slashing to the rim but uses her length well on the defensive end too. She has the versatility to defend multiple positions on the court. What she showed this weekend was consistency to produce on both ends of the court.
AROUND THE RIM

Kelly Fitzgerald of Apex, N.C., is establishing herself as a premier point guard in the southeast region. A class of 2017 prospect, Fitzgerald has showcased the skill to control tempo for Carolina All Stars Norwood, a PSBFamily member.
Class of 2018 guard Lexius Jeffcoat of Evans, Ga., has the ability to make things happen with the ball in her hands. Like Fitzgerald, Jeffcoat has an invite to Super 64 Camp in June.
Class of 2017 guard Taylor Mason of Ga., is a tough matchup at the guard position. Mason is a strong framed option who can finish at the rim and hit the open jump shot for PSBFamily member Team Elite Pointer EYBL.
Class of 2018 guard Robyn Benton of Conyers, Ga., has improved her game leaps and bounds. Her entire arsenal was on display this weekend as she made an impact for PSBFamily member, Team ELITE Hubbard EYBL.
Jonathan Hemingway is the Assistant Director of Scouting for the JumpOffPlus.com National Scouting Report, is on the Naismith Trophy Board of Selectors and owns CoachHemi.com, the go-to source for coaches for X's and O's. He is the floor director of #TeamEBA camps, a site director for #TeamPSB tournaments and can be reached at jonathanhemingway@peachstatebasketball.com.
Brandon Clay serves as the WNBA Director of Scouting for ProspectsNation.com and owns The JumpOffPlus.com International Report, which is picked up by more than 150 colleges and universities nationwide. He serves as the Executive Camp Director for the Elite Basketball Academy Camps. He serves on the Naismith Trophy Men's / Women's College Player of the Year Academy and is chairman of the HS Boys / Girls Board of Selectors and is on the McDonald's All-American Selection Committee. He also is the publisher of PSBPopCulture.com.