Posted
2 years 7 months ago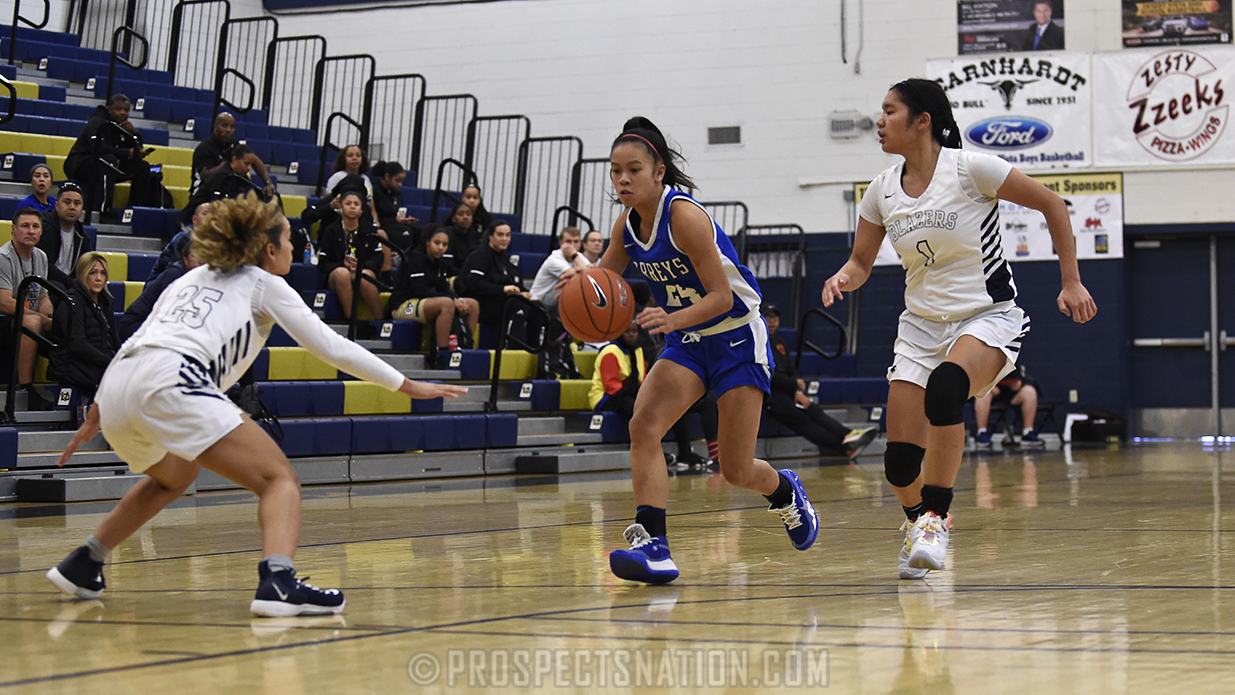 In a game full of stars it was Jazzy Anousinh of La Jolla Country Day that made huge plays down the stretch. *Photo by Chris Hansen.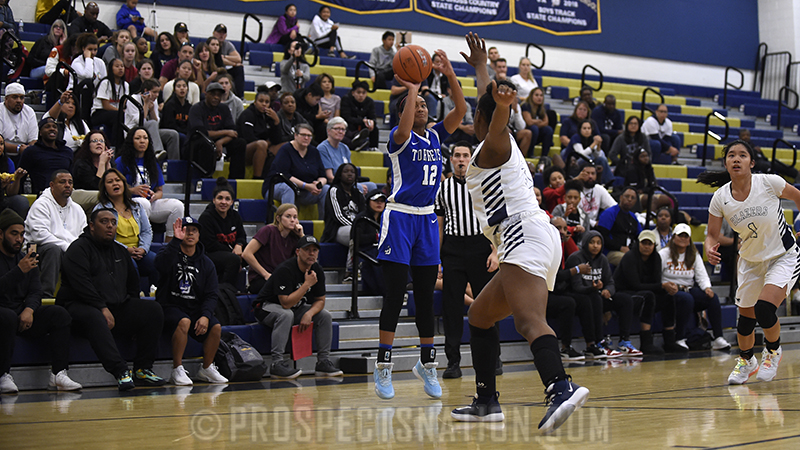 Tehina PaoPao gets a rare clean look against Sierra
Canyon. *Photo by Chris Hansen.PHOENIX, Arizona – The 2019 Nike Tournament of Champions concluded with epic battle of Southern California powers going down to the wire. With standout high school players who have already punched their tickets to college, such as Oregon-bound Tehina Paopao, Duke-bound Vanessa DeJesus, Texas-bound Ashley Chevalier and Boise State-bound Alexis Mark, it was a diminutive point guard, Jazzy Anousinh of La Jolla Country Day that stole the headlines.
With Sierra Canyon's defense keying on Paopao and freshman sensation Breya Cunningham, Anounsinh, the team's rock solid point guard, called set after set to get her teammates open. But the Sierra Canyon defense was stifling, leaving the heady 5-7 senior to make a play herself. She went to her go to move, her floater, to give LJCD the lead in the final minute. Sierra Canyon responded and with seconds to go Anousnh got into the lane again and sunk another floater in what would be the game winning bucket with LJCD winning 44-43.
STANDOUTS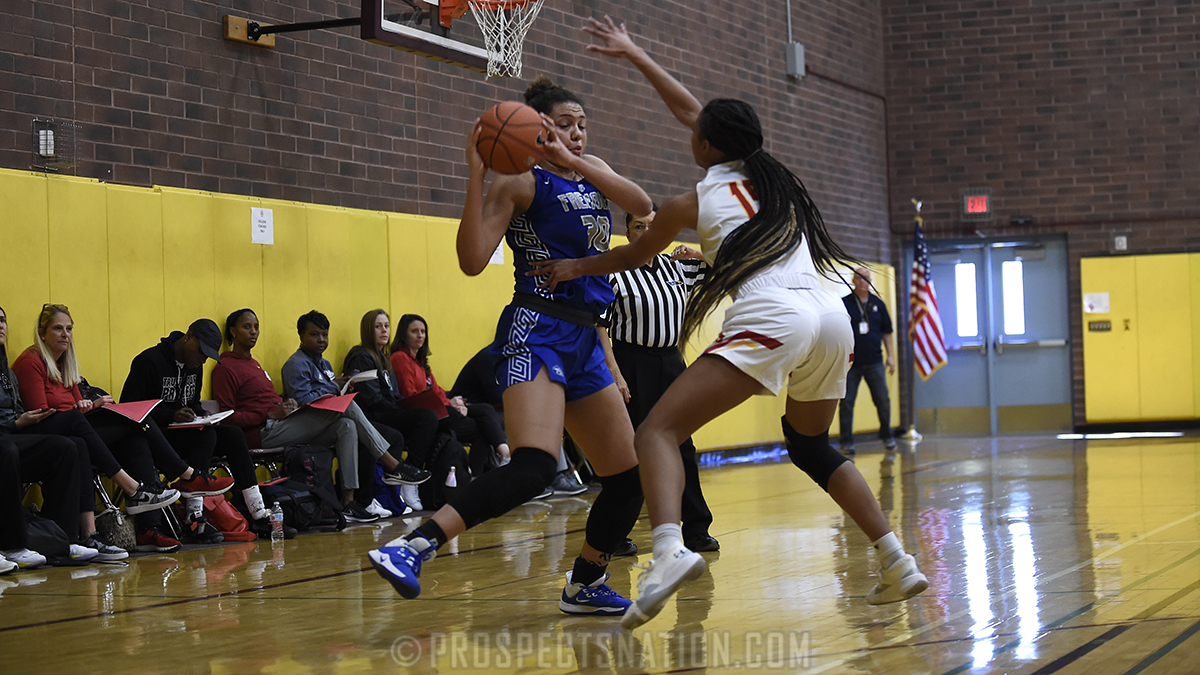 Timea Gardiner rips baseline at the Nike TOC with colleges from across the country watching. *Photo by Chris Hansen.
Timea Gardiner (Ogden, Utah), Fremont HS – 2022
Considered one of the top sophomores in the country, Gardiner did not disappoint at the Nike TOC. She was a vocal presence on the floor on top of her game play. She scored the ball on the interior as well as in the mid range. Her ability to score and pass at 6 feet 3 inches is impressive.
Zahirah Walton (Seattle, Wash.), Eastside Catholic HS – 2022
Zaza was really impressive for her young squad. She's playing both inside and out but has the skill set to be a perimeter player at the next level. Her ability to change directions off the dribble, in traffic, really made her a tough player guard. She's a name you can expect to hear more and more in the coming years.
Madison Conner (Chandler, Ariz.), Perry HS – 2021
From the first time Conner hit the courts at the Nike TOC, you could see she is a playmaker. The 6-0 point guard has the it factor to lead against anyone. The really big evolution in her game is her scoring ability. She has the tools to score at all three levels and is not asserting herself while still making her teammates better. Her recruitment has taken off this year and it was evident why.
Kamryn Doty (Tucson, Ariz.), Sabina HS – 2021
When Sabino junior point guard Kam'Ren Rhodes went down with a knee injury earlier this month, Doty had no choice but to step up and take on a bigger role for her team. In our First Look story, the question was asked if she could consistently stretch defenses? The way teams are defending Sabino now she has to and she did a great job of finding scoring opportunities from behind the arc to complement her ability to score at the rim. The 5-6 guard could be one of the winter's biggest risers in recruiting by being ready for this unexpected opportunity.

DESERT DANDIES
JuJu Waktins of Los Angeles, California, is one of the most known names in the freshman class. The 6-0 guard has a knack for scoring, especially setting up her pull-up game. It will be fun to watch her game mature over time at Windward.
Amyah Reaves of Chandler, Arizona, was locked in for Hamilton. The 5-6 junior showed her shifty quickness with the ball and knocked down shots from behind the arc.
Seton Catholic (Chandler, Arizona) has a trio of players to watch in juniors Amanda Barcello and Bella DiGiovanni as well as sophomore Lexi McNabb. Barcellow and DiGiovanni bring a lot of length and strong skill sets to the floor while McNabb ran some point and kept defenses honest with her long-range jumper.

Chris Hansen is managing editor of ProspectsNation.com and serves on the McDonald's All-American and Naismith Trophy selection committees. He was a co-founder of and the national director of scouting for ESPN HoopGurlz from 2005 until 2012 and is the director of the Check Me Out Showcase and ELITE is EARNED events. He can be reached at chris@eliteisearned.com.