Posted
3 years 9 months ago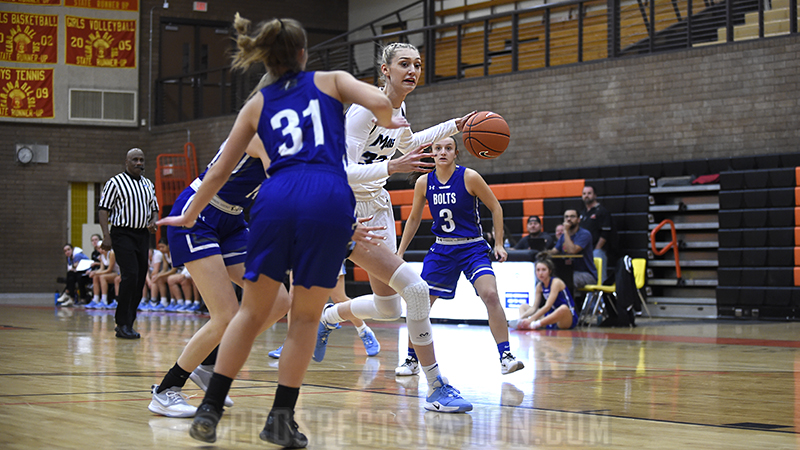 Cameron Brink of Beaverton, Oregon, helps lead Mountainside to a win Friday at the Nike Tournament of Champions in Phoenix, Arizona. *Photo by Chris Hansen.
PHOENIX, Arizona. – The Nike Tournament of Champions has long been one of the nation's premier events during the high school season. Here is a look at several prospects who caught our attention during the first couple of days:
Playing with a case of the flu, Cameron Brink of Mountainview High School (OR) showed toughness battling to try and help her team get a win. The Stanford signee will continue to grow as her confidence handling the ball in the open floor does.
Class of 2021 guard Dominique Darius of Blair Academy (NJ) feels undervalued in a lot of circles to me. She is a do-it-all type with the ability to make positive plays on either end.
Her class and teammate, Olivia Miles is a wizard with the ball in her hands. Her vision is special. She's really improved her outside shooting too and is comfortable letting the 3-pointer fly.
Class of 2021 guard Jess Finney of Chapparal High School (AZ) has a lot of attention on the recruiting trail and for good reason. She left a mark even using an elevator screen to knockdown a 3 pointer here.
In the same matchup, Rayah Marshall of Lynwood HS (CA) made a mark of her own. Marshall has long been seen as a premier talent but is starting to round into a true elite level prospect.
Class of 2021 forward Kiya Dorroh of Sabino High School (AZ) has the physical frame to be effective at the next level. Her on-floor production will have to continue to increase as she finds her way.
Dorroh's class and teammate, Kamryn Doty, was impressive with her energy and grit at the point guard position. Simply put, she's a gamer in that way. Can Doty consistently stretch defenses with her jumper?
Class of 2021 guard Avery Van Sickle of Regis Jesuit (CO) struggled to find a rhythm offensively but has all the tools to be a sniper from the perimeter. She's navigating life as the primary option with Fran Belibi now a freshman at Stanford.
Payton Muma of Highlands Ranch (CO) is another Class of 2021 lead guard to keep a close eye on. She was clutch down the stretch looking for the ball late and making timely free throws on multiple occasions.

Brandon Clay serves as the National Director of Scouting for ProspectsNation.com and owns BrandonClayScouting.com, a boutique scouting service available for purchase by colleges and universities nationwide.