CARTERSVILLE, Georgia – The annual Brandon Clay Power 48 brought club teams and college coaches together from all over the country. From 2022 NCAA Division One Tournament No. 1 seed NC State's Wes Moore to multiple Pac 12 members, there was no shortage of eyes watching the hundreds of kids playing for a chance at a college scholarship. Here's an initial look at some of the names from the weekend:
FEATURE PLAYER
Arianna Roberson (30032)
Class of 2024 post Arianna Roberson of Player First SA (Texas) was already firmly on our radar going into the event. A ProspectsNation.com Elite 25 Watch List member, Roberson brought her A-Game to the city on both ends. She displayed touch out to 15-17 feet off the catch and shoot, finished around the basket and was a consistent rim protecting option for Devon Agusi's roster. As a result, Power 5 schools across the country are lining up to offer the rising junior and they should. Roberson has elevated her game to a place where she is firmly positioned amongst the nation's elite frontcourt preps.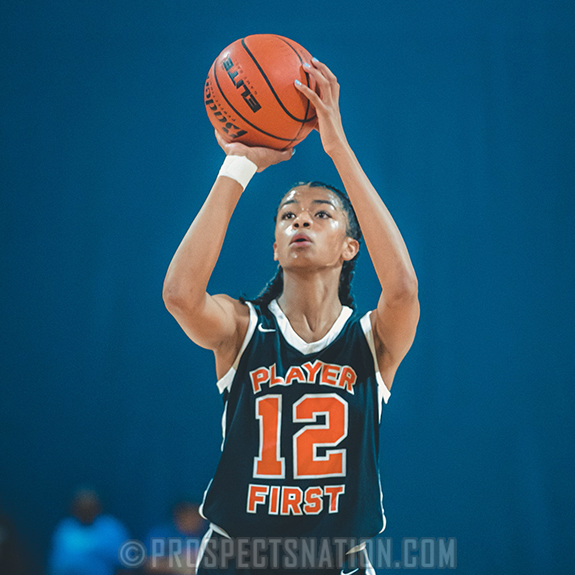 AROUND THE RIM
Southeast All Stars White is loaded this summer. There were multiple possessions where they grabbed five or more offensive rebounds in the game. With Class of 2024 prospect Grace Ridley back from a hand injury and class of 2023 guard Elle Blatchford suiting up for the first time, the White roster was at full strength and played like it.
Florida Southern got a potential steal in class of 2023 guard Dakota Daniello of Hoopers NY Williams. She can flat fill it up. So can her class of 2025 teammate Sabrina DeSio. They are a nice 1-2 shotmaking duo.
There were multiple programs on hand from Florida including DME, FGB and First Coast Basketball Academy. The Sunshine State is loaded with next level prospects all the way down to the class of 2026 based on what we saw here.
Keep an eye on two rising freshman in particular from the Sunshine State with Jazlyn Bowman and Keilani Merrell. Both are a part of the Brandon Clay Recruiting Program and will be up next month for the Brandon Clay Summer Showcase.
Out in Texas, Player First has more than just Roberson on the roster. Class of 2027 guard Casey Chavez has a shot to usher in the next generation of ball players from out there. Right now, class of 2024 guard Gianna Angiolet is next up.
LE Elite is the ideal team for the stage that we provide. They have a nice mix of potential prospects from North Georgia led by class of 2025 prospects Emma Lightsey and Kylie Watkins.

Brandon Clay serves as the Director of Scouting for ProspectsNation.com and owns The BrandonClayScouting.com Evaluation Report, which is read by more than 200 colleges and universities nationwide. He also serves as the Executive Skills Director for the Brandon Clay Scouting Academy Series.