Posted
8 months 2 weeks ago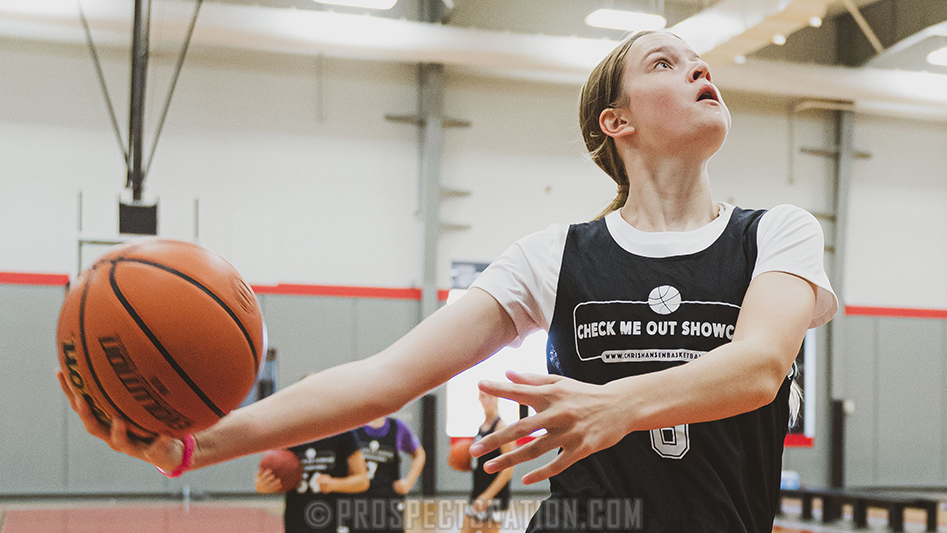 Maddie Vickery goes full extension at the Feature Player Training Session of CMO Midwest in Ames, Iowa. *Photo by Sumeet Kumar.
AMES, Iowa – The CMO Midwest showcase returned to Iowa for the third straight year. Players from 10 different states made it to the AIA Fieldhouse to compete and train in an elite environment. Before camp started we got extra work in with the Feature Player group and here's a look at those sessions.
Ross made the trip from Kansas City, Missouri, to Ames, and showed her quickness are the foundation she is building on. She has a smoothness to her game that will make her tough to guard as she grows her game.
Mponezya of Overland Park, Kansas, was a coach's dream to work with because she stayed focused even when things were new and a challenge to get through. She's an explosive young player and one who by day two of camp found her groove and was really impactful.
Vickery has been with us before and her game has really taken off in in the four months since we last saw her. She's a long guard with a fluid handle. She's really tapped into her length and has built the strength and touch to finish at full extension from a multitude of angles.

Bowman is a Tampa, Florida, native who is always up for any new challenge. She's very comfortable in these settings and what we love is that she'll take a skill session and try the new concept out in game play rather than reverting to whatever is normal. She's got deep range and is starting to piece together a game that fits her strengths
Lawson is a high energy guard option who contributes in a lot of areas, including communicating. She has a knack for getting open for that corner three off the ball. She causes a lot of disruption on the defensive end with quick hands and intentional pressure. She's not a afraid of contact and the more she gets down hill the better.
Williams is a player that isn't afraid to mix it up and play with contact on either end. She's a good athlete that you really see it when she sprints out in transition. There's a competitiveness to her where she makes plays that impact winning and losing more than highlight isolation buckets.
This 5-10 Bolingbrook, Illinois, native had a strong weekend. Her attention to detail in the Feature Player workout set the tone for the rest of the weekend. She was a competitor, made plays off the dribble and competed physically with whoever was in front of her, which at this camp meant matchups with some of the region's best perimeter players.
Potts is a Lees Summit, Missouri, product and for a player still a year out from playing high school basketball she has terrific court presence. She used her speed and strength advantages well on both ends of the floor. When she found a mismatch she was going to go back to it and make the defense switch up. She was also a very active defender.
Salazar made the trip to Ames from Las Cruces, New Mexico, and didn't waste a minute of it. She's a smooth operator with the ball and has a great understanding of how much space she needs to create. She elevates effortlessly and has a nice release. The wiggle in her game is subtle and effective. She'll be a great late pick up for a program.
Schulte is heading into her freshman season and her poise on the floor this weekend suggests she's more than ready for high school basketball. She has good size on the perimeter and when she changes speeds she's a difficult player to defend as she has the passing and scoring skills to make the right play. She was a player that seemed hyper focused and wanted to be coached.
Smith is a Chicago native heading into her sophomore season and made a great first impression. She's listed at 5-8 but the length in her frame allows her to play much taller. She's comfortable creating off the dribble and got paint touches often. She was a willing and active defender too. Adding strength over the next year will have her ready to make a big impact as a junior.

Chris Hansen is managing editor of ProspectsNation.com and serves on the McDonald's All-American and Naismith Trophy selection committees. He was a co-founder of and the national director of scouting for ESPN HoopGurlz from 2005 until 2012 and is the director of the Check Me Out Showcase and ELITE is EARNED events. He can be reached at chris@chrishansenbasketball.com.