Posted
1 year 3 months ago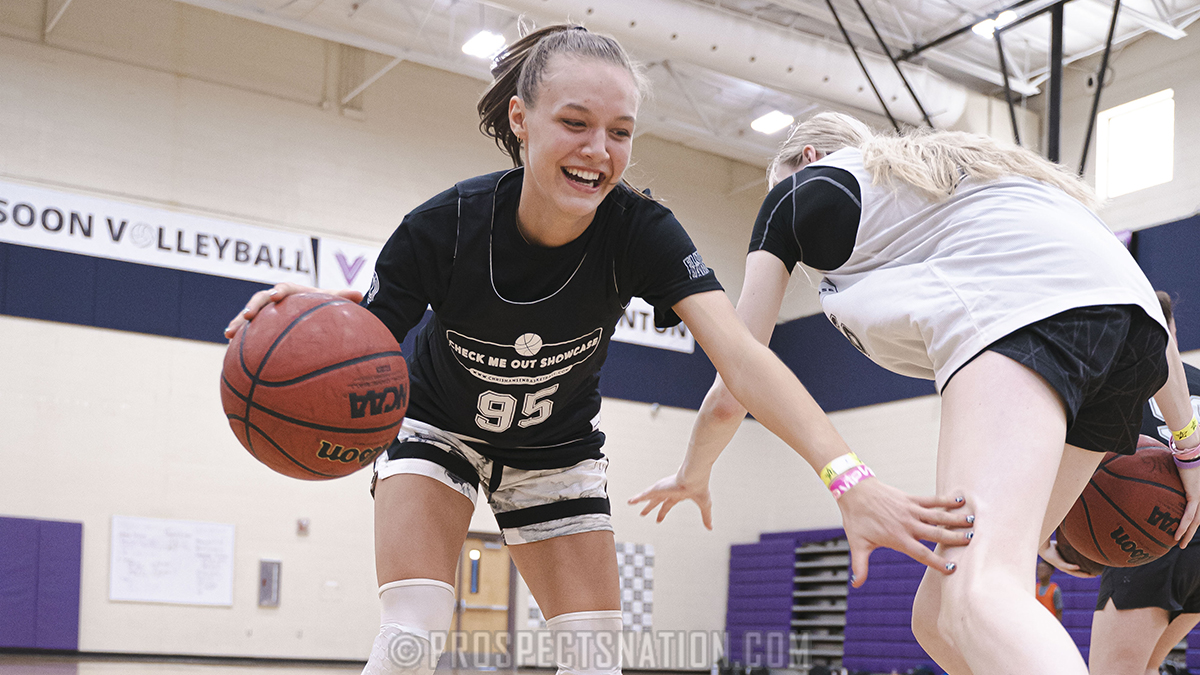 Amari Whiting of Burley, Idaho, is an Oregon commit who came to the Arizona camp to get work in. *Photo by Elitye Media.
SURPRISE, Arizona – Before the full camp session the Check Me Out Showcase started on Saturday, 10 players got in the gym in two small groups to train and sharpen their games. Those workouts provided an early look at what each player was bringing to the weekend.
Fialho is a youngster but she has a strength to how she plays. She picked up the rhythm of the separation moves to create closeouts quickly and was able to utilize the concepts in action. When she lifts her defender her gets down hill quickly and attacks strong.
Gregston stood out in our early workout, especially given she's just finishing her freshman year. She's a long perimeter player that once she got comfortable and confident was really good and finding her space in of the dribble hand off and knocking down the shots that were there..
Kitts has really gotten good at using her length to find both standard and unconventional scoring angles, especially driving right. Using her length off the dribble downhill was a point of emphasis and one that puts defenders in a bad place because she can elevate and score in one dribble from the wing. Her confidence shooting the three is coming along too, which is going to make her that much harder to guard.
We've been in the gym before with Kreiger and love her progress over the past year. She's growing more assertive offensively and using her elite length to score the ball. She's a kid that can shoot over a lot of defenders.

Morales plays the point like an upperclassmen. Her wiggle, vision, pace and creativity were all on display. Working on simple stop movements, her shift make every pause a tough moment for defenders as she can end up almost anywhere when you lean. She's got Big West and WCC schools tracking her early and for good reason.
Neal was the youngest in the workouts and the camp but she seemed unphased by it. The kid has a really strong ball skill set already. She not only executed the separation concept with good feel but she was able to add her won flare to it. As she gets stronger and extends her range we'll be excited to watch her game take off.
Puente is a tough matchup because she is quick on her feet as well as with the ball. She puts a lot of pressure on her defender without being in a hurry. Her handle was tight, she can shoot the ball from range and is really engaged on defense too. She delivered some of the most crisp passes of the weekend too.
Sommers is a big guard who goes hard on every rep. In this workout the thing that stood out was how much work she's put into her shooting from before the catch through the release. She has terrific feet on the catch and the consistency that screams "shooter".
This was our second time in three months working with Sweet and her confidence seems to have doubled. She was decisive making decisions with the ball in her hands and when she decides to attack her speed really puts pressure on defenders. She's not afraid of contact either and any loose ball was
Whiting is already committed to Oregon and this point guard was and we got a great taste of how she'll elevate the Ducks' backcourt. Her toughness and grit alone are impactful. She's a point guard who impressed by staying on balance at all times which makes her a threat to make a play at all times.

Chris Hansen is managing editor of ProspectsNation.com and serves on the McDonald's All-American and Naismith Trophy selection committees. He was a co-founder of and the national director of scouting for ESPN HoopGurlz from 2005 until 2012 and is the director of the Check Me Out Showcase and ELITE is EARNED events. He can be reached at chris@chrishansenbasketball.com.