The Exposure Breakout Recap
Posted
2 years 6 months ago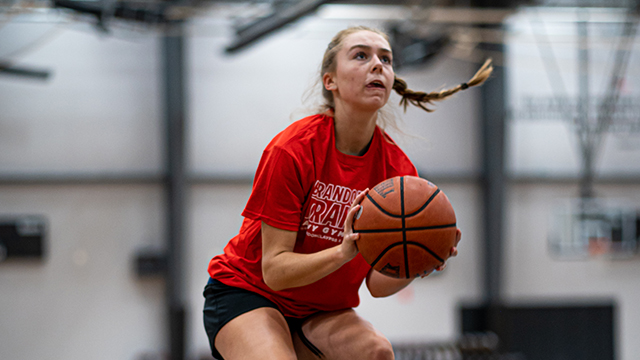 Pace Rickard has worked with us for years in Texas and across the country. Now playing with Ohio United we got a fresh look. *Photo by Anthony Lugardo.
ATLANTA, Georgia - The Exposure Breakout event was loaded with familiar faces currently enrolled in our Brandon Clay Recruiting members and Brandon Clay Training participants. Here's a look back at some of the players on hand who caught our eye:
The stock riser of the day was Class of 2022 forward Savannah Henderson of Central Florida Elite. The dynamic prospect has shown noticeable growth both skill wise and physically since we trained in Nashville before the start of the pandemic. She'll be in Atlanta with us on June 5-6.
Class of 2022 forward Alyssa Crockett of Indiana Elite has been on the floor with our staff multiple times. The future Michigan Wolverine fought through a strained hip flexor to help her team to a Friday night win.
On that same roster, Class of 2022 guard Tanuyel Welch has also been in the Lab with us on multiple occasions in the Hoosier State. She's proven time and time again that it's tough for opposing defenses to keep her in front of them.

In the Class of 2023, Pace Rickard of Ohio United is making her way after moving to the region shortly before the start of high school season. Rickard has been to multiple academies and most recently was on the floor with us in Dallas last October.
Quinn Vansickle (Castle Rock, Colo.), Hardwood Elite -- 2025
Class of 2025 guard Quinn Vansickle of Hardwood Elite is officially on the radar. We had a chance to train her sister, Avery, during the Dallas Academy last fall and look forward to doing the same with Quinn during the duration of her high school career.
Meghan Yarnevich of Powermove has proven that she is one of the hardest working Class of 2025 prospects in the country. She's trained with us in Atlanta, New Jersey and Winston Salem.
Class of 2025 forward Aaliyah Crump of Metro Stars was with us on the floor in Iowa last September earning high praise in the process. Based on her play here looks to be one of the young up-and-comers in the North Star State.
Jaylah Lampley (Lawrence, Indiana), Ohio United -- 2025
Keep an eye on Class of 2025 guard Jaylah Lampley of Ohio United. This was our first of what appears to be many viewings over the coming years. She'll train with us on June 12-13 in Indianapolis.

Brandon Clay serves as the Director of Scouting for ProspectsNation.com and owns The BrandonClayScouting.com Evaluation Report, which is read by more than 200 colleges and universities nationwide. He also serves as the Executive Skills Director for the Brandon Clay Scouting Academy Series.