ELITE is EARNED Talent Shines
Posted
6 years 7 months ago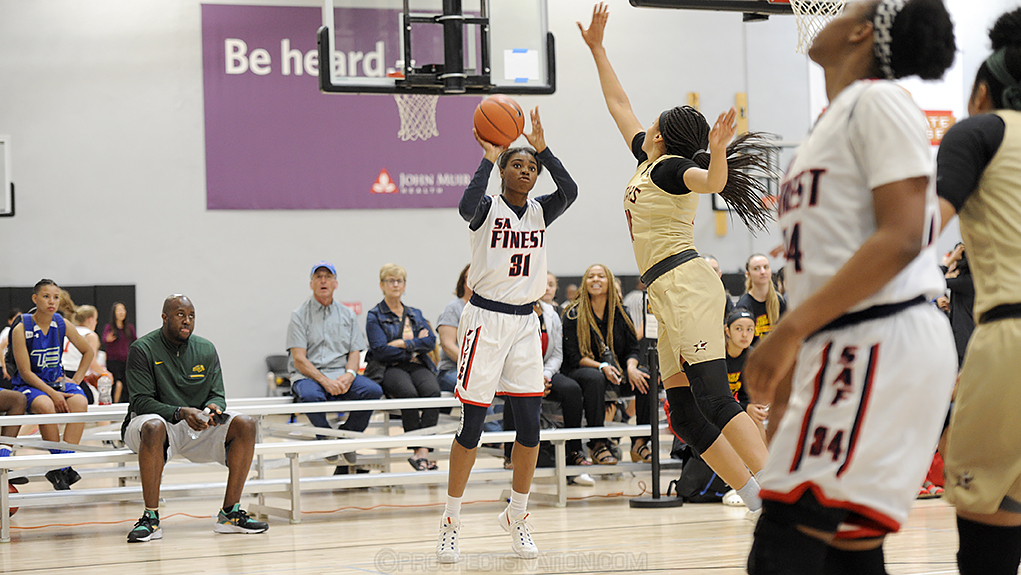 SA Finest guard Nyah Green of Allen, Texas, a Louisville commit, shoots over the outstretched arm of Cal Stars' wing Haley Jones in the Hoosiers Bracket championship game. *Photo by Ashley Corral.
WALNUT CREEK, Calif. – The 2nd annual ELITE is EARNED Spring Invitational brought 72 teams to the East Bay Area of California to the Ultimate Fieldhouse and NorCal Courts to compete in front of 90 college coaches and compete for nine bracket championships.
BRACKET STANDOUTS

Sometimes when a player has been ranked among the top players in the country for several years it's hard to stand out with expectations through the roof. Decosta used the weekend, especially the Hoosiers bracket championship to show her game is at a new level. She made the amazing players we're used to seeing her make with tip ins and backdoor lobs, but she also played smart basketball from good position defense to making the extra pass on offense.
Quality post play drives the recruiting economy as it is a resource that scarce. Bamberger stands 6 feet, 3 inches, showed soft touch, held her position both on the block and in the high post. She was a terrific passer out of the post as well. On the court she has a really positive demeanor as well that her teammates seem to feed off of. She was a big reason her Cal Stars 15U Nike Elite team won a championship in a bracket of mostly 17U teams.
Much like DeCosta, Green has a similar situation in terms of expectations in the 2019 class. The Louisville commit has been considered in contention for the No. 1 overall spot in the class since it became a rankable class. There is real growth for this 6-1 guard from Allen, Texas, playing off the ball. She has been deadly with the ball for some time but now adding the ball reversal 3-ball and patience in the halfcourt, she is becoming a complete player at any perimeter position.
BRACKET CHAMPIONS
BRACKET MVP's
MVP status was awarded to one player from each bracket at the conclusion of each championship.
ABOVE THE RIM – Leeaira Willis, AZ Swish 14U – 2022
BLUE CHIPS – Malia Mastora, Cal Stars 2020 Elite – 2020
GLORY ROAD – Kendall Jackson, Cal Stars Flight Red – 2021
HOOP DREAMS – Malia Mastora, Cal Stars 2020 Elite – 2020
HOOSIERS – Aquira DeCosta, Cal Stars Nike Elite – 2018
LOVE & BASKETBALL – Alexandra Bamberger – 2019
SPACE JAM – Cameron Brink, NW Stars Black – 2020
SUNSET PARK – Shawnie Spink, NW Stars Red – 2018
THE 6th MAN – Destiny Jackson, East Bay Tigers – 2019
#ELITEisEARNED Spring Invitational

Space Jam MVP@cameronbrink22

Special player in the 2020 class pic.twitter.com/VPc3dgazrb

— ProspectsNation.com (@ProspectsNation) April 24, 2017
WETMORE'S SPOTLIGHT
Grace Godines, a 5-foot-9 forward out of Snohomish, Washington, was the do it all player Sunday morning. The 2020 wing brings so much to the table offensively and defensively that doesn't always show up in the stat line. Her patience to make reads and let plays develop is outstanding and her ability to make reads off the rim to secure rebounds for put-backs is skill a lot of players don't process as quickly. Her extra hustle was really fun to watch.
Aleyah Wandick out of Bakersfield, California, is an impressive floor leader and showed off her shift and craftiness in the lane. She had a great day making reads off the ball screen and slicing through defenders to get to the rim. She had a couple and-1's that got her teammates going that elevated the energy in the gym. The class of 2019's energy translated into some quick steals that turned into a couple of assists for her teammates that got everyone involved.
Kianna Hamilton-Fisher out of Woodland Hills, California, playing for Cal Stars Valley Elite had a day Sunday afternoon. The 5-10 guard has an ability to slash at the rim and make tough finishes. She was able to capitalize in the midrange in transition off the bounce and knocked down some big 3-pointers that completed her game as a whole. Her defensive approach and the way she kept competing with her consistent attack was a great way to the end the weekend on a high note.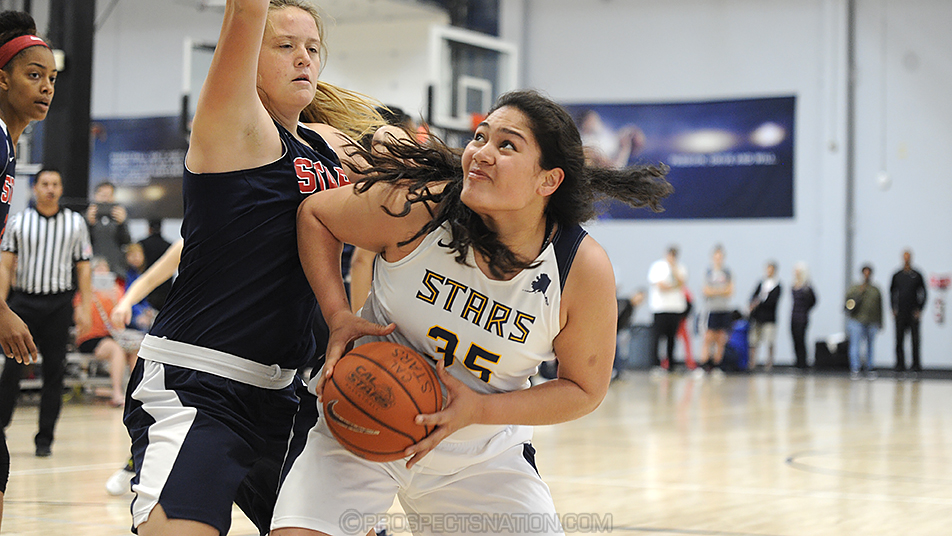 Alissa Pili is an ELITE 100 prospect in the 2019
Class. Photo by Ashley Corral.Alissa Pili out of Anchorage, Alaska, was another standout who brings a unique style to the floor. The class of 2019 forward uses her strength so well and wins a lot of the battles she gets into on the floor because of her positioning. She has a great sense of identifying weaknesses and exposes them, even against top tier players. She brings a different look to the game and definitely doesn't get lost in the mix on the floor. Pili can shoot the 3-ball, handle the ball on the perimeter, and bring the power inside.
Jordyn Jenkins out of Kent, Washington, was another post player who was very impressive this past weekend who capitalizes on opportunities. After watching her game, it should be no surprise she is coming off a recent State Championship in the State of Washington. The 6-1 forward has so much upside and is so crucial to the success of the team because of her ability to impact so many possessions. She changes shots defensively with her length on the interior and has good timing going up for clean blocks. Offensively, she has a lot of patience scoring with the ball in her hands and really values the ball getting down around the rim.
QUICK HITTERS Destiny Jackson helped lead her East
Bay Tigers team to a bracket crown.
*Photo by Chris Hansen.East Bay Tigers guard Destiny Jackson of Hayward, California, was fantastic running her team. She created scoring opportunities for herself and her teammates en route to a bracket championship.
ECBA Swish forward Dalayah Daniels of Seattle, Washington, had matchups with Nalyssa Smith, Aquira DeCosta, Cameron Brink and many other established players for which she is similar to in size and athleticism. The 6-3 freshman may not be where those players are today but proved she belongs on the floor with them. Another 2020 cashing in on the marquee matchups was West Seattle's Meghan Fiso.
Peyton McFarland of Boise, Idaho, is another talented 2020 prospect from out west. The ID HoopDreams forward is 6-3, runs the floor and is a shotblocking threat. Her offensive skill set has improved since we saw her last in the fall.
Lady Style wing Kayla Siler has the frame and agility to be a matchup problem on the perimeter. She's also a player who can play inside if a smaller defender tries to check her. The 2020 Seattle native is just scratching the surface.
Arizona verbal commit Shalyse Smith continues to grow her game. She's a player who has found more consistency in the last six months than she played with previously. The Tacoma, Washington native got to play in front of her future head coach this weekend as well.
NW Stars Black gets a lot of attention for Cameron Brink bu the team has an unsung hero on the team as well, Maggie Freeman. The 5-11 wing from Beaverton, Oregon, can elevate in traffic to score and can be really disruptive defensively as well.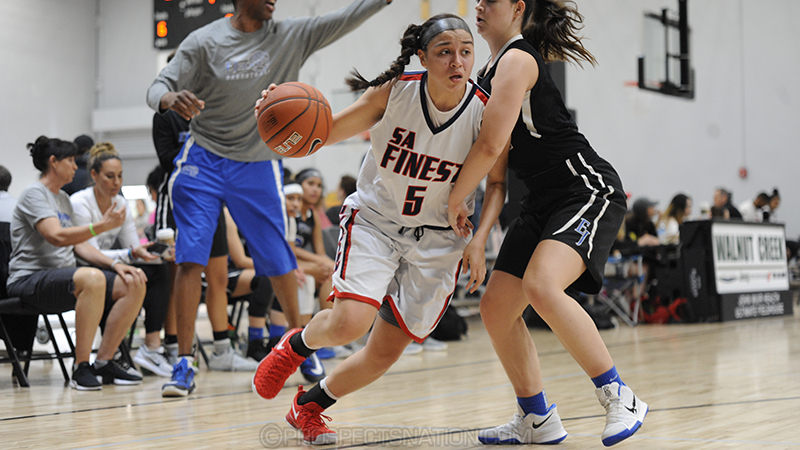 Sophia Ramos of SA Finest players through contact in
first round action at the ELITE is EARNED Spring
Invitational. *Photo by Chris Hansen.San Antonio's Finest combo guard Sophia Ramos has an unflappable way about her. She has a terrific change of speed which she showcases with her hesitation move. She constantly probes the defense to get paint touches and collapse the help side.
The NW Stars Red squad was led to a bracket championship but total team effort but in trying times both Abby Farmer and Shawnie Spink played like the upperclassmen they are.
If you're looking for a power post player to control the paint then Orinda Magic post Angel Jackson of Richmond, California, may be right up your alley. The 2019 prospect has a strong build and imposes her will which is why she has power five programs following her already.
Modesto Magic sophomore post D'aja Bryant has a world of upside. The 6-4 power post is a formidable force in the lane and can score the ball inside when left alone one-on-one.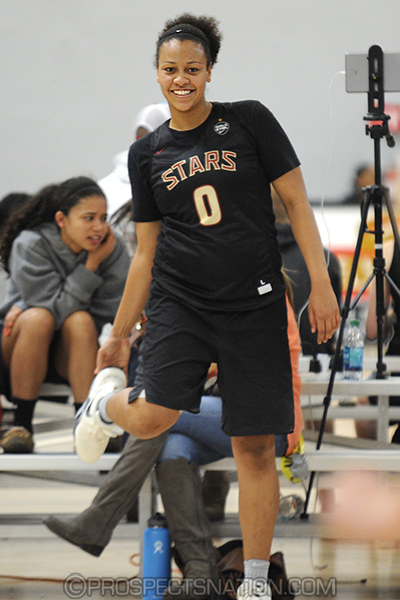 Makenzie Forbes of Folsom, Calif.,
enjoys a moment at the Ultimate
Fieldhouse. *Photo by Chris Hansen.Cal Stars newcomber McKenzie Forbes of Folsom, Calif., had a dynamite weekend. Her physical style at the guard position is well documented and her skill set has blended well with this deep team in 2017. Her confidence shooting the three has taken her game to another level and was a big reason the Stars jumped out to an early lead in the championship against SA Finest.
Another post with length and upside is Cal Stars Valley Elite's Shaelyn Johnson. The 6-3 propsect from Riverside, California, can run the floor well for her size and her agility allows her to defend outside of the paint. She's teamed up with Rachel Bowers who was mentioned in the day one recap, and 6-2 junior Daniela Popa of Redlands, California, giving coach Stan Delus one of the longest teams in the west.
SOCIAL MEDIA MOMENTS
Last set of games at NorCal Courts! @d1_shiftteam with the rebound and great outlet on the main court!#ELITEisEARNED pic.twitter.com/Qw9vdG2w8s

— ChrisHansenBBall (@CHansenBBall) April 23, 2017
Lost in the championship game to a Cal Stars team, but what a great #ELITEisEARNED tourney for these ladies. #hdtough #idahocanplay pic.twitter.com/TSO4a56FLk

— Christina Slocum (@csloc5) April 23, 2017
#ELITEisEARNED Spring Invitational

The baseline is PACKED with coaches this weekend!! pic.twitter.com/tUDNRfTdus

— ProspectsNation.com (@ProspectsNation) April 21, 2017
Grace Sarver '18 for @ecbaswish2019 is getting it done offensively. Huge impact when she's attacking the rim. #ELITEisEARNED

— ProspectsNation.com (@ProspectsNation) April 21, 2017
1-point game at half between Stanco Stampede and Vegas Attack. Shaping up for a good finish!!#ELITEisEARNED pic.twitter.com/eiFl5ctrCd

— ChrisHansenBBall (@CHansenBBall) April 23, 2017
EJ Hoops and Lady Style are getting after it on court 3! Great intensity in the 2nd game of the day! #ELITEisEARNED pic.twitter.com/D2P0WxNo9J

— ChrisHansenBBall (@CHansenBBall) April 23, 2017
Hoop Dreams Black and BC's Finest locked in a tight game at half! 32-32! #ELITEisEARNED pic.twitter.com/SKUGWpkH0m

— ChrisHansenBBall (@CHansenBBall) April 23, 2017
Halftime adjustments. Passionate play to start the day!!#ELITEisEARNED pic.twitter.com/RNhgek38oP

— ChrisHansenBBall (@CHansenBBall) April 23, 2017

Chris Hansen is managing editor of ProspectsNation.com and serves on the McDonald's All-American and Naismith Trophy selection committees. He was a co-founder of and the national director of scouting for ESPN HoopGurlz from 2005 until 2012 and is the director of the Check Me Out Showcase and ELITE is EARNED events. He can be reached at chris@prospectsnation.com.

Wetmore joined ProspectsNation.com in the summer of 2014 after graduating from the University of Washington with a Communications degree. She left Washington as the all-time leader in games played and also played with the softball team in the College World Series. She was the Gatorade State Player of the Year her senior year in high school capping off a career which included three state titles. She can be reached at mercedes@chrishansenbasketball.com.