Friday Night Lights In The Bay
Posted
5 years 5 months ago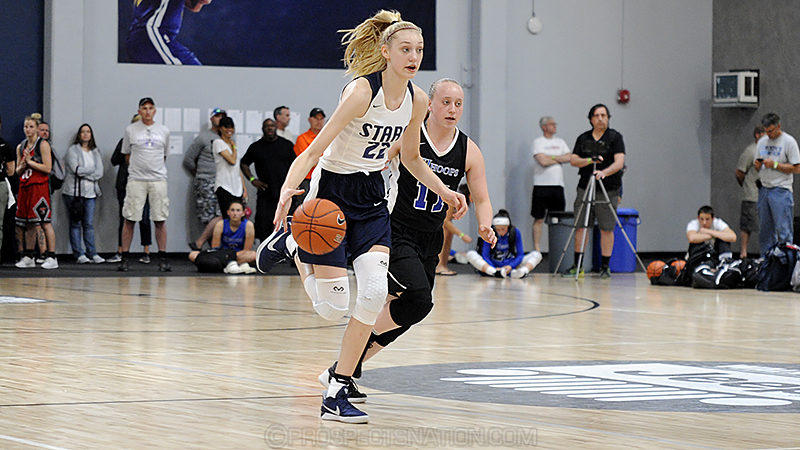 Cameron Brink of Southridge High School in Beaverton, Oregon, is as versatile of a player as you can find in the 2020 class. *Photo by Ashley Corral.
WALNUT CREEK, Calif. – The second annual ELITE is EARNED Spring Invitational was loaded with 72 teams and 50 colleges coaches on its opening night. With bracket play looming on Saturday, Friday offered a chance for teams to get after it and get their bearing on the first night of the 2017 NCAA Certified evaluation period and here are a few of the day one standouts.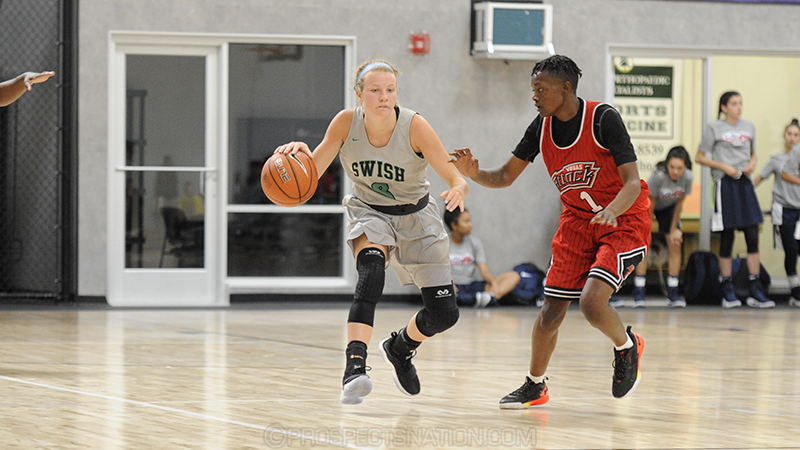 Grace Sarver handles the ball against pressure
for ECBA Swish Black - Hines. *Photo by Ashley Corral.Grace Sarver, a 5-foot-9, class of 2019 guard out of West Seattle High School was a bright spot for ECBA Swish Black on Friday with her high motor. She played with a lot of command that highlighted her as a capable floor general. Her aggressiveness offensively played out well for her attacking the rim, which created layups and assists at the rim. In a packed gym full of college coaches that included Arizona, Baylor, Cal, Oregon, Oregon State, Stanford, UCLA, Washington and Washington State from the Pac-12, she stood out with her decision making at the rim and aggressiveness defensively.
Dalayah Daniels, a 6-3 forward out of Rainer Beach High School in Seattle, also made her presence known today. She was very good around the rim offensively and dabbled in the midrange a little bit today as well. Defensively she was a basket protector and a rebounding force that didn't go unnoticed. There are few freshmen that have her physical tools in the frontcourt at this early stage
Cameron Brink, a 6-4, class of 2020 forward out of Southridge High School in Beaverton, Oregon, proved to be one of the most talented players on the event's first day. The NW Stars Black forward has incredible basketball IQ and elite size that goes unmatched on the floor. She pursues rebounds both offensively and defensively and is a huge threat on the interior. Her ball skills don't stop at the paint, which is impressive given her size and length. She's very guard-like and just has a tremendous skill set to do endless things on the floor. Her upside could be program changing at the next level.
Another notable performance from the NW Stars was Maggie Freeman, a lefty wing with a fresh feel to her game. The 5-11 prospect out of Southridge High School has the patience to attack in the midrange and elevate over her defenders on balance. She can knock down the 3-ball, but her jumper, even off the turn around was impressive and can be a huge threat against smaller guards who may be a mismatch to her because of that skill.
Rachel Bowers, a 6-foot-3 post out of Canyon High School played well in the interior today. The class of 2018 Cal Stars Valley Elite forward faced up well in the paint and created good space for her shot going up. She kept the ball high and had good eyes at the rim. Her strength and sound hands allow her to be more effective and patient inside, which translates into quality possessions for her and her team. She also stood out by the way she pursued rebounds and hustled after loose balls.
Cal Stars Nike Elite had a trio of sharpshooting players in their nightcap game of exhibition play on Friday night. Hannah Jump, a 5-foot-11, class of 2019 guard out of Pinewood High School started the run with a pure catch and shoot scoring strike. The whole baseline could hear the ball swish through the threads of the net. The surge was followed up by Haley Van Dyke from Campolindo High School who was crafty in the midrange and on the perimeter, while Madison Campbell, a 5-foot-11 guard out of nationally ranked Clovis West High School was equally impressive from beyond the arc, especially in her sweet spot at the top of key today.

Wetmore joined ProspectsNation.com in the summer of 2014 after graduating from the University of Washington with a Communications degree. She left Washington as the all-time leader in games played and also played with the softball team in the College World Series. She was the Gatorade State Player of the Year her senior year in high school capping off a career which included three state titles. She can be reached at mercedes@chrishansenbasketball.com.