Elite Is Earned Rings In New Year
Posted
5 years 10 months ago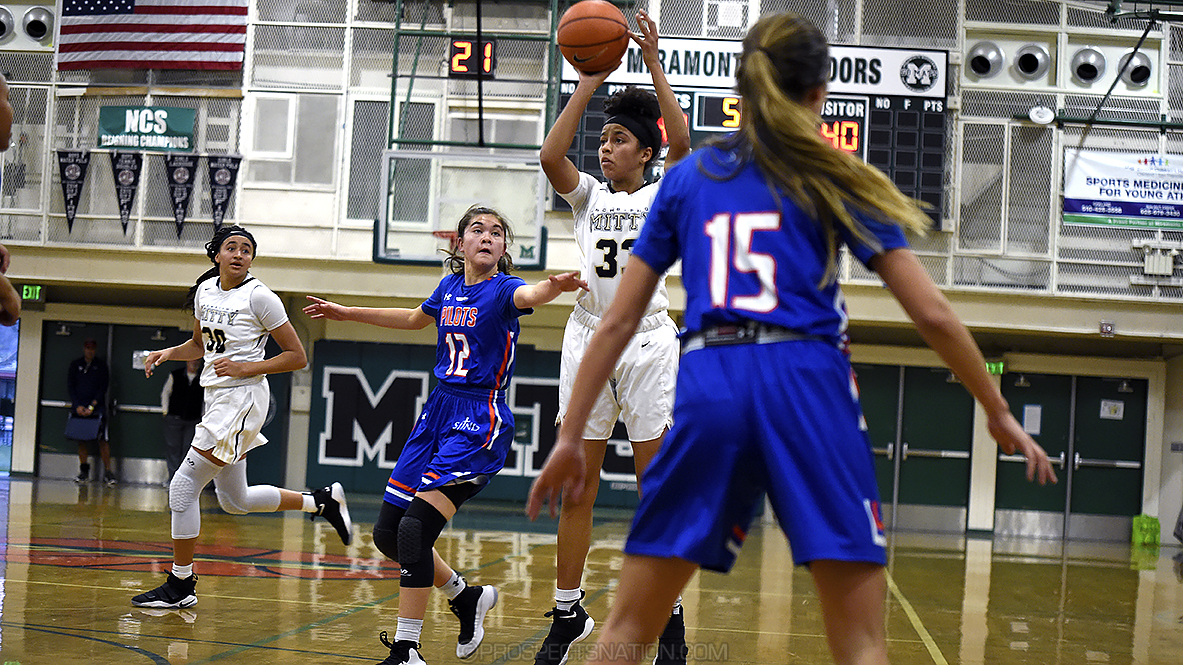 Karisma Ortiz of Archbishop Mitty, the top ranked team in the country, helped her team fight off a potential upset. *Photo by Chris Hansen.
ORINDA, Calif. – The 2nd Annual ELITE is EARNED New Year's Showcase saw 12 teams ranked in the State of California form the 18-team field, including the top two teams in the nation in No. 1 Archbishop Mitty and No. 2 St. Mary's Stockton.
WHAT WE LEARNED
Mitty Challenged But Still No. 1
There's a saying that when you are nationally ranked, especially No. 1, you always get your opponent's best game. That's exactly what Sue Phillips' top ranked Archbishop Mitty (San Jose, Cailf.) team got from St. Joseph Notre Dame (Alameda, Calif.) on Saturday.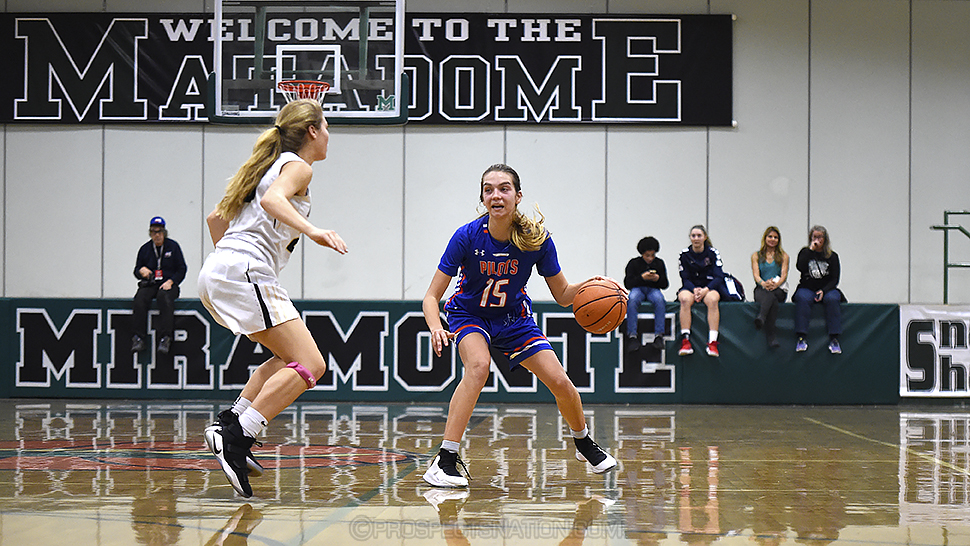 Sophie Nilsson was a big part of the comeback and
upset bid for St. Joseph Notre Dame. *Photo by
Chris Hansen.Despites a fantastic game from Penn State bound senior Karisma Ortiz (26 points, 14 rebounds, 6 assists), Shawn Hipol's Pilot squad came roaring back in the third quarter. Behind the spirited play of sophomores Sophie Nilsson and Malia Mastora with junior Zhane Duckett, the Pilots outscored the Monarchs 21-11 in the third, cutting the lead to just four points.
With the gym rocking with energy from the packed stands, the nation's best team played its part, slamming the door shut on an upset with a 26-8 fourth quarter. Senior Nicole Blakes and junior Haley Jones joined Ortiz in scoring double figures with 16 and 14 points, respectively, to lead Mitty to a 70-48 victory.

Angel Jackson Continues To Rise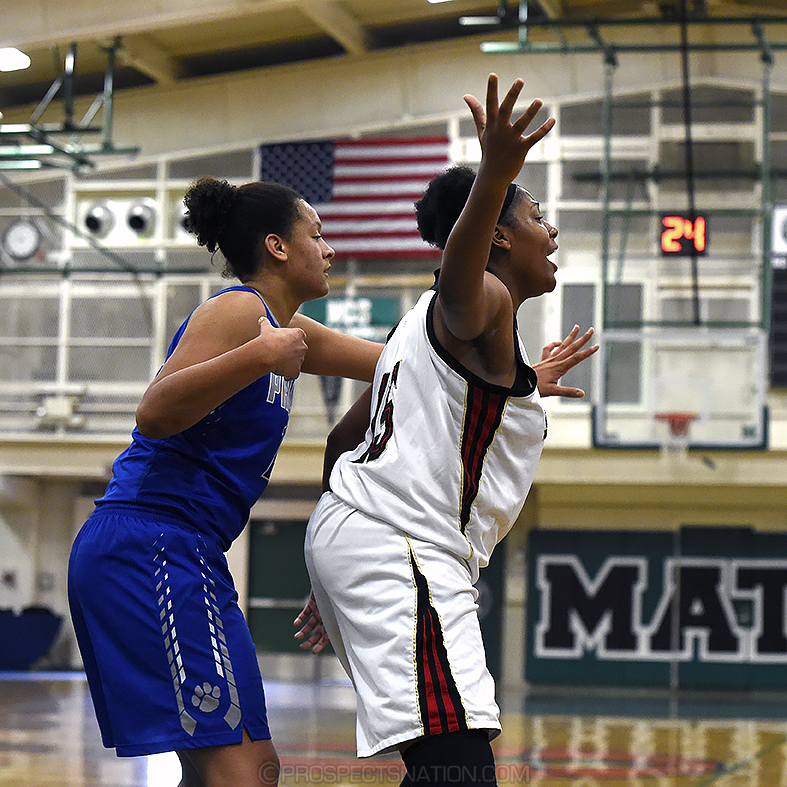 Angel Jackson posts up against Ila Lane.
*Photo by Chris Hansen.The depth of talent in the 2019 class out west, especially in the post spot, is limited. Even though the list is short, it's looking more and more like Angel Jackson is the top of the list. She has the size, strength, touch and pivots to be a go-to player on the block. In her Salesian temam's matchup against 6-4 Ila Lane of Woodside Priory, she showed she could effectively defend someone with similar size in addition to her work on the offensive end. Getting a post with her ability is good anytime you can get one but with the pickings thin her value is increased exponentially.
Bishop Gorman Is Young, But Good
Bishop Gorman dropped a close one to Pinewood, wearing down late but this tough schedule coach Kevin Nixon has put together will have his young team ready for the stretch run to state back home. The play of Nixon's 6-foot junior duo of Georgia Ohiaeri and Olivia Smith stood out. Both were tremendous on the offensive glass, putting a lot of pressure on Pinewood to find a body. Smith also showcased a strong face up game in the half court. With a strong schedule and getting talented freshman Izzy Westbrook some experience, look for Gorman to be a factor this spring and next year.
Face-Guarding Madison Campbell Is Smart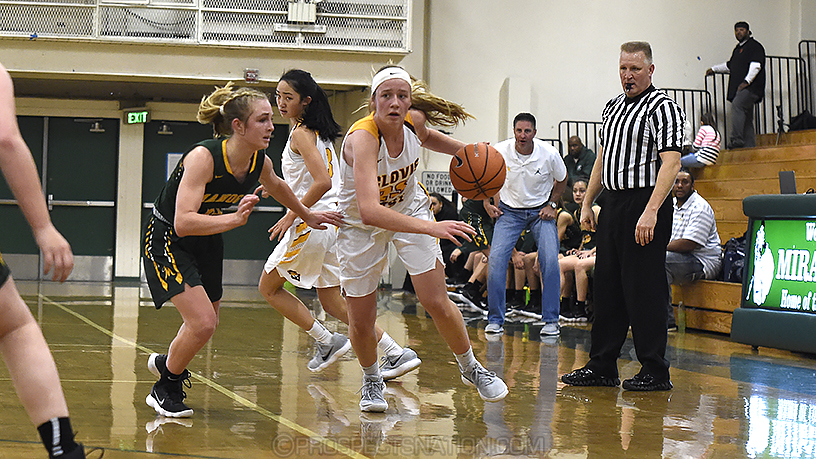 Madison Campbell continues to show her abilty to
impact games as a scorer and creator. *Photo by
Chris Hansen.
What a difference a year makes. Clovis West's championship roster was loaded with Division I bound players a years ago, allowing 2019 guard Madison Campbell, to showcase her basketball IQ and impact the game in a variety of ways. During the club season she played for one of the most talented and deep teams in the country in the Cal Stars EYBL, which again allowed her to make the right play game after game without the pressure of scoring.
Fast-forward to her junior season playing for her father, Craig Campbell, at Clovis West and things have changed. While the West roster is still strong, they need Campbell to fill the box score up to beat good teams. Going for 40-plus at the Nike Tournament of Champions quarterfinal round will draw some extra attention from future opponents who do their homework. Thus Bishop Manogue gave Campbell the ultimate sign of respect by mixing Box-And-1 defense with face guarding her in their man-to-man scheme as well. The 6-0 shooting guard, who plays any position asked of her at West, has proven this winter she can carry a team with scoring this season, she was simply waiting for her opportunity and for her team to need that level of production.
Heat Check, Aisle Three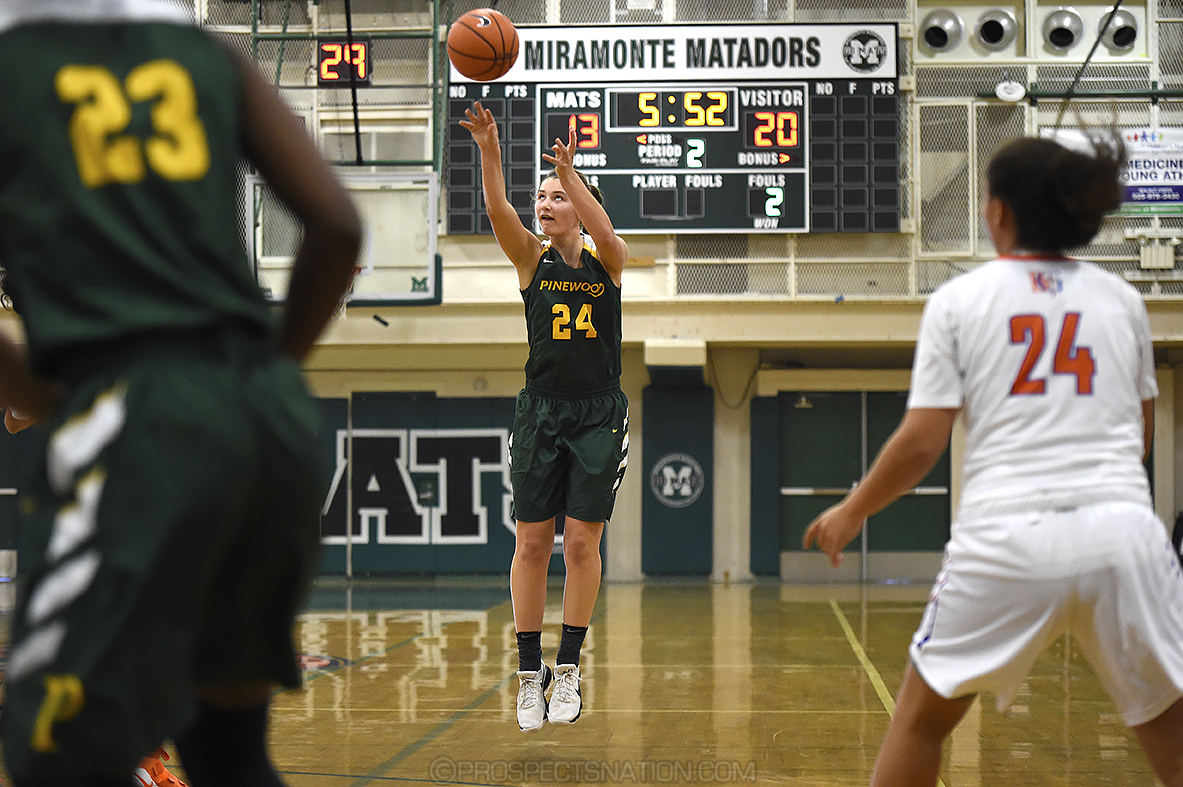 Hannah Jump is one of the country's top shooters.
*Photo by Chris Hansen.There is a mentality that sharpshooters have, and that is to have a short memory. The next shot is always going to fall. That's the approach Pinewood (Los Altos Hills, Calif.) brings to the floor, including their junior leader Hannah Jump. The team attempted 45 threes in its 52-41 win over Bishop Gorman (Las Vegas, Nevada). Jump came out an knocked down a deep three on the game's opening possession. She would finish with a low by Jump standards 24-percent on her 17 attempts from 3-point range. When one out of four is a bad day, you know you're a shooter. That fearlessness and awareness of when she is open is what makes her so dangerous.

QUICK HITTERS
Bishop O'Dowd junior point guard Jada Holland has a toughness that can't be ignored. She is strong with the basketball and when she gets downhill she can make plays off the bounce.
Oak Ridge (El Dorado Hills, Calif.) senior and SMU signee Marie Olson of Oakridge High School looked strong in a loss to Bishop O'Dowd (Oakland, Calif.). Her poise with the ball in traffic and mobility for a big will help her transition quickly next year.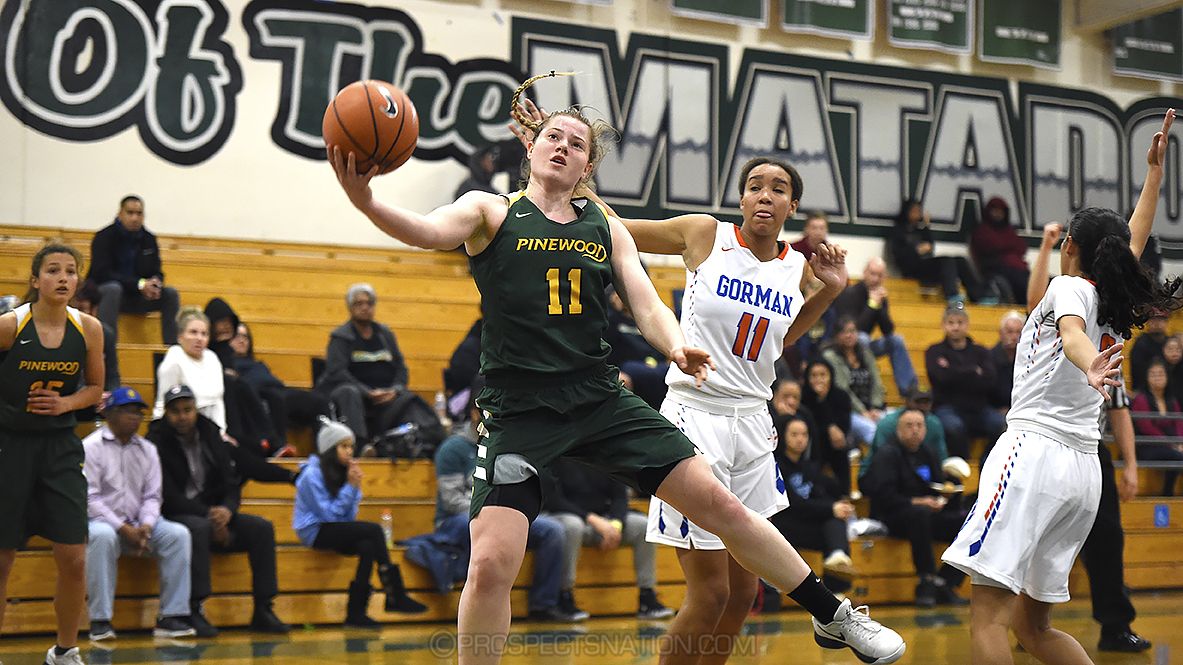 Klara Astrom brings power and skill to the floor for
Pinewood. *Photo by Chris HansenPinewood junior Klara Astrom has a great combination of power and skill. This 5-9 shooting guard plays taller with her size and strength. She was one rebound short of a double-double, fishing with 15 points and 9 rebounds in the win.
SPSV underclassmen Kalia Coverson and Tameiya Sadler give the Bruins athleticism and strength both inside and out. Coverson can play the forward spot or with her improved jumper, shoot the three. Sadler is strong off the dribble and can draw contact, finish and penetrate and pitch.
Castro Valley (Calif.) senior Vivian Woo helped her team pull away from St. Patrick-St. Vincent pull away for a 73-51 win. She balanced aggressive scoring with moving the basketball as the lead guard.
Washington signee Haley Van Dyke scored 16 points and pulled down 15 rebounds in Campolindo's (Moraga, Calif.) game versus No. 2 ranked St. Mary's Stockton. Despite the strong outing, her team was overpowered by a nationally ranked Rams squad.

Chris Hansen is managing editor of ProspectsNation.com and serves on the McDonald's All-American and Naismith Trophy selection committees. He was a co-founder of and the national director of scouting for ESPN HoopGurlz from 2005 until 2012 and is the director of the Check Me Out Showcase. He can be reached at chris@prospectsnation.com.