Elite 32 Summer Jam Standouts
Posted
7 years 10 months ago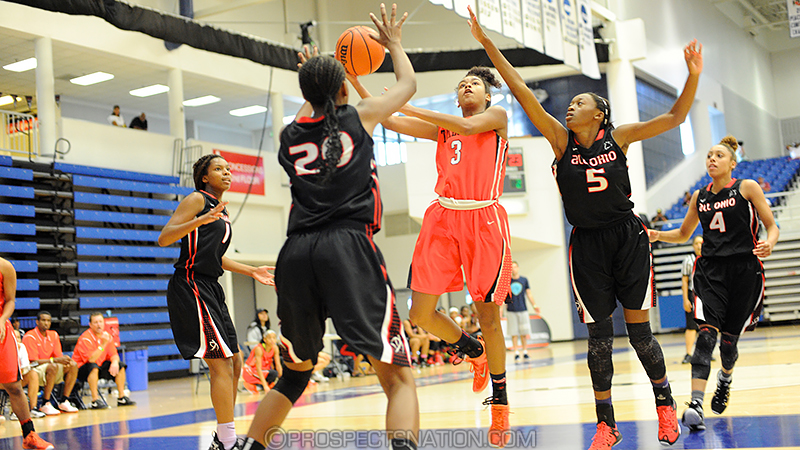 Taleah Dixon was a major factor for Team Takeover Soph., at Elite 32 Summer Jam in Augusta, Ga. *Photo by Chris Hansen.
AUGUSTA, Ga. – The first session of the PSB Elite 32 Summer Jam had terrific matchups across multiple brackets and multiple age groups. In the @BrandonClayPSB bracket it took a left-handed lefty scoop shot by Michigan State commit Taryn McCutcheon, that rolled up and over the rim just before the final buzzer for West Virginia Thunder Jr PSB to knock off Exodus EYBL.
Earlier in the day the matchup between two EYBL sophomore teams, Team Takeover and All Ohio delivered talent on both sides of the ball. Taleah Dixon of Cantonsville, Md., Makayla Pippin of Severn, Md., and Jordan Melbourne-Parham of Silver Spring, Md., all made major contributions in the 52-35 while. Meanwhile All-Ohio Express was paced by the constant attacking of Ashli O'Neal of Wyoming, Ohio.
The WPA Bruins Cash had an impressive two days at Elite 32 Summer Jam I. With contributions from Jade Ely of Verona, Pa., Dominique Petach of McKeesport, Pa., and Alayna Gribble of Irwin, Pa., among others, the Bruins won the McDonalds All-American bracket with a 45-32 victory over All Ohio Black.

Midwest Elite is led at the point guard position by 5-foot-3 Brianna Lewis of Palatine, Ill. Her quickness, matched with high percentage perimeter shooting, makes her tough to defend. Lewis has a quick first step and can change speeds effortlessly.
Rodrea Echols of San Antonio, Texas, was an offensive specialist this tournament. She is one of the strongest guards, physically, in the 2016 class and put on a shooting clinic from beyond the arc. She knocked down countless 3-pointers off the bounce and defenders had a hard time guarding her because she is so powerful going to the basket. Echols really has turned the corner this summer.

Angeni Worley of Orlando, Fla., can score in multiple ways. The class of 2017 combo guard shoots the ball well from the perimeter and also has the creative ability to get to the rim with her solid ball handling skills. The Florida Lightning utilizes her at both guard positions where the combination of her strong build and height give her an edge over a lot of players a her position.
Katie Kinum of New Providence, N.J., is the engine of the NJ Demon offense. She does everything you need your team leader to do on the court and she does it well. This 5-8 lefty can shoot it from the perimeter, get her teammates in position to score, is very opportunistic on defense and is on point in the classroom as well.

Nydia Lampkin of Palm Bay, Fla., made it tough for opponents to score around the basket. The 6-1 forward in the class of 2018, showed good elevation as she aggressively pursued rebounds for her Titans Elite team. Lampkin has a lot of athletic talent to go along with her above average length.
Shaylee Gonzales of Gilbert, Ariz., is a rising 2018 for Team Arizona. She is fearless attacking the basket, has great awareness on the floor, and quickly spots the holes in the defense where she can score. It is impressive how well she plays all aspects of the game and leads on the court.
Lawren Cook of Greenville, S.C., had an incredible first half against Team Sol in her afternoon game on championship day. The class of 2018 forward showed off her ability to rebound and start the break in transition, spotlighting her decisiveness and decision making skills. Cook transitions so well from defense to offense, which adds a tremendous amount of value to her game. She can finish inside, plays tough, and is a true competitor; look for her to continue to be a huge impact player.
Stephen Peck is the owner of Dream In Motion Athletics and is a national evaluator for the JumpOffPlus.com National Scouting Report. He also serves as a on-floor skills coach at the Elite Basketball Academy events. He can be reached at StephenPeck@peachstatebasketball.com.
Wetmore joined ProspectsNation.com in the summer of 2014 after graduating from the University of Washington with a Communications degree. She left Washington as the all-time leader in games played and also played with the softball team in the College World Series. She was the Gatorade State Player of the Year her senior year in high school capping off a career which included three state titles. She can be reached at mercedes@chrishansenbasketball.com.
Chris Hansen is managing editor of ProspectsNation.com and serves on the McDonald's All-American and Naismith Trophy selection committees. He was the national director of scouting for ESPN HoopGurlz from 2005 until 2012 and is the director of the Check Me Out Showcase. He can be reached at chris@prospectsnation.com.