Posted
9 years 3 months ago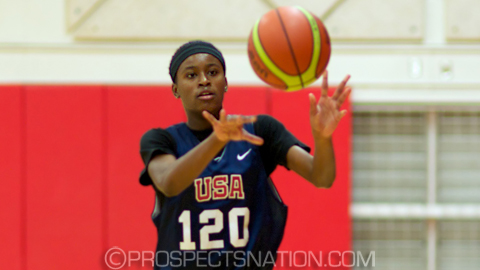 Zutorya Cook is a four-star prospects to keep an eye on this high school season. *Photo by Chris Hansen.
Tweet
The Rankings Roundtable will cover several topics throughout this week on the recently released PropsectsNation.com ELITE 25 prospect rankings for the Class of 2016. Though this class is still in its infancy, our rankings panel will discuss what they've seen so far.
Who is a player outside the ELITE 25 to keep an eye on moving forward?
Taryn McCutcheon of Washington, W.Va., has been on our radar since the seventh grade. The 5-foot-5 point guard is in the discussion as a top-10 caliber prospect at the point guard position nationally. Having already accepted a scholarship offer to Michigan State, McCutcheon has a chance to focus on continued improvement for the sake of getting better as opposed to having an eye focused on exposure. Her motor is consistent and she can flat out shoot the basketball. The four-star guard's willingness to compete coupled with her athleticism give us good reason to believe that McCutcheon will only continue to develop her game in the coming months.
-- Brandon Clay
It's hard to say a player is under the radar when they attend one of the top high schools in the country and play for a Nike-sponsored club team, but with Katie Lou Samuelson on the Monarchs it can happen. But new to the team this year is Leaonna Odom, the 6-0 wing-guard from Los Alamitos, Calif. Her court awareness and confidence is growing exponentially and because of it she's starting to show that she's a top shelf athlete and not holding anything back. Her play during the fall evaluation weekend was impressive and pairing her with Samuelson and fellow sophomore Jayde Woods will means she will be surrounded by high level players throughout the winter, helping to continually raise the bar.
-- Chris Hansen
Kelly Jekot of Enola, Pa., has a chance to be special. A great player comparison for her is former Connecticut guard Kelly Faris. She has good size for the wing positions and is one of the most competitive players in the class. Her ability to make plays for others and score the ball makes her a unique wing prospect. As she continues to round out her skill set and develop physically expect to see big things come from her in the future.
-- Keil Moore
We have had our eye on Zutorya Cook of Marietta, Ga. for a couple years already. The 5-6 point guard is progressing as an elite player already. While playing for Team Elite during the summer months, Cook showed that she is one of the faster players in the nation with the ball in her hands. She splits time at either guard spot and finds ways to be impactful on both ends of the floor. At this point in her development it is hard to point to a particular skill that you could call her specialty, however she brings a number of talents that will translate to the next level. So when we expand our rankings to 60 in the next year, Cook will be one of the point guards we look at in that discussion.
-- Jonathan Hemingway
---
Follow @BrandonClayPSB
Clay is the owner of the JumpOffPlus.com International Scouting Report, PeachStateBasketball.com and ProspectsNation.com. He can be reached at brandon@prospectsnation.com.
Follow @ChrisHansenPSB

Hansen is managing editor of ProspectsNation.com and a McDonald's All-American selection committee member. He was the national director of scouting for ESPN HoopGurlz from 2005 until 2012. He can be reached at chris@prospectsnation.com.
Follow @JLHemingwayPSB

Hemingway is the Assistant Director of Scouting for the JumpOffPlus.com National Scouting Report. He can be reached at jonathanhemingway@peachstatebasketball.com.
Follow @KeilMoorePSB

Moore is the Director of Scouting for the JumpOffPlus.com National Scouting Report and international scouting report. He has been a member if the women's basketball community for more than six years as a trainer and evaluator. He can be reached at keil@prospectsnation.com.