Posted
5 months 1 week ago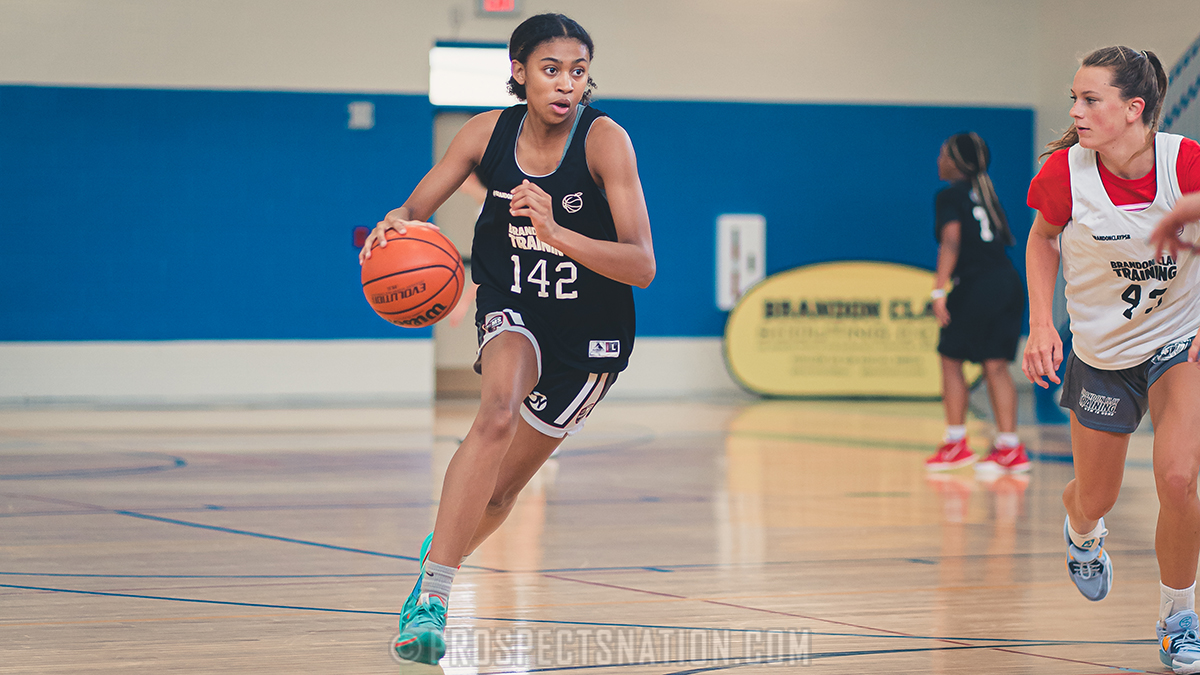 Jada Johnson of Exodus NYC made the trip to the Peach State to compete. *Photo by Anthony Lugardo.
BUFORD, Georgia – The Brandon Clay Elite 100 Showcase South Session I allowed some of the nation's elite prospects to start working on their games coming out of the July evaluation period. We offered a spotlight training session ahead of the start of the sessions. Here are the first set takeaways from that workout:
Adams-Lopez flew in from Massachusetts to work on her game. She's a shot maker with a consistent pace and tempo about her game. A good athlete, our staff found Adams-Lopez to be extremely coachable in addition to being effective coming off of pindown screens. As she gets more comfortable talking on the floor, watch her game level up from here.
Ella Copeland (Russellville, Alabama), Russellville -- 2027
This was our staff's first time working with Copeland. She has a very sturdy toolbox skill set wise for a prospect with another year of middle school remaining. In that regard, Copeland will continue to grow as she learns to make space against other top flight players. She was giving up four to five years of strength and experience going up against 2023, 2024 prospects here.
It's been a while since our staff has been on the hardwood with Flores. She has really filled out with great size through her shoulders. Flores jumper and her build give her a chance to be both a high level shot maker and a creator off of the bounce as well. She's also got all the tools to be a vocal, good on ball defender.
What a difference a year has made for Johnson. She is both long and athletic on the perimeter. Johnson was having her way creating quality shots for her and her teammates all weekend. She can shoot off the bounce or off of the catch. The future Boston College Eagle can continue to add physical strength but all of the tools are there for her to be effective at the college level.
Reagan Mobley (Westminster, South Carolina), West-Oak -- 2025
Mobley showed herself to be a solid shooter when her feet are set. She is extremely coachable. Mobley's willingness to compete with kids who have been on the major national circuit for years speaks to her dedication to growing as a player. For Mobley, continuing to develop her scoring ability against elite talent like this will help her game go up a level.
Jazzy Perez (Johns Creek, Georgia), Chattahoochee -- 2024
Perez showed here that she is more than able to get downhill off the bounce. That skip in her step gives her a real advantage on both ends of the floor as a playmaker. As Perez gets stronger, she will find even more success playing through contact on the drive. Being able to communicate what she is seeing in real time to her teammates will enhance her leadership ability.

Brandon Clay serves as the Director of Scouting for ProspectsNation.com and owns The BrandonClayScouting.com Evaluation Report, which is read by more than 200 colleges and universities nationwide. He also serves as the Executive Skills Director for the Brandon Clay Scouting Academy Series.