EBA Super 64 -- Live Blog
Posted
5 years 9 months ago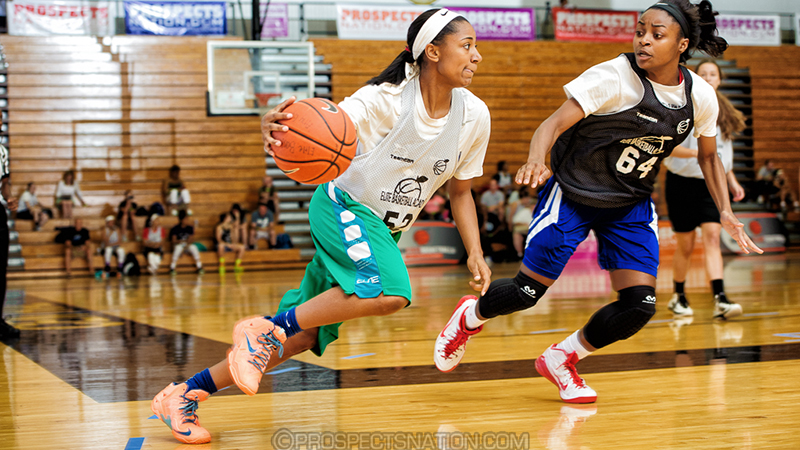 Starr Taylor attacks baseline at EBA Super 64 in Lawrenceville, Ga., on June 6, 2015. *Photo by Ty Freeman.
LAWRENCEVILLE, Ga. – The summer season is officially here, kicking off with the Elite Basketball Academy's Super 64 Camp.
SUNDAY AFTERNOON SESSION
One player that continues to impress every time we see her is Courtney Carruthers of Maryville, Tenn. Carruthers is a young point guard who shows a nice feel for the game and how to be effective with the ball in her hands. Carruthers is also a strong perimeter shooter, which will force defenses to respect her from behind the arc.
Torrian Starks of Hartwell, Ga., has had a strong weekend here at Super 64 Camp. She is a quality athlete who likes to attack the basket off the bounce. She shows the potential to play at either guard spot and has a nice feel for getting her teammates involved. Starks is an exciting member of the class of 2019.
One player who has been very impressive this weekend is Nia Jordan of Philadelphia, Pa. Jordan's game is still in development but she has the potential to be a versatile player with the ability to be effective playing around the rim and on the perimeter. The class of 2019 prospect plays the game with a high energy level and does a good job working on the glass to rebound the basketball.
SUNDAY MORNING SESSION
Emily Sullivan of Newburgh, Ind., came out with a vengeance on Sunday morning. The 6-foot-4 post was more aggressive on her post ups and attacked from the high post as well. Her increased activity and confidence allowed her to stand out.
Missouri commit Jordan Roundtree of St. Louis, Mo., has been a steady presence both days at Super 64. She's a guard that can make on impact on both ends of the floor.
Class of 2016 guard Sydney Zambrotta of New York, N.Y., is a left-handed guard that can score the basketball. The ELITE 100 prospect is a tough cover ub one-on-one situations and has a floater that she likes to use once she has beaten a defender and gets to the lane. Zambrotta's ability to beat people off the bounce sets up great passing opportunities once the defense commits.
It's refreshing to see kids who can score without dribbling and McKenna Lawrence of Augusta, Ga., was that kid this morning. The 5-9 rising senior guard has good size and moves well without the ball, converting consistently off the down screen.
Deovion Young of Milwaukee, Wisc., was terrific in transition and showed good handle in both the halfcourt and on the run. Young is a 5-7 point guard in the 2017 class.
Kayla Holmes of Stone Mountain, Ga., a 2016 point guard, showed great court vision and a quick first step. The 5-6 lead guard had herself a great morning session.
DAY ONE SHOT OF THE DAY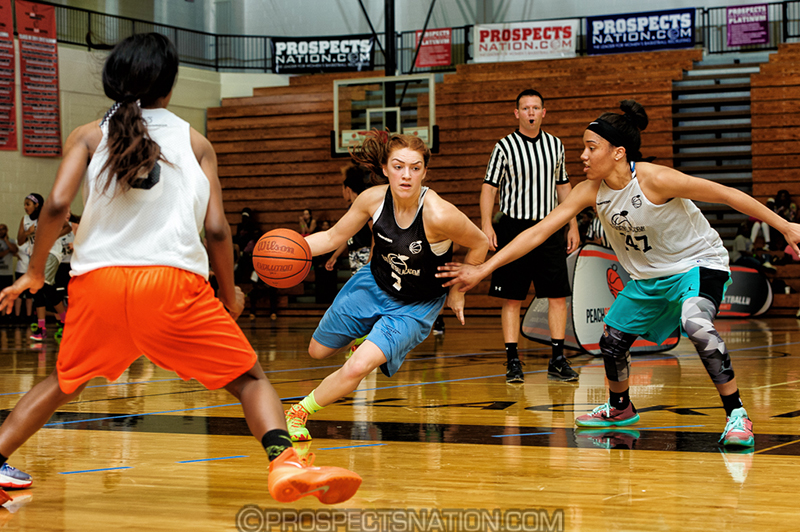 Michigan State commit Taryn McCutcheon brings instant energy and toughness to the floor. *Photo Ty Freeman.
SATURDAY AFTERNOON SESSION
Class of 2018 guard Gabby Lupardus of Pineville, W.Va., has set the tone in the younger division of camp. Her activity level and willingness to compete on every possession has brought some intensity to the game play. At 5-7 Lupardus is extremely crafty with the ball in her hands and an excellent finisher in traffic.
A big with real versatility at a young age is Jordan Isaacs of Dallas, Ga. She's a shot changer when defending the interior but also is athletic enough to use her length to defend the perimeter.
SATURDAY MORNING SESSION
Jailyn Mason of Mason, Ohio showed great rhythm in her mid-range game this morning. The 2016 shooting guard knocked down multiple shots from 15 to 20 feet.
ELITE 100 guard Alecia Sutton of Florissant, Mo. was dropping dimes all over the court. The 2016 point guard slashes to the rim anytime and finds the open player with ease.
Ashtyn Baker, a 2017 shooting guard out of Nesbit, Miss. was hot from downtown to start off the morning session. Baker hit back-to-back 3-pointers in her opening game.
Lashonda Monk of High Point, N.C., was electric with the ball in her hands. She showed the burst in her first step to get by her defender which set up her hesitation move which is really tough.
Makenna Woodfolk of Federal Way, Wash., showed her versatility by shooting the three and then using her 6-2 frame in the paint on post ups. She was an active rebounder who utilized her quick second jump today.
One of the most impressive performances of the morning came for Jordan Lewis of Windermere, Fla. The ELITE 100 guard lived up to her billing, attacking the defense and finishing while adding the ball reversal three when defenders laid off.
Class of 2016 point guard Jaida Roper of Memphis, Tenn., had an excellent showing here this afternoon. Roper is one of the premier point guard's in the country yet to make a verbal commitment. She is strong on the ball and does a good job getting into the heart of the defense off the bounce.
A 6-4 post Morgan Davis of Orlando, Fla., was impressive this morning. She has elite size for the post, position and showed some comfort playing with her back to the basket. From a recruiting stand point, Davis is certainly a name worth tracking over the next 18 months.
Bailee Harney of Greenville, Ky., impressed Saturday afternoon with slick handle, deceptive quickness and a great court vision. She's quiet on the court with her voice but not her game.
Brylee Bartram of Seffner, Fla., is a combo guard who showed consistent range out to 3-point land. She is taylor-made for playing off a ball screen.
Sydney Parrish of Fishers, Ind., is a lead guard who is creative with the ball in her hands. She looks to score and complemented her driving by hitting the 3-ball.