Posted
8 years 12 months ago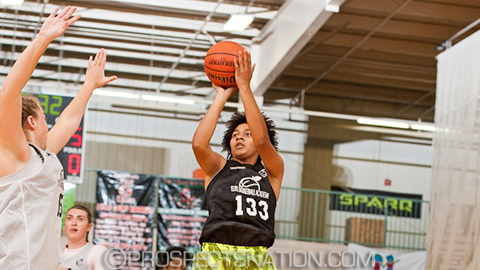 Taylor Emery of Tampa, Fla., was a standout on Sunday at the EBA Super 64 Camp. *Photo by Ty Freeman.
Tweet
OBERG AND BROWN GO TO WORK
Two of the youngest players in all of camp this weekend, class of 2018 guard Jenna Brown of Atlanta, Ga., and class of 2019 post Destinee Oberg of Minneapolis, Minn., faced off in what could have possibly been best game of the weekend. In a high scoring, back and forth, sudden death overtime affair, both Brown and Oberg stood out and carried the scoring load for their teams. Brown did a great job of handling the ball, running the show, and scoring at a high rate for her team. While Oberg was a major impact in the post, commanding double teams and making an array of impressive post moves. Oberg even hit a 15-foot jumper showing a high level of versatility for a player her age. In the end it was Oberg who made the biggest play of the game as she scored the game-winning basket in overtime. As camp coach Kaela Davis summed it up, "And das wassup,"after the best finish to a game at camp.
EVEN MORE MORRISON
Quanniecia Morrison has a chance to be one of the special players in the class of 2017. The ELITE 25 shooting guard put on a show in her first game here on Sunday Super 64 Camp as she was able to show her combination of elite athleticism and solid basketball I.Q. while competing against some of the best underclassmen in the country. Morrison is a name you will continue to hear from us for the next couple of years as she has the potential to be an impact high major recruit if she can continue to develop her game. She definitely picked up right where she left off yesterday.
EMERY SHINING ON DAY 2
Taylor Emery of Tampa, Fla., stood out in both the drill work and the competition sessions on Sunday. The powerfully built wing brings toughness and effort to every possession and she also showed her ability to score through contact with both her right and left around the basket.
SCHILL CONTINUES TO IMPRESS
A 2016 point guard, Riley Schill Sheffield of Ohio, has put together two impressive days of camp. Schill is a feisty guard that competes and gives maximum effort on both sides of the ball. The 5-foot-7 guard has a nice feel for the game and handles it well enough to beat a defender in a one on one situation.
WALLIS WORLD ON SUNDAY
Jessee Wallis of Dayton, Tenn., was all over the court in her opening game on Sunday. The 2016 guard played both ends of the floor with great energy. She made shots, got to the rim and finished left on left and right on right. She was a definite spark for her team this morning in the first #ProspectsNationTV broadcast of the day.
SKILLS SESSIONS ON POINT
The upperclassmen closed out Saturday the same way the underclassmen started Sunday morning, with a skills-only session. Paris Lawson was a terrific leader and showed her focus and skill during the skills session. Unable to make the upperclass session Saturday night, standout 2016 prospect Erika Cassell, who is ranked 15th in the ELITE 60, hopped in with the underclassmen group to make sure she got her reps.
YOUNG GUARD PLAY ON DISPLAY
Hopefully 2018 point guard Dena Jarrells goes to the Dream game tonight because her game is very similar to a young Samantha Prahalis, down to the side ponytail she wears. She's got the handle and flare with the ball, she can pull off a number of no look passes and put them on the money. Meanwhile 2019 lead guard Anaya Peoples made it obvious that she is a player to watch in the coming years with her ability to create off the dribble with her strong hand.
MORE MORRISON
Quanniecia Morrison already has earned a spot in the ELITE 25 in the 2017 class. She used her dynamic athleticism to show people why she has garnered early praise. She's got a terrific right-hand spin move and once she starts attacking with both hands she'll be a real problem.
FLORIDA YOUTH MOVEMENT
A pair of guards from Florida showed out against each other in the underclass session. Florida Future guard Destani Henderson and Central Florida Elite's Ariel Colon had quite the battle in their opening game here at Super 64.
WALK THE WALK(ER)
Peyton Walker of Lithia, Fla., continues to impress with her effort and energy level. The 5-foot-10 forward is one of those players who finds ways to make a positive impact on a game. Whether it is scoring, defending, rebounding, or anything else Walker is willing to answer the call and help propel her team to a win. Should she find herself in the Ivy League, as she has been interested in, she should be an impact player.
HUSTLE FEST FROM EBA VETS
Ansley Eubank is no stranger to the EBA circuit of events. She could write a book on who to impact the game moving without the basketball. Her ability to move and get to open spots on the floor helped her team immensely. She and McCutcheon also put on a show with their hustle plays, going at each other for each and every loose ball. Both only know how to play the game one way.
BABY RUTHY CAN GO
Ruthy Hebard of Fairbanks, Alaska, was active and athletic this morning at Super 64 Camp. She is a talented prospect with the ability to play both the 4 and the 5 at the next level. This morning she was effectively blocking shots and rebounding the basketball on defense while also scoring on offense. This is the second weekend this spring where she's traveled outside her club team schedule to seek out the level of competition that doesn't exist in Alaska. And due to the adjacent state rule she cannot play with a lower 48 based program as Alaska doesn't share a border with any other state.
WAGNER ON FIRE
Central Florida Elite 2016 guard Taylor Wagner of Palm City, Fla., decided she didn't want the matchup of Lindsey Corsaro, the 2016 Kentucky commit, and Te'a Cooper, the 2015 Tennessee commit, to be the only headline from this morning's second game. Wagner showcased her range and ability to create space on nearly every touch in this game. She appears to have grown a bit since last summer as well where size for the position is not an issue. She mixed flash and production this morning to prove she came to play.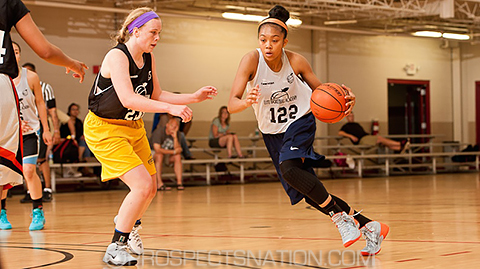 Oliana Squires played well on the opening day of EBA Super 64 Camp.. *Photo by Ty Freeman.
ROCKY MOUNTAIN STANDOUT
Oliana Squires of Colorado Springs, Colo., was very effective early this morning making plays off the bounce and attacking the rim. The 2016 combo guard has the ability to be a quality mid to high major recruit if she continues to develop her skill set and turn in impressive performances like she did this morning.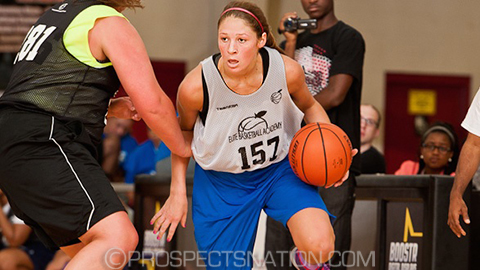 Kentucky verbal commit Lindsey Corsaro showed why she's such a highly touted prospect on Saturday day at EBA Super 64. *Photo by Ty Freeman.
ELITE 60 SHOWDOWN AT THE POINT
You can't start a morning much better than Super 64 Camp's court five matchup between a pair of ELITE 60 point guards. Michigan State verbal commit Taryn McCutcheon, ranked 33rd in the 2016 class, and Tyasha Harris, who is No. 41 in the class. The two didn't use the 9:10 AM tip time as an excuse to not go at each other. Instead the McCutcheon, of Washington, W.Va., and Harris, of Indianapolis, Ind., set the bar incredibly high for the rest of the weekend.
WATCH SUPER 64 LIVE
#ProspectsNationTV LIVE Super 64
CAMP KICKS OFF WITH PLAYERS PAST AND PRESENT
With 180-plus campers scheduled to come through Suwanee Sports Academy this weekend, there will be no shortage of talent. With plenty of stars from the Southeast, including recent Tennessee commit Te'a Cooper of Powder Springs, Ga., joining players from thousands of miles away, such as Ruthy Hebard of Fairbanks, Alaska, the diversity of styles, sizes and talent are unmatched.
With the EBA camps being around for several years now, players who once participated are beginning to return to camp as coaches, giving back to the next crop of college hopefuls. Notre Dame's Taya Reimer, Tennessee's Andraya Carter and Clemson's Tiffany Lewis are Lady Vol incoming freshmen Alexa Middleton on the camp staff. They are joining EBA lead trainers Christian Simmons and Adrian Penland.
In addition to the entire ProspectsNation.com and JumpOffPlus.com International Report staff being on hand, evaluators from Blue Star and All Star Girls Report are in the building scouting the action her in the Peach State.