EBA All-American Camp -- Live Blog
Posted
7 years 9 months ago
Twitter Feed
Tweets about #EBAAllAmerican -RT
Live Streams
Watch live game streams on ProspectsNationTV powered by SUVtv: WATCH LIVE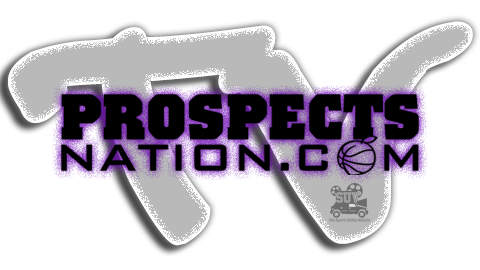 Boyd Ballin'
The Volunteer State always shows up in mass for EBA events and in the underclass group Emily Boyd of Crossville, Tenn., represented well. The freshman has good length and combined good perimter shooting with the ability to create off the bounce.
Sherer Sure On The J
Powerful wing prospect Alayjah Sherer of Tupelo, Miss., can do a lot of things on the court with her strength and size. What was impressive on Sunday was her consistent jumper. She's hard to handle on the drive as is, but adding the jumper today made her really tough to guard.
Post, Pest
Another EBA veteran guard, Kelly Post of Fayetteville, N.C., is a certified pest on the court. She picks up the length of the floor and puts constant pressure on whoever she's guarding. Though her biggest impact is on the defensive end she is very skilled and efficient offensively. She picks her spots to beat you and had a terrific weekend.
Communication The Key
With an abundance of emphasis on scoring the basketball in the sport, two sessions of the upperclass division were dedicated to defensive principles, none being more important than communication. Despite just starting her sohpomore year of high school, ELITE 25 ranked forward MiMi Collins had no problems leading the way with her group. The 6-3 prospect from Laplata, Md., was joined by junior guard Daly Sullivan of South Bend, Ind., directing and bringing energy to the session. While everyone is enamoured with scoring, these two ranked players showed that playing at a high level must occur on both ends of the floor.
Wallis Shining On Day Two
EBA veteran Jessee Wallis of Dayton, Tenn., picked her game up a notch on Sunday. The 5-10 senior from Rhea County High School was locked in and aggressive today. The uncommitted prospect could be a late steal with her toughness, size and ability to knock down shots.
#EBAAllAmerican: 2016 @_jesseewallis has knocked down back to back 3's to open the the game http://t.co/ggzCQertpS pic.twitter.com/5qpsrtD0l1

— Kris Watkins (@KrisWatkinsPSB) September 6, 2015
Shear(s) Talent
Players who compete on every possession make teammates and the flow of the game so much better and Skylar Boshears, the 5-9 guard from LaFollette, Tenn., does just that. The 2019 guard plays both ends of the court with equal intensity and her hatred for losing is obvious. She refused to let her team relax when it got down early in their second game.
Sitting with @KeilMoorePSB and @StephenPeckPSB and we keep finding great things to stay about Skylar Boshears @skkkyyyyy10 #EBAAllAmerican

— Chris Hansen (@ChrisHansenPSB) September 5, 2015
Sullivan Being Sullivan
Despite being in just the eighth grade this fall, Keegan Sullivan is no stranger to the staff or to EBA events. The 5-11 combo guard from South Bend, Ind., is really putting a lot of pressure on teh dfense today by attacking with strength, both in transition and off of ball reversals. She's strong physically and uses her size as well as anyone at that age. She also doesn't cut anyone any slack and if the opposition is slipping she is going to exploit it.
#EBAAllAmerican: '20 Keegan Sullivan is a solid PG who can create her own shot off the dribble & defend. @SkyDiggs15U

— ProspectsNation.com (@ProspectsNation) September 5, 2015
Capps Doing A Little Of Everything
Emma Capps, the 6-0 post from Crossville, Tenn., is proving to be a versatile post at an early age. Just entering the eighth grade, she is posting strong, finishing after contact, running the floor and even hit the trail jumper.
#EBAAllAmerican @capps_emma plays with a lot of poise and strength in the paint. Rare at such an early age.

— Chris Hansen (@ChrisHansenPSB) September 5, 2015
Bartram Running And Gunning
Brylee Bartam, the 5-8 point guard from Seffner, Fla., is off to a terrific start at EBA All American Camp. After getting to the gym early and getting shots up she hit the skills session with intensity and hit the court with a ton of confidence. The freshman was created off the dribble, scored the basketball and made some terrific passes in transition. There's a coolness to her game on the court where she doesn't get rattled by much.
Carter On Approach
It may be too early to annoint the next big thing in the post but Jessika Carter of Waverly Hall, Ga., definitely showed signs of her potential. Her athleticism and length alone bring attention but it is her ability to challenge shots without fouling and get up and down in transition are equally impressive.
Impressed with the upside, agility of 6-3 post Jessika Carter (18-GA) on day one of #EBAAllAmerican Camp.

— Chris Hansen (@ChrisHansenPSB) September 5, 2015
Wasting No Time
It didn't take long for Karissa McLaughlin of Roanoke, Ind., to make an impression.
Back to back possessions defender has a lazy close out on @Kmclaughlin12 and she makes them pay with triples, all net. #EBAAllAmerican

— Chris Hansen (@ChrisHansenPSB) September 5, 2015
Going Left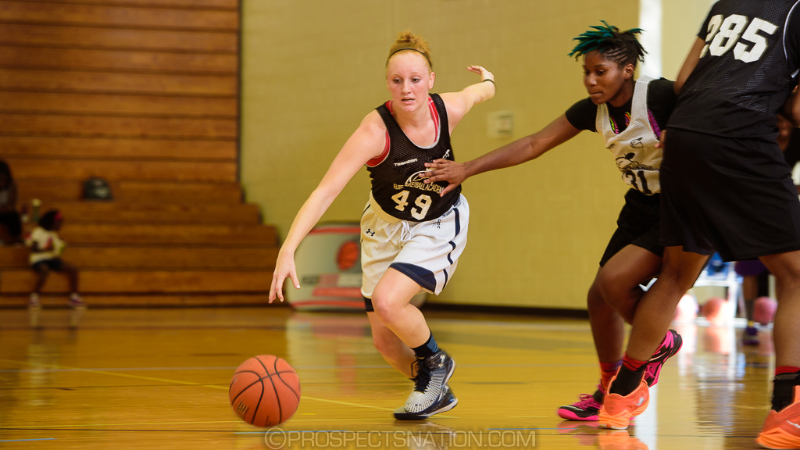 Tenacity is not something that can be coached and the play of Averee Carpenter in the opening game of the camp was just that from the opening tip. She's very active defensively, scoring on muliple turnovers she created jumping passing lanes and tipping balls. She sprints from behind to tip out as well instead of quitting on the play. She showed the ability to drive and finish, especially going left. She added the pull back dribble to a jumper as well.
#EBAAllAmerican Avree Carpenter ( TN-17) had a good game. She scored well in transition & played good defense @TampaThunderGBB

— ProspectsNation.com (@ProspectsNation) September 5, 2015
Floor Stretcher
Madison Pack stands 6-3 and has the strength to play in the paint. She poses mismatches in that she has no problems squaring up and hitting the trail or ball-reversal 3-pointer. She also showed the ability to face up from the high post and slash as well. Her activity makes her hard to guard as she doesn't take many possessions off.
Drill Sessions Wrap
It didn't take long for Grace Berger of Louisville, Ky., to stand out. The 5-11 sophomre showed up early in 3-on-3 play and continued throughout the opening hour of skill work to be locked in. She is slick with the ball and goes hard on every rep. She's a player to watch closley in game play to see how it transitions.
Meet The Players
2015 #EBAAllAmerican Campers
Faustine Aifuwa – Dacula (GA) – 2016
Kiana Allen – Summit Country Day (OH) – 2018
Paris Babino – Lafayette Christian Acad. (LA) – 2017
Ashtyn Baker – Northpoint Christian (MS) – 2017
Endia Banks – Duluth (GA) – 2017
Brylee Bartram – Seffner Christian (FL) – 2019
Makenzy Bennett – Daniel Boone (TN) – 2017
Grace Berger – Sacred Heart (KY) – 2018
Abby Bertram – Midway (TN) – 2016
Erin Boley – Elizabethtown (KY) – 2016
Kendall Bollmer – Dacula (GA) – 2019
Skylar Boshears – Campbell County (TN) – 2019
Emily Boyd – Stone Memorial (TN) – 2019
Stephanie Brower – Wiregrass Ranch (FL) – 2017
Autumn Brown – Crestview (MO) – 2020
Jenna Brown – Lovett (GA) – 2018
Gabby Burris – Liberty Union (OH) – 2017
Chelsea Burt – Christ Presbyterian (TN) – 2016
Rylee Calhoun – McIntosh (GA) – 2019
Emma Capps – North Cumberland (TN) – 2020
Avree Carpenter – Seffner Christian (FL) – 2017
Jessika Carter – Harris County (GA) – 2018
Camree' Clegg – Wayne Memorial (MI) – 2018
Madisyn Collier – Gulfport (MS) – 2016
Mimi Collins – Paul VI (VA) – 2018
Kylea Cooper – St. Stephens (NC) – 2017
Ariyah Copeland – Columbus (GA) – 2017
Taylor Cotner-Brabson – Northview Academy (TN) – 2019
D'Anna Cvetnich – Central (VA) – 2019
Drucilla Dawson – Gatlinburg Pittman (TN) – 2017
Evie DePetro – Halls (TN) – 2020
Alyssa Fisher – LSU Lab School (LA) – 2019
Alayna Ford – Chattahoochee (GA) – 2017
Katherine Fourie – Mountain View (GA) 2019
Lindsey Freeman – Southside (TN) – 2020
Shannon Fritz – The Cottage School (GA) – 2016
Hannah Fuller – Southside Christian (SC) – 2021
Eden Gainer – Wheeling Central Catholic (OH) – 2020
L'Donnisty Granison – Millbrook (NC) – 2016
Blair Green – Harlan County (KY) – 2018
Macey Gregg – Lakeview Fort Oglethorpe (GA) – 2019
Skyler Goodwin – Parkview Baptist (LA) – 2017
Lily Griffith – Daniel Boone (TN) – 2018
Mya Giusto – Community School of Naples (FL) – 2019
Sydnie Hall – Perry County Central (KY) – 2020
Alea Harris – The Summit Country Day School (OH) – 2018
Jiselle Havas – Lake Highland (FL) – 2018
Christalyn Hill – Central (LA) – 2018
Kaila Hubbard – Holy Innocents (GA) – 2018
Simira Huggins – Dillard (FL) – 2016
Alexis Hunter – Ravenscroft (NC) – 2016
Nyla Jean – Coleman (FL) – 2021
Lexius Jeffcoat – Evans (GA) – 2018
Keyara Jones – Heidelberg (MS) – 2017
Emma King – Lincoln County (KY) – 2019
Lizzie Lagarde – St. Scholastica Academy (LA) – 2016
McKenna Lawrence – Evans (GA) – 2016
Gabby Lupardus – Wyoming East (WV) – 2018
Lexi Maddox – Winder Barrow (GA) – 2017
Jessica Martin – Saint Catherine's (VA) – 2016
Kristen Mayo – East Carter (KY) – 2017
Jurnee McLaurin – West Jones (MS) – 2019
Karissa McLaughlin – Homestead (IN) – 2017
Rachel Mclimore – Covenant Christian (IN) – 2017
Erin Mines – Blythewood (SC) – 2020
Lauren Morris – Riverside (IN) – 2020
Madison Pack – Sarasota (FL) – 2017
Sydney Parrish – Riverside (IN) – 2020
Rayven Patin – Cabrini (LA) – 2018
Harley Paynter – East Carter (KY) – 2021
Shedricka Pierson – Brusly (LA) – 2016
Alexa Pennington – West Union (OH) – 2019
Kaitlyn Phillips – Science Hill (TN) – 2017
Mya Phillips – Helen Cox (LA) – 2019
Kelly Post – Village Christian (NC) – 2016
Sequoyah Rajner-Robinson – Bishop Verot (FL) – 2019
Raquael Reese – Mercy Academy (KY) – 2019
Amaya Register – Wesleyan (GA) – 2018
Seygan Robins – Mercer County (KY) – 2018
Caitlyn Ross – Midway (TN) – 2019
Tawnecia Rush – Central Gwinnett (GA) – 2016
Celeste Ryman – Millersburg West (OH) – 2019
Caitlin Sasapan – Simpson MS (GA) – 2021
Emily Saunders – Wyoming East (WV) – 2019
Victoria Saxton – Model (GA) – 2018
Charity Shears – Boyd County (KY) – 2018
Payton Shears – Boyd County (KY) – 2018
Railyn Shelvin – East Ascension (LA) – 2017
Alayjah Sherer – Tupelo (MS) – 2017
Paige Shy – St Joseph (WV) – 2019
Alea Spears – Mountain View (GA) -2019
Jaron Stallworth – Mountain View (GA) – 2018
Daly Sullivan – St. Joseph's (IN) – 2017
Keegan Sullivan – St. Anthony's (IN) – 2020
Starr Taylor – Jonesboro (AR) – 2016
Tierra Taylor – Seminole (FL) – 2016
Bailey Trumm – Halls (TN) – 2020
MaryMartha Turner – IMG Academy (GA) – 2018
Grace van Rij – Gatlinburg Pittman (TN) – 2018
Megan Veneman – Buckeye Valley (OH) – 2017
Jessee Wallis – Rhea County (TN) – 2016
Emilyae Ward – Copiague (NY) – 2018
Bobbi Wardwell – Wesminster (GA) – 2018
Elysa Wesolek – Northwood Academy (SC) – 2018
Zairya West – Millbrook (NC) – 2017
Savannah Wheeler – Boyd County (KY) – 2019
Jah'che Whitfield – Westwood (SC) – 2018
Kaitlynn Wilks – Lincoln County (KY) – 2019
Caitlyn Williams – Brusly (LA) – 2017
Keaira Youngblood – Beavercreek (OH) – 2017
Zoe MacKay Zacker – Montini Catholic (IL) – 2019
Macey Zeh-Arndt – John Hopkins MS (FL) – 2020