EBA All-American Camp Day 2
Posted
11 years 6 days ago
BUFORD, Ga. -- There is a lesson to be learned at all star events, like the Elite Basketball Academy's All-American camp, where a majority of the players participating come from an environment, at least at the high school level, where any shot they take is as good or a better option than giving the ball up.  And while wins and losses in such an event aren't the most celebrated barometer, it nevertheless shows if a group of star players can adapt to playing with other elite players.
With that, considerable props need to be given to Team Hemingway, coached by JumpOffPlus.com assistant director of scouting, Jonathan Hemingway.  His team went 3-0 during the third annual EBA All-American camp by having the best depth of ball handlers and developing a chemistry of sharing the ball, something that is not easy in a two-day event with no real team practices.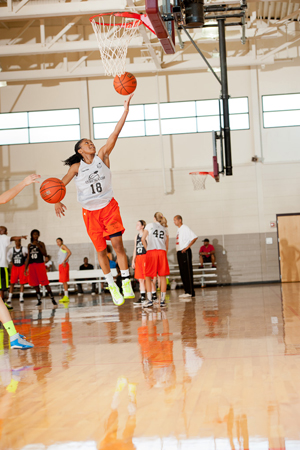 '16 Watch List point guard Crystal
Dangerfield. *Photo by Ty Freeman.
Team Hemingway included Chyanne Butler of Corona, Calif., a 2014 point guard who plays with West Coast Premier in the summer; Te'a Cooper of Powder Springs, Ga., a 2015 point guard who plays for AOT in the summer, Crystal Dangerfield of Murfreesboro, Tenn., a 2016 point guard who plays with the Tennessee Flight in the summer; Courtney Ekmark of Phoenix, Ariz., a 2014 class Connecticut commit; Briana Horrocks of Buford, Ga., a 2014 post who has committed to Purdue; Caliya Robinson of Marietta, Ga., a 2015 forward who also plays for AOT; and Jackie Young of Princeton, Ind., a 2016 wing who plays with Indiana Elite.
Though the team eeked out with a 51-47 win in its first game Saturday morning, the team made adjustments that allowed them to play better as a group.  Butler, Cooper and Dangerfield are all point guards that are used to having the ball in their hands and there simply weren't enough balls for them to create off the dribble drive on every possession, especially if they wanted to play at the same time.
Butler started out her AAU career playing off the ball, despite her skill set lending her to being a classic point guard.  She was teamed with Jordin Canada, one of the top 2014 point guards in the country.  So she resorted back to that experience and it helped her team click.
But the guard play wasn't everything, as the inside play of both Horrocks and Robinson were impressive and it had to be with how well Notre Dame commit Taya Reimer was playing this weekend.  Robinson, who is just a sophomore at Kell High School, has all the physical tools to become a impact player at the forward position.  Think Amber Harris with the combination of athleticism, length and ability to work the glass.  Like Harris, Robinson at this early stage in her development has an uncanny feel for the game more than polished ball skill.
Her inside running mate, Horrocks, has matured a lot and really good when she takes her time and gets her balance inside.  And having a 6-5 player who can step out and stroke the face-up jumper to 17 feet only makes defending her team that much harder.
The kicker for Team Hemingway came in the way of Ekmark, because regardless of the result of her last shot, she is a player that you simply cannot help off of.  On day two she had shaken off the rust of playing just tennis the last month and that meant bad news for the opposition.  With guards who can penetrate at will and post players who can score in the paint, having Ekmark on the floor allowed those players space.
Kudos to Team Hemingway for finding both individual and team success throughout the weekend but what made camp an All-American caliber experience was the best players in the country showed it.  Kaela Davis, Diamond DeSheilds and Reimer, who are ranked in the top four of the 2013 class, all took turns dominating and setting the bar for the younger players. And the play of Cooper and Asia Durr, a pair of point guard who easily could be in the top five when 2015 rankings are released stepping up, there really wasn't a time when any player could coast without being exposed.  And competition is what separates the good players from becoming great.
Follow @ChrisHansenPSB