Commits: Von Oelhoffen, Lattimore, Harriel, And More
Posted
3 years 4 months ago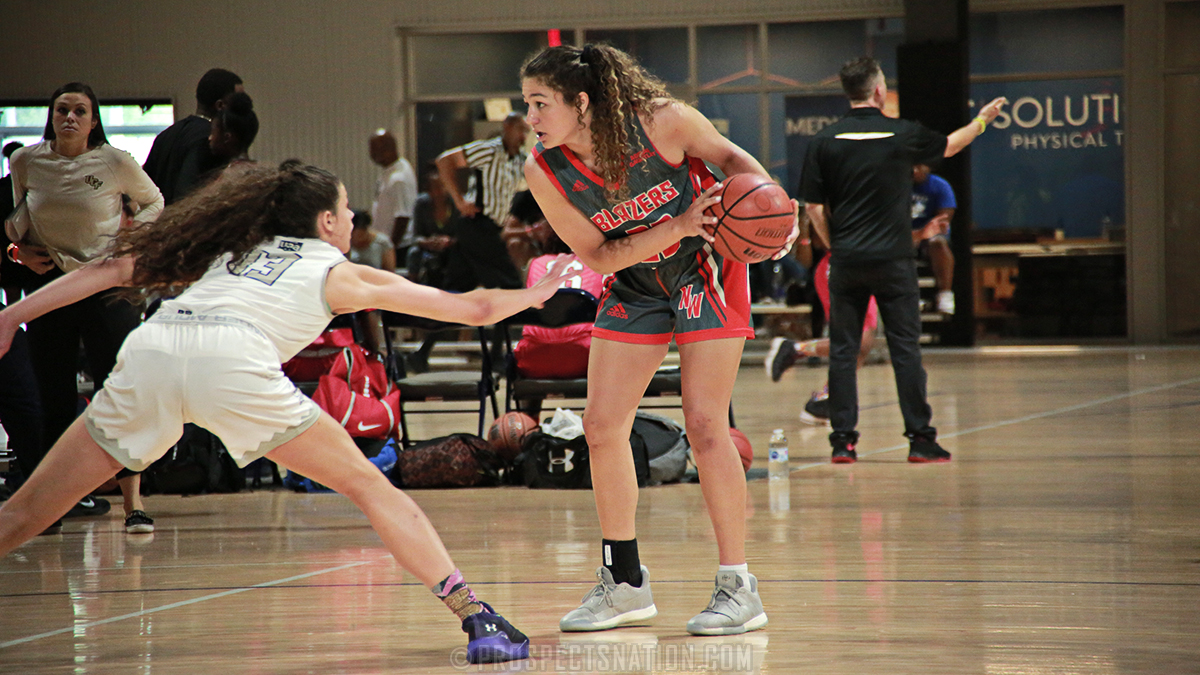 Talia Von Oelhoffen of the NW Blazers is guarded by future Oregon State teammate Sasha Goforth at the 2019 PSB Summer Invitational. *Photo by Larry Rheinhart.
Talia Von Oelhoffen of Pasco, Washington, gave her verbal commitment to Oregon State. The 6-foot guard is ranked No. 27 in the 2021 class by ProspectsNation.com. She chose the Beavers over finalists Connecticut, Oklahoma, Stanford and UCLA.
HANSEN'S TAKE
Von Oelhoffen is a big guard with deep range and the confidence to have the ball her hands in key moments. She spent much of last summer playing the point guard spot and that work will only increase her value at the next level. While she's a different player than LA Sparks guard Sydney Wiese, it's easy to picture her in the same high ball screen action that the Beavers utilize so well.
CLAY'S TAKE
Von Oelhoffen plays the lead guard position for her travel team and could potentially play on or off the ball in Corvallis. She has great size at the guard spot and could see plenty of time on the ball for Scott Rueck's Beavers. Van Oelhoffen impressed with her play-making skills that should translate to her being a well rounded overall player no matter how she's utilized. Her passing skills and vision were what stuck out in big match-ups at the BCSSummerInvitational last week.
The Beavers now have two top 30 perimeter players who can shoot the rock and play with the ball in their hands. Von Olehoffen joins Greta Kampschroeder of Naperville, Illinois. The pair of 6-footers on the perimeter sets the table for a versatile and potentially lethal lineup in Corvallis.
HANSEN's NOTEBOOK
Jzaniya Harriel of Sacramento, California gave her verbal commitment to Stanford. The 5-10 point guard is an ELITE 75 prospect and one of the top rated guards out west. Her explosive playmaking is timely as the Cardinal look to replace 2020 senior standout Kiana Williams. Harriel is the second player in Stanford's 2021 class as she joins 6-2 wing-forward Brooke Demetre of Foothill Ranch, California. Demetre is ranked No. 7 in the class.
Syracuse dialed Toronto, Canada, to land a pair of ranked prospects for its 2021 class. No. 13 rising senior Latasha Lattimore and Crestview Academy teammate No. 28 Shayeanne Day-Wilson both chose the program the same day. Lattimore is a 6-4 forward with an incredibly high ceiling and Day Wilson is a 5-5 lead guard prospect who is terrific creating off the dribble.
Taylor Cullinan of Dallas, Georgia, gave her verbal commitment to Alabama recently. The 6-2 forward is a smooth operator who has improved a lot in the last year. She held offers from Cal State Bakersfield, North Florida, Toledo, among others.
CLAY'S NOTEBOOK
Class of 2021 forward Bree Salenbien of Onsted, Michigan, committed to Gonzaga. Though she tore her ACL before last high school season ended, she's expected to make a complete recovery. Salenbien gives the Zags a unique combo type at the forward spot with the skill and ability to play either forward position in a 4-out offense. Defensively, as Salenbien continues to get stronger her ability to defend either the 3 or 4 will improve as a result.
Class of 2021 guard Angie Juste-Jean of Winston Salem Christian (N.C.) by way of Montreal, Quebec, committed to East Carolina. She is a dynamic athlete for her school team. In that regard, Juste-Jean is an off the ball option on the perimeter with potentially elite bounce and speed. She is still rounding out her skill set but was able to produce at one of the nation's top school shootouts.
Class of 2021 post Mya McGraw of Port Charlotte High School (Florida) committed to Charlotte. She has the size on the interior to mix it up but the skill to complete plays through contact. McGraw is emerging as one of the more talented bigs in the southeast region and a high level pre-summer addition for the 49ers.

Chris Hansen is managing editor of ProspectsNation.com and serves on the McDonald's All-American and Naismith Trophy selection committees. He was a co-founder of and the national director of scouting for ESPN HoopGurlz from 2005 until 2012 and is the director of the Check Me Out Showcase and ELITE is EARNED events. He can be reached at chris@prospectsnation.com.

Brandon Clay serves as the Director of Scouting for ProspectsNation.com and owns The BrandonClayScouting.com Evaluation Report, which is read by more than 200 colleges and universities nationwide. He also serves as the Executive Skills Director for the Brandon Clay Scouting Academy Series.