Posted
5 years 3 months ago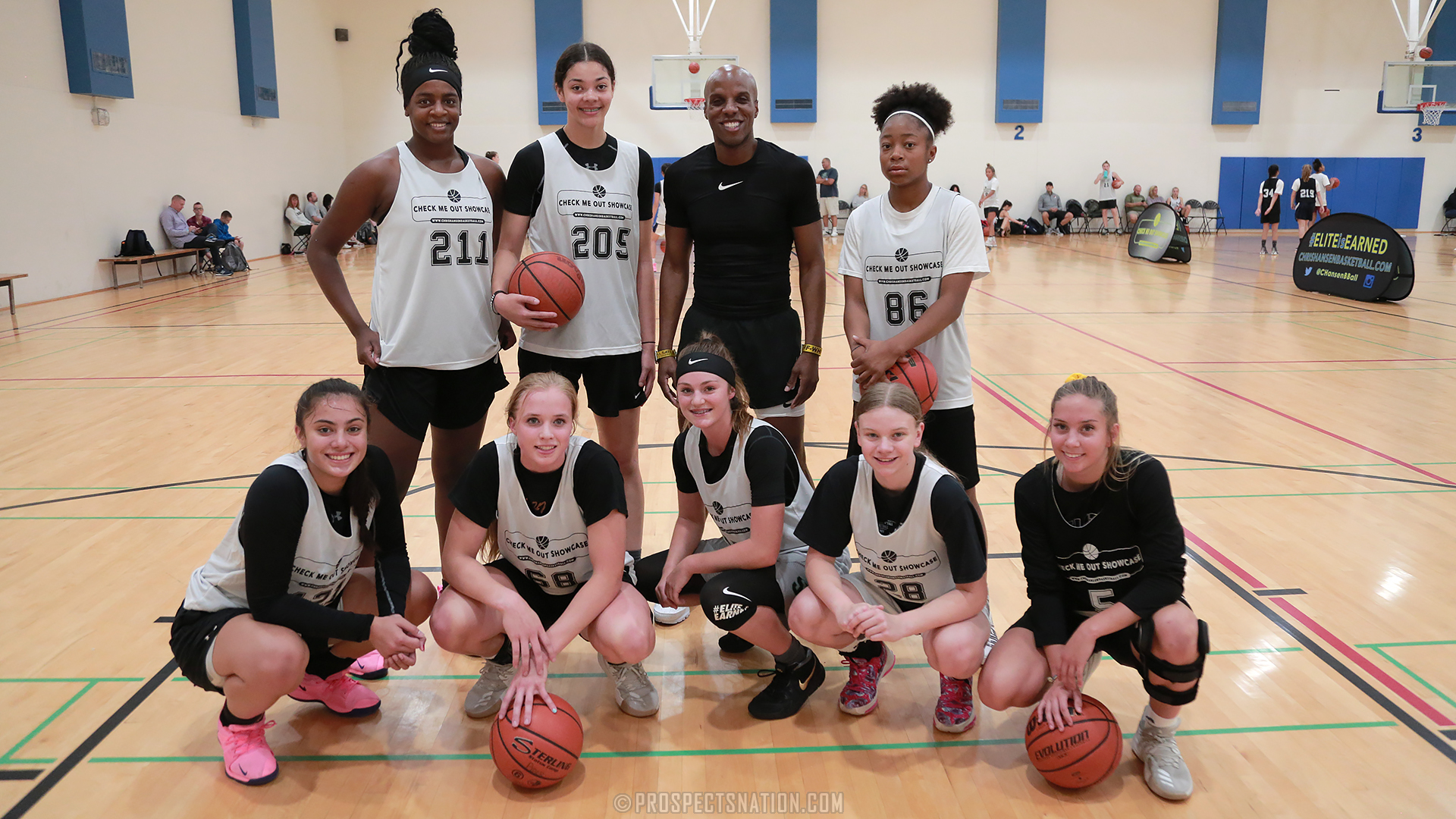 Back (l to r): Jordyn Jenkins, Dalayah Daniels, Brandon Clay, Daylani Ballena; Front (l to r): Meghan Fiso, Hailey Van Lith, Kelsey Lenzie, Piper Bauer, Hanna Wheeler. *Photo by Larry Rhinehart/Parallels Media.
SEATTLE – The Emerald City and the University of Washington campus has been home to the Check Me Out Showcase the last five years. The event, which has morphed into a seven-city, national camp circuit, was as strong as ever because of the talent surge in the Pacific Northwest. This year I was on hand to provide additional skill development courtesy of BrandonClayTraining on Sunday morning before the upper class session of the showcase. Here's a look at each of the eight members of the 8:00 a.m. group:
Daylani Ballena – Renton, WA - 2020 - Kentridge HS
Ballena is a good athlete with speed in the open floor. She is working on her skill set and was impressive here with her willingness to lock in to work. As Ballena's outside jumper continues to become more consistent, her game is going to go to another level as a result.
Piper Bauer – Gig Harbor, WA - 2021 - Peninsula HS
Bauer is a silent assassin from the outside. The slender-framed perimeter option showed in the skill session that her outside shot is consistent out beyond the 3-point line. If Bauer can become more vocal on the floor, that quality will only enhance her budding skill set.
Dalayah Daniels – Seattle, WA - 2020 - Garfield HS
Daniels has all of the tools to be a high level frontcourt option. Learning to play inside- out will take her offensive skill package up a notch. She's a capable threat on both ends right now, as is. When her feet are slowed down and in proper position, it's hard for defenders to contain her.
Meghan Fiso – Seattle, WA - 2020 - West Seattle HS
Fiso's ability to do a multitude of things offensively was on full display by 8:17 am. She can shoot it from the outside, catch in the pinch post or use her strength to finish at the bucket. For Fiso, working on when to take advantage of mismatches and assert herself offensively is the next step in her progression.
Jordyn Jenkins – Renton, WA - 2020 - Kentridge HS
When Jenkins is dialed in the way she was in this skill session, she's a tough matchup for just about any frontcourt prospect in the country. Jenkins has the size to make plays on the interior and the emerging skill to be a factor facing the basket as well.
Kelsey Lenzie – Seattle, WA – 2019 - West Seattle HS
Lenzie is a fantastic backcourt option to have in a small group setting like this. She's a worker who embraced the chance to improve her midrange footwork. A University of Portland commit, Lenzie has shown the skill percentage wise to shoot in the mid to high 30's from beyond the arc. Adding a crisp midrange jumper to that skill only makes her that much better.
Hailey Van Lith – Cashmere, WA – 2020 – Cashmere HS
Van Lith attacked the skill session the same way she does opposing defenders: with laser like precision. With her blend of power and skill, she's a scorer's scorer. Understanding how to keep the game simple with her reads will improve Van Lith's efficiency while lessening late-game fatigue.
Hanna Wheeler – Cedar Ridge, TX - 2020 - Cedar Ridge HS
In a group full of high level college prospects, Wheeler was the vocal leader. She is a next level point guard with a similar vibe to where the aforementioned Lenzie was a year ago at this same event. Wheeler showed no ill effects of a knee injury that sidelined her just over a year ago. She's one for colleges to add to the point guard list in 2020.

Brandon Clay serves as the WNBA Director of Scouting for ProspectsNation.com and owns The JumpOffPlus.com International Report, which is picked up by more than 150 colleges and universities nationwide. He serves as the Executive Camp Director for the Elite Basketball Academy Camps. He serves on the Naismith Trophy Men's / Women's College Player of the Year Academy and is chairman of the HS Boys / Girls Board of Selectors and is on the McDonald's All-American Selection Committee. He also is the publisher of PSBPopCulture.com.