Posted
4 years 5 months ago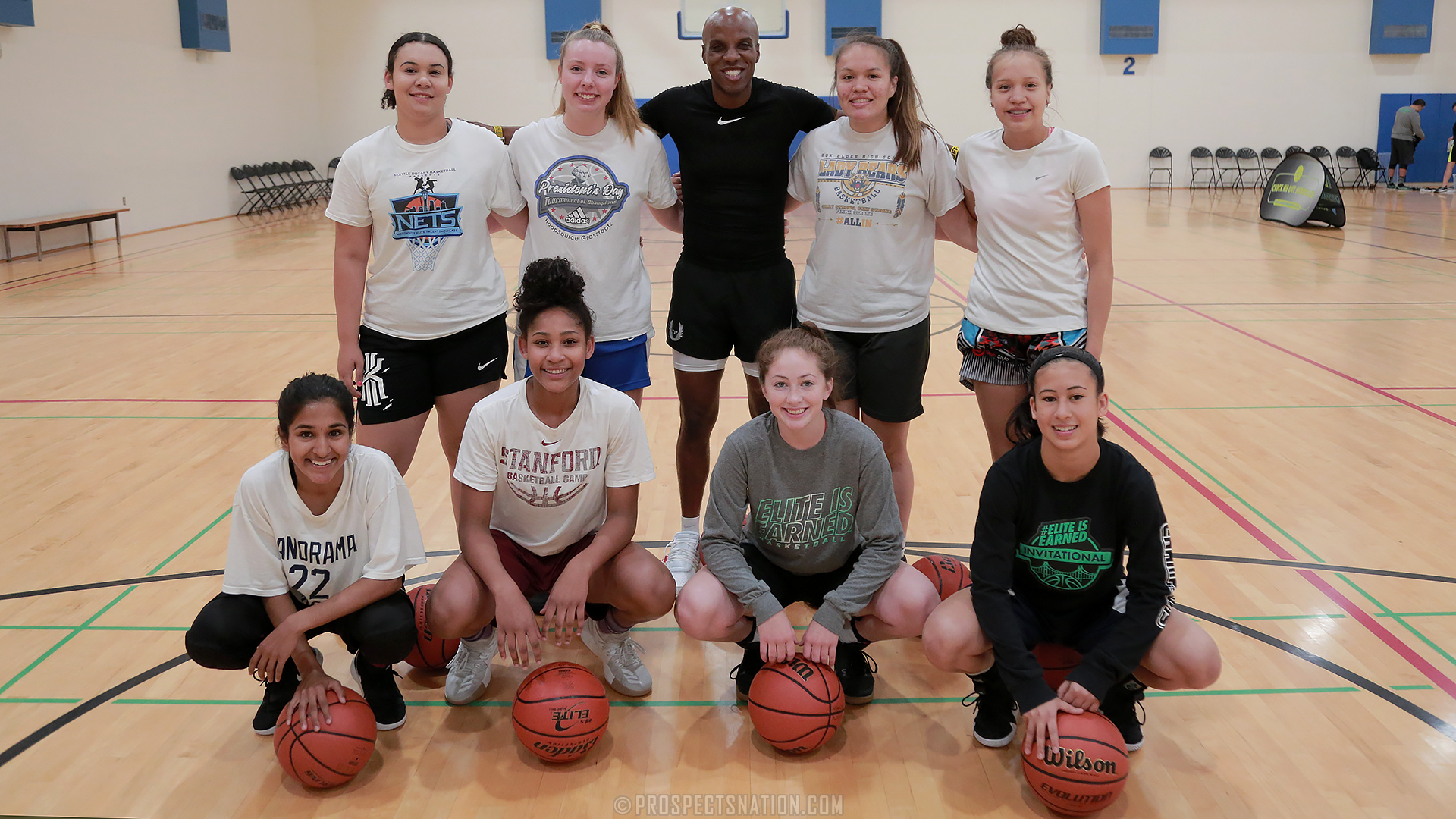 Back: Kaliyah Wicks, Kaylie Bracy, Brandon Clay, Joelnell Momberg, Kyla Momberg; Front: Muskaan Waraich, Amira Brown, Malia Smith, Isabella Mauricio. *Photo by Larry Rhinehart/Paralells Media.
SEATTLE – The Emerald City and the University of Washington campus has been home to the Check Me Out Showcase the last five years. The event, which has morphed into a seven-city, national camp circuit, was as strong as ever because of the talent surge in the Pacific Northwest. This year, I was on hand to provide additional skill development courtesy of BrandonClayTraining on Sunday morning before the upperclassmen session of the showcase. Here's a look at each of the eight members of the 7:30 am group:
Kaylie Bracy – Marysville, WA – 2019 – Lake Stevens HS
Bracy's ability to take instruction and immediately begin to try to incorporate the teaching points into her game was noteworthy. She has good size at the forward position with the ability long term to be effective as a result of her work ethic on both ends.
Amira Brown – Richmond, CA - 2021 – Salesian Prep
Brown's size and physicality is impressive as she rounds back into game shape after suffering a back injury. A talented young wing prospect, Brown showed no ill effects during the session. She has the physical tools to continue to improve with consistent skill instruction and teaching.
Isabella Mauricio – Livermore, CA - 2021 – Amador Valley HS
Mauricio is the type of guard who despite her smaller stature will be able to produce at the next level due to her ability to consistently make plays. She's a worker on both ends capable of consistently making the open 3-pointer in gameplay.
Joelnell Momberg – Box Elder, MT – 2020 - Box Elder HS
Momberg brings both size and strength to the wing position. In that regard, she caught my attention with her powerful style of play. Momberg is a potentially versatile options who could play the 2-4 depending on the style and system based on her performance here in the Emerald City.
Kyla Momberg – Box Elder, MT - 2022 – Box Elder HS
The younger Momberg was dialed in here to improving her game in the session. She's still growing her skill set but her willingness to pay attention was evident. For the versatile guard, being able to dribble and pass confidently with either hand on command will take her game to the next level.
Malia Smith – Shonomish, WA - 2021 – Glacier Peak HS
Smith has established herself as one of the premier shooters regardless of class in the Pacific Northwest over the past 12 months. She is developing her ball skill and vocal leadership to the point where she can potentially spend quality stretches of time playing the point guard position as well as off of the ball.
Muskaan Waraich – Surrey, BC - 2021 – Panorama Ridge School
Waraich brought an international flavor to the group. She earned my respect with her willingness to work hard through a series of detail oriented with a big smile on her face the whole time. She was enjoying the process of getting better. As Waraich gets stronger physically, her game will continue to grow as a result.
Kaliyah Wicks – Auburn, WA - 2019 – Mountain View HS
Wicks was a hard worker with the skill to be a factor in the frontcourt based on our work here. Though she lacks traditional frontcourt height, Wicks was able to complete plays in drills here in this setting including a flash, catch and rip series in the pinch post at the elbow. Continuing to work on being in optimum physical condition will only enhance what I saw here.

Brandon Clay serves as the WNBA Director of Scouting for ProspectsNation.com and owns The JumpOffPlus.com International Report, which is picked up by more than 150 colleges and universities nationwide. He serves as the Executive Camp Director for the Elite Basketball Academy Camps. He serves on the Naismith Trophy Men's / Women's College Player of the Year Academy and is chairman of the HS Boys / Girls Board of Selectors and is on the McDonald's All-American Selection Committee. He also is the publisher of PSBPopCulture.com.