Check Me Out SoCal -- Day One
Posted
7 years 2 months ago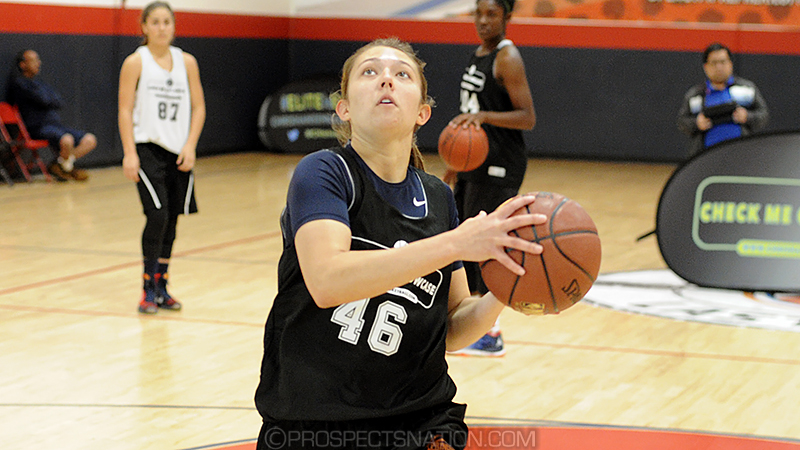 Sam Erisman of Redwood City, Calif., showing her intangibles and ability to make smart plays with the ball. *Photo courtesy of Chris Hansen Basketball.
LAKE FOREST, Calif. – The 3rd annual Check Me Out SoCal Showcase tipped off Saturday morning, the day before the women's NCAA Final Four. And with two west coast teams represented this year, it's fitting the first Check Me Out Showcase of the year is in Southern California with 140 players from Arizona, California, Colorado, Idaho, Montana, Nevada and Washington in the building.
From the intense skill sessions lead by Chris Hyppa to the three sets of four-on-four games and spotlight competitions, here is a preview of some of the standouts from the first day of action.
Kaily Kaimikaua (Henderson, Nev.), GBL -- 2017
Nevada, as a whole, had plenty of players to talk about and they were all very impressive. Kaimikaua's dynamic ability to put the ball in the bucket today was outstanding. At 5 feet 9 inches, she has good size and length at the guard position. She has deep range on her jumper and can get it off easily against smaller guards. She's not just one-dimensional. She can put the ball on the floor and manufacture offense in the mid-range areas with a variety of pull-up jumpers and floaters as well.
Sam Erisman (Redwood City, Calif.), Payes -- 2017
Erisman had a great opening day in the showcase, quickly showing her ability to make plays off the bounce and from the perimeter. She's a clear floor general on the court and is capable of navigating an offense. The best part the junior guard comes with the mentality; she's ready to play, anytime, anywhere.
Archer Olson (Palo Alto, Calif.), The National Team -- 2017
Olson made her presence known early on during the 1-on-1 competition series of camp. The 6-0 wing player brought a lot of intensity to the floor with her toughness and aggressiveness during the drill work that raised the level of the whole camp. She also had great pursuit in the live games, grabbing a lot of rebounds and created opportunities for herself in the paint with her hustle.
Cailyn Crocker (Carson, Calif.), SoCal Select -- 2019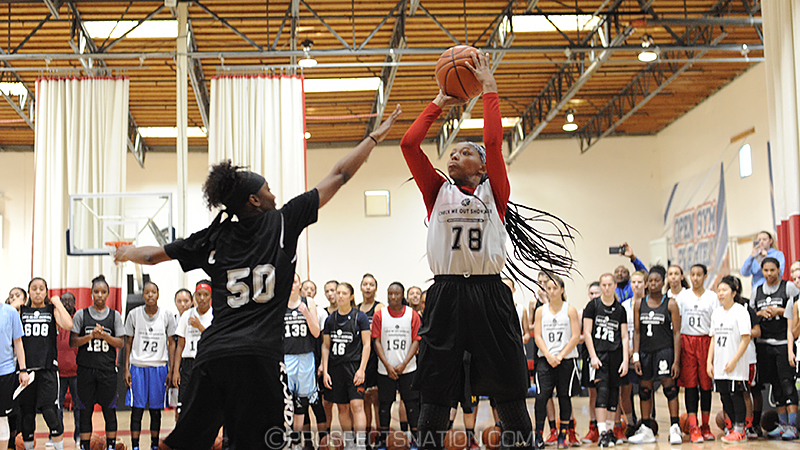 Cailyn Crocker of Carson, Calif. *Photo by Chris Hansen.Crocker showed up ready and impressed with how mature and well rounded of a game this gem of a point guard has. She's still just a freshman in high school. There's nothing from the guard position she's not capable of accomplishing from scoring, facilitating, creating, defense, to simply running her team's half court offense. The most amazing element of Cailyn's game is not just her fundamentally sound skill set, but her leadership skills that stand out most.
Niveya Henley (Seattle, Wash.), Friends of Hoop -2021
Henley has a very high ceiling. As just a seventh grader she already has good size at 5-9. Her frame has length, broad shoulders and arguably the best athletic ability out of the entire underclass session. Her footwork, ball-handling and jumper are on point. She has an advanced skill set and looks to be a well-skilled stretch-four or, possibly by the time she reaches high school, a taller wing player.
Thiw was Demetre's second appearance at Check Me Out SoCal. She came back just as impressive as the year before, elevating over defenders in the midrange and scoring buckets at the rim. Now standings 6-1, she is equipped with incredible upside and versatility. Her skill set and knack for scoring the basketball is beyond her years for the class of 2021.
Londyn Jones (Riverside, Calif.), Cal Sparks – 2022
Jones was one of the most impressive players in the underclass division. She has an explosiveness to her game and a quick first step that really supercharges her ball handling and basket attacking abilities. Her ability to change speeds and shift gears is something that doesn't come easy to most, but she really has a talent in that department. The 5-3, class of 2022 guard also has a toughness to her game on the defensive end that shows she takes pride in guarding the ball.
Around the Rim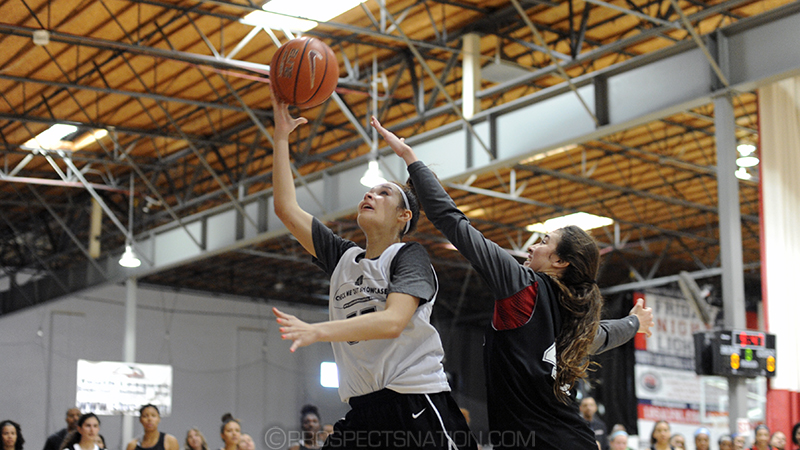 ELITE 100 guard Jayda Adams. *Photo by Chris Hansen.
For the last calendar year, class of 2017 wing Jayda Adams has been as consistent shooting the ball as anyone in her class. The 5-10 guard is in any discussion with the top shot makers in the class. Whether it's USA basketball or the Check Me Out Showcase circuit, Adams makes shots.
Class of 2018 G Naomi Yim has the ability to make a name for herself nationally this summer. Yim, who has a solid regional following, will be playing with the Cal Sparks EYBL program this summer and if she can continue to show the type of playmaking ability that she displayed today, look for her to be a key piece to that team.
Speaking of shooters, 2017 guard Chelsey Gipson is a major threat from behind the arc. Gipson is a high level athlete who has the ability to make shots both off the catch and the bounce.
A 2019 guard, Grace Sarver is starting to come into her own. She has solid size on the perimeter and has really developed her skill set over the last year.

Keil Moore is the Director of Scouting for the JumpOffPlus.com National Scouting Report and international scouting report. He serves on the Naismith Trophy Board of Selectors and has been a member of the women's basketball community for more than eight years as a trainer and evaluator. He can be reached at keil@prospectsnation.com.

Mercedes Wetmore joined ProspectsNation.com in the summer of 2014 after graduating from the University of Washington with a Communications degree. She left Washington as the all-time leader in games played and also played with the softball team in the College World Series. She was the Gatorade State Player of the Year her senior year in high school capping off a career which included three state titles. She can be reached at mercedes@chrishansenbasketball.com.