Check Me Out Midwest -- Underclass
Posted
8 years 11 months ago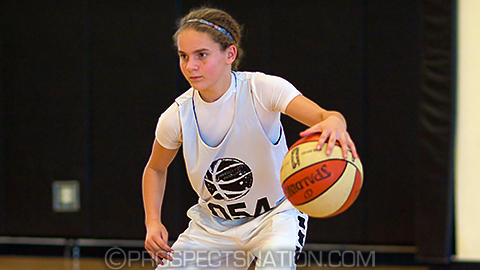 McKenna Hofschild brings a big game into a small frame and was electric at the Check Me Out Midwest Showcase. *Photo by Chris Hansen.
MINNEAPOLIS -- The Check Me Out Showcase just ended a successful weekend in the Midwest. Minnesota was the first stop of two back-to-back viewing camps with Check Me Out NorCal coming up this weekend. With the two sessions of great high school and middle school prospects, and the new addition of lead trainer Chris Hyppa, the atmosphere at the Colin Powell Center was buzzing.
In a gym full of new faces, the middle school group had some serious heat out on the floor and lots of future talent that will continue to stay on our radar.
McKenna Hofschild (Prior Lake, Minn.), Minnesota Stars – 2019
Hofschild is a ball fire at just 5 feet 1 and she can absolutely fill it up. The young lefty has more touch, balance and rotation on her shot than a lot of college players. What was most impressive was her ability to shoot the 3-ball as consistent as she did while being able to attack off the bounce for a flurry of and-1's. When she was on the perimeter, she was constantly reworking her feet, because if she sees any trajectory to the hoop, she's ready to shoot. Off the catch she showcased a jab and pull that comes off her hand the same way every time, demonstrating the amount of work she has put into her craft. Her feel for the game is there and she can go.
Dena Jarrells (Dunlow, W.Va.), West Virginia Thunder – 2018
Jarrells is the most creative point guard you will find on the circuit. The 5-3 eighth-grade point guard can shoot, score, drive and dish. Players who didn't know the West Virginia native realized that she is a huge threat from the 3-point line, but what was more dangerous than that was her attacking the basket. In the lane Jarrells can hit teammates and make passes that you just can't teach players; it comes from a creativeness from within. Behind the back passes and threading the needle are all things she can do very well and when the showcase was all over, everyone left knowing she has a bright future.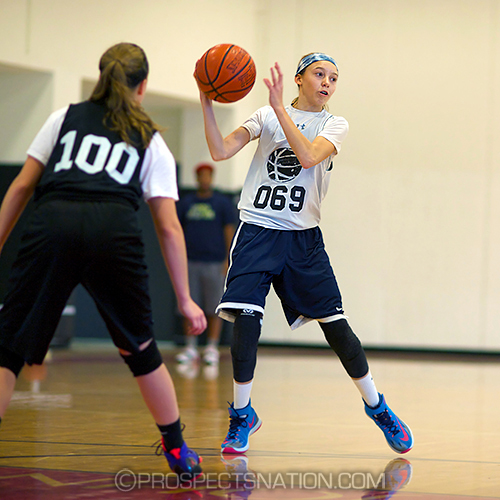 '20 ELITE Watch List guard Paige Bueckers.
*Photo by Chris Hansen.
Paige Bueckers (St. Louis Park, Minn.), North Tartan – 2020
Bueckers is only a seventh grader in the 2020 class and already is making noise on the court. All the teams that tried to put pressure on her this weekend found out that she has the gate and explosiveness to get by defenders in the open court and in the lane. She showed shiftiness and grit getting to the basket and really can knife-up the defense. She shoots the ball with great release and was knocking down shots from a lot of areas on the floor. What is great about her game is her command on the court. She is a leader and can handle the decision-making for the team. Hanging your hat on a kid like Bueckers is a great move in the basketball world, because she has a lot of tools and court savvy to her game.
Taylor Flores (Auburn, Wash.), ECBA – 2019
Taylor Flores, the two-time check me out showcase guard, made the long trek to the Midwest to get a taste of some this areas talent and really came alive on Day 2 of the showcase. What she did really well was knock down baseline 3-pointers. She hit several from that area by being ready to catch and shoot and found a lot of success in that area. Flores, with as strong as she is, was able to power at the rim and became an issue to stop offensively when she wanted to be.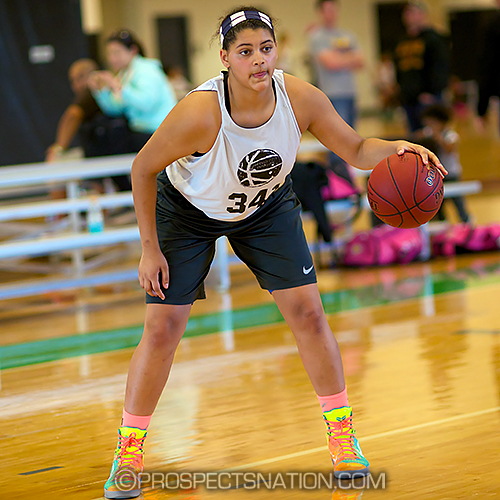 '19 ELITE Watch List post Destinee Oberg.
*Photo by Chris Hansen.
Destinee Oberg (Burnsville, Minn.), Minnesota Stars – 2019
A standout 2019, Oberg, a two-time Check Me Out Showcase attendee, continued to exercise her talents on the low block. Her ability to make moves from multiple angles is credit to her footwork game. The mobility she has in her feet allows her to make plays from underneath the basket with reverse layups, pointing to the difficulty of defending her as she is constantly looking for different scoring angles. To her growth and understanding of the game, she is already making cross-court passes out of the double team to find open teammates on the perimeter. As unselfish as she is with her ability to dominate on the block, finding another player like her will prove difficult.
Kallie Theisen (Plymouth, Minn.), Crossfire – 2019
Theisen was a force to reckon with this weekend from the frontcourt. The 6-1 forward is physical and aggressive player on both ends of the court. Her size and length really allow her to clean up rebounds and alter shots. On the block she showed she can score with her back to the basket and doesn't shy away from contact. Theisen has huge upside and if she can continue to hone in some of her post moves, she will have a lot of buckets in her future. Follow @MercedesPSB

Wetmore joined ProspectsNation.com in the summer of 2014 after graduating from the University of Washington with a Communications degree. She left Washington as the all-time leader in games played and also played with the softball team in the College World Series. She was the Gatorade State Player of the Year her senior year in high school capping off a career which included three state titles. She can be reached at mercedes@prospectsnation.com.