Check Me Out Midwest Loaded In 2016
Posted
7 years 1 month ago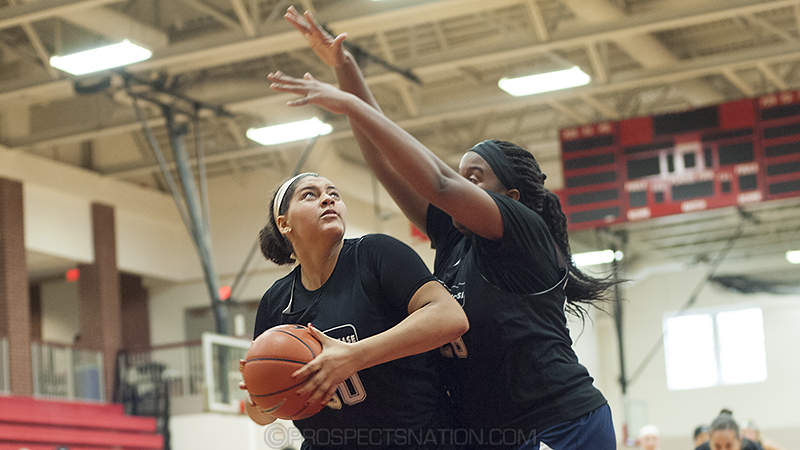 Destinee Oberg battles Zoe Hardwick in the spotlight round of the Check Me Out Showcase in Minneapolis, Minn., October 8, 2016. *Photo by Chris Hansen.
MINNEAPOLIS -- The third annual Check Me Out Midwest was a successful event that saw players from throughout the Midwest and both coasts compete and showcase their skills over two days. It was a perfect mixture of new and old as the event saw some familiar faces excel and some new names pop up on our radar. Here is a look at some of the standout performers from the weekend.

St. John's commit Qadasha Hoppie made the trip from
New York to compete at Check Me Out Midwest.
*Photo by Chris Hansen.The weekend started off with 2017 guard Qadasha Hoppie of Staten Island, New York, setting the tone during individual work. The St. John's commit's energy was contagious and it raised the level of play throughout the gym. Her ability to attack skill work will help her early in her college career. She has proven she has the ability to focus on details and apply them to the floor. Once camp changed courses to game play Hoppie was still impactful. She had several highlights making plays off the bounce and showing the elusive one-on-one ability that has allowed her to elevate herself as one of the top guards nationally.
While Hoppie's play on the perimeter set a tone, in the post, Destinee Oberg of Burnsville, Minnesota, was a factor on the inside. Oberg, who is a member of the class of 2019, is a highly skilled post player who has the ability to turn over both shoulders and score the ball. One underrated aspect of her game is her ability to pass out of double teams. At one point in camp, Oberg matched up one-on-one with 2018 post Zoe Hardwick of Minnetonka, Minnesota. The Oberg and Hardwick match-up was exciting for everyone in attendance. Hardwick, who has improved every year of her prep career, is now showing the ability to make an impact on offense and defense. As she continues to grow her college stock continues to blossom.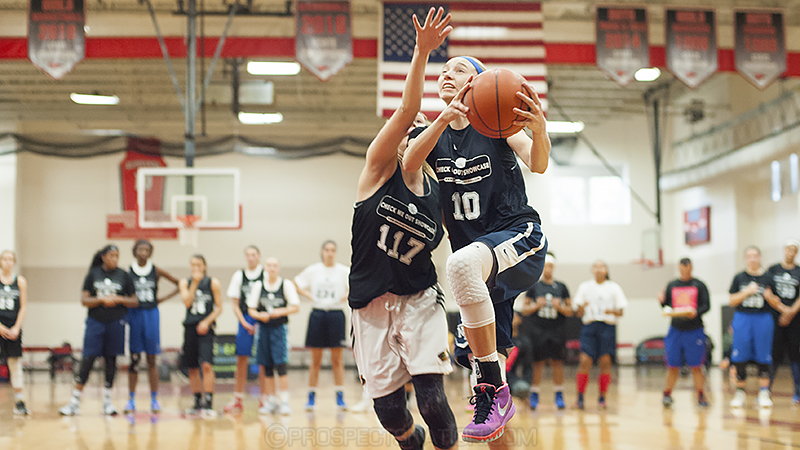 Paige Bueckers is only a freshman and is about as
battle tested as any guard in the country. *Photo
Chris Hansen.One player who made noise with her play this weekend was class of 2020 guard Paige Bueckers of Eden Prairie, Minnesota. Bueckers has the unique ability to consistently create her own shot off the bounce but also play off the ball, using screens to create offense as well. Although she is a young prospect, she had no issues playing against some of the best guards in the country and holding her own.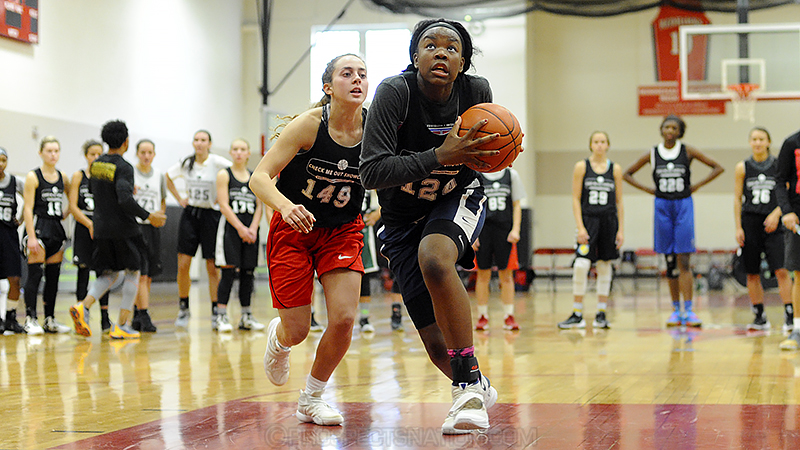 Zoe Young is an explosive guard who keeps getting
better. *Photo by Chris Hansen.Speaking of the best guards in the country, it was nice to see Zoe Young of Urbandale, Iowa, back off of her foot injury that she suffered at the end of July. Young is a tremendous playmaker who has the size of a wing but the skill set of a point guard. As she continues to improve as a perimeter shooter her offensive package is becoming more and more complete.
On day one the player of the day was Elizabeth Lutz of California, Missouri. The class of 2018 combo guard is a cerebral playmaker with unlimited range on her jumper. This weekend she had coaches, scouts, and parents buzzing about her play. Joining Lutz next summer in the Missouri Phenom backcourt will be 2018 guard Jayla Everett. Everett is a playmaker who controls her pace and makes quality decisions with the ball in her hands.
Another young player who impressed over the weekend camp was class of 2021 forward Kendall Joe Coley of Chanhassen, Minnesota. Coley, who has an older sister, Chase, who plays at Iowa, is a dynamic shot blocker who is still growing into her game offensively. Depending on how she develops her game she could eventually make the move to the wing or become a complete forward. Either way she is an exciting prospect who turned heads with her athleticism and ball skills.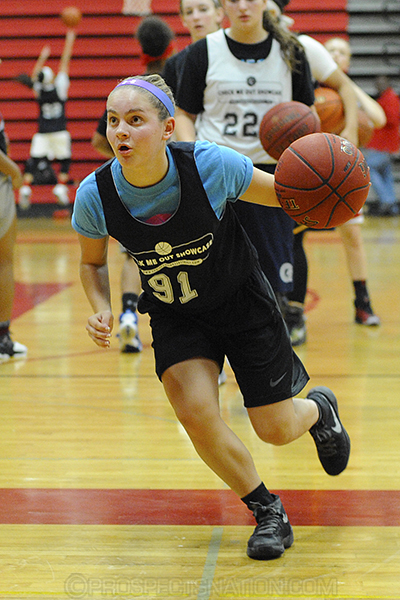 McKenna Hofschild plays the game
full speed and at a high level.
*Photo by Chris Hansen.Showing that she could make plays and make shots, 2019 point guard McKenna Hofschild of Prior Lake, Minnesota, left a lasting impact on the gym this weekend. The diminutive guard plays much bigger than she is and is hard to guard in one-on-one situations. Staying in the 2019 class, forward Kallie Theisen of Plymouth, Minnesota, also shined with her play. With her size, Theisen is able to be effective around the rim, but her offensive skill set will allow her to step away from the rim, make shots on the perimeter and attack off the bounce. Another 2019 who displayed a talented offensive game was Mimi Schrader of Plymouth, Minnesota. Schrader is a guard with a smooth way about her and a nice jump shot. We saw her make plays off the bounce in order to create space and showcase her shooting ability all weekend long.
AROUND THE RIM
When you talk about hard one-on-one match ups, Jazmine Young of Milwaukee, Wisconsin, has to be mentioned. Young is comfortable attacking the basket in a variety of ways and can be an offensive spark for any team.
It is nice to see Grace Sarver of Seattle, Washington, continue to improve and grow her game. Sarver has always been a willing slasher to the rim, but now she is starting to pick spots and learn when to knockdown the pull-up jumper or shoot the floater.
Any conversation about dynamic guards has to include Amaya Stovall. Stovall was electric all weekend long and made sure to attack the rim whenever she found space. Her teammate Jaidah Stewart had a strong weekend in both skill work and games as well.
There were a number of talented young players in the gym this weekend, as we move forward in the recruiting world remember the names Ava Berg, Jada Williams, Cherish Henderson, and Kaylee Van Eps.
There was a talented contingent making the trip from Illinois to the Twin Cities. In the underclass group were two dynamite young prospects, freshmen Halle Douglass of Lake Forest, Illinois, and Addie Budnik of Highland Park, Illinois.
Post play was impressive all weekend and 6-4 sophomore Micah Linthacum was fantastic on the second day of the event. She's patient in the post and finishes both to the baseline and the midline.
Lauren Frost of Brooklyn Park, Minnesota, had an impressive two days at Minnehaha Acadmey. She's a savvy combo guard who will certainly put points on the board.
UCLA commit Lauryn Miller of Kirkwood, Missouri, doesn't have much to prove after a successful recovery from a knee injury and a strong summer circuit. She made the trip north to Minneapolis to work on her game and her focus to improving her skill set only supports her projection as an impact recruit in 2017.
Florida commit Mikayla Hayes of Brooklyn Park, Minnesota, seems to be coming into her own. She had a terrific second day knocking down mid-range jumpers whenever post defenders waited on her in the lane.

Keil Moore is the Director of Scouting for the JumpOffPlus.com National Scouting Report and international scouting report. He serves on the Naismith Trophy Board of Selectors and has been a member of the women's basketball community for more than eight years as a trainer and evaluator. He can be reached at keil@prospectsnation.com.

Chris Hansen is managing editor of ProspectsNation.com and serves on the McDonald's All-American and Naismith Trophy selection committees. He was a co-founder of and the national director of scouting for ESPN HoopGurlz from 2005 until 2012 and is the director of the Check Me Out Showcase. He can be reached at chris@prospectsnation.com.