Check Me Out Day One In Seattle
Posted
7 years 3 months ago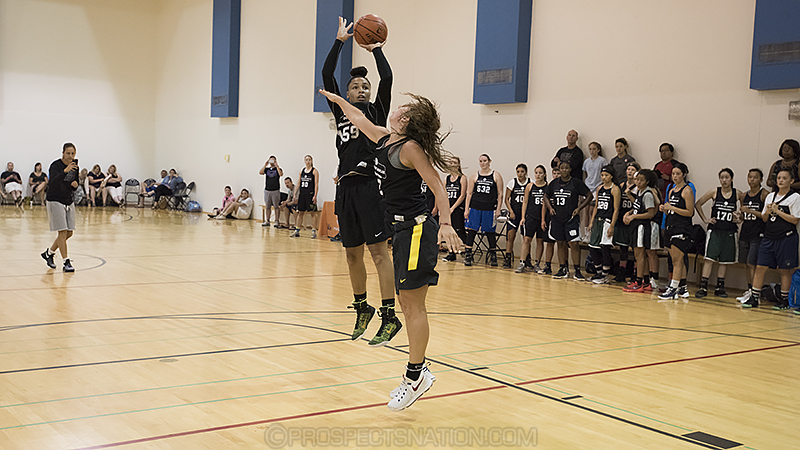 Jade Loville showed her ability to score in one-on-one situations early at the Chcck Me Out Showcase in Seattle. *Photo by Glenn Nelson.
SEATTLE, Wash., - Players from 13 states kicked off the Check Me Out Showcase on Saturday. Chris Hansen assembled an energetic group of trainers and coaches that set the tone for the weekend. With an emphasis on development, players were challenged to move outside of their comfort zone in order to see improvement. Here is rundown of a few of the players who made a positive impression on the camp's first day.
Charlee Arthur (Bellevue, Wash.), Type Middle School – 2021
Arthur showed skill and the promise in the camp's afternoon session. At 5-foot-8 she has guard skills to handle and distribute. Her mid-range pull up jumper is a nice complement to her game. She has a stroke that looks confident out to the 3-point arc. Her size and versatility should be assets that blossom into real strengths in upcoming years.
Niveya Henley (Seattle, Wash.) Mercer Middle School – 2021
Henley was a standout from the underclass division because of her production. The 5-9 wing-forward used her length and athleticism to get past defenders on the drive. Her ability to hit the spot up jumper gives her game balance. The left-hander also snagged rebounds and led the break showing even more versatility. If she continues to develop, she will project as a match-up nightmare for defenders.
JaQuaya Miller (Renton, Wash.), Kentridge High School – 2019
Miller is poised to be one of the biggest stock-risers from the event. After a successful campaign with Tree of Hope on the EYBL circuit, Miller played with exceptional poise and confidence for a 6-4 post player. She has footwork and touch that allows her to score with her back to the basket. She is also a very good passer, because of her vision and willingness to kick out of a double team. While she is not a finished product in terms of skill development, she has many of the tools a coach would want to work with at the center position.
Lexie Pritchard (West Linn, Ore.), West Linn High School – 2018
The 5-10 point guard demonstrated her leadership qualities early in the camp. Her vocal leadership set the tone for her team. She handles the ball well with either hand and delivers the ball to her teammates at various points within the offense. Prtichard's personality and her willingness to engage her teammates make her an ideal leader on and off the court.
Kareyna Taylor (Spanaway, Wash.), Curtis High School – 2020
Taylor was one of the strongest penetrators at the camp. Her ability to shake defenders and score on the move was impressive. She has a nice feel for the game as a point guard. She will deliver the ball to her teammates when the help comes to stop her on the drive. Her natural play-making ability made her one of the top young ball handlers at the camp.
Evina Westbrook (Salem, Ore.), South Salem High School – 2017
The blend of talent and athleticism that Westbrook possesses is unique. At 6-feet she has the length to defend multiple positions on the court. Her explosiveness with the ball in her hands makes her virtually unguardable by most opponents. She seemingly glides downhill towards the bucket as if defenders are stuck in slow motion. Westbrook backed up her No. 2 ranking in the class with a solid effort on the camp's first day.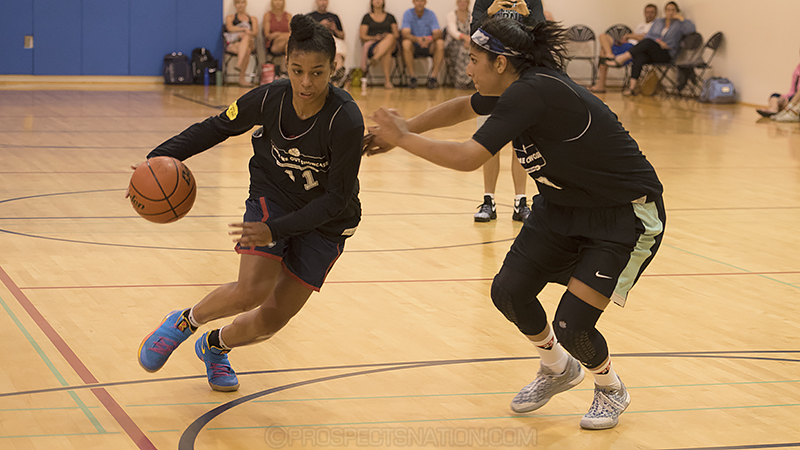 For the third straight year Evina Westbrook of Salem, Ore., used the Check Me Out Showcase in Seattle to work on her game and compete at a high level. *Photo by Glenn Nelson.
AROUND THE RIM
Morgan Gary of Kent, Wash., is a problem for defenders. She is strong, quick and powerful with the ball in her hands. At 5-8 she can play many positions and be effective. She handled the ball a lot today and scored in traffic.
Class of 2021 Sharayah Johnson of Fife, Wash., showed a world of potential at the camp. At 6-1 she has size, but she also has plenty of skill. She has soft hands to complement her soft touch on her finishes in the paint.
Class of 2018 guard Jade Loville of Issaquah, Wash., is an intriguing prospect. At 5-10 she has length and a very good first step to get downhill on the drive.
Class of 2019 wing Brynna Maxwell of Gig Harbor, Wash., is one of the better shooters in the camp. The 5-10 prospect has a very quick release.
Class of 2022 point guard Iliana Moran of Kennewick, Wash., is a tough ball handler. Although young and a bit undersized, she made many plays on Saturday. The crafty guard hit threes, delivered passes to teammates and made plays off the dribble.
Elizabeth Sundet of Monroe, Wash., made a positive impression during game play. She played with perseverance and toughness with the ball in her hands. She consistently gave second effort, which led to points in the paint.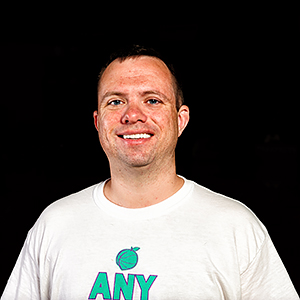 Jonathan Hemingway is the Assistant Director of Scouting for the JumpOffPlus.com National Scouting Report, is on the Naismith Trophy Board of Selectors and owns CoachHemi.com, the go-to source for coaches for X's and O's. He is the floor director of #TeamEBA camps, a site director for #TeamPSB tournaments and can be reached at jonathanhemingway@peachstatebasketball.com.