Champions League Watch List I
Posted
5 months 3 weeks ago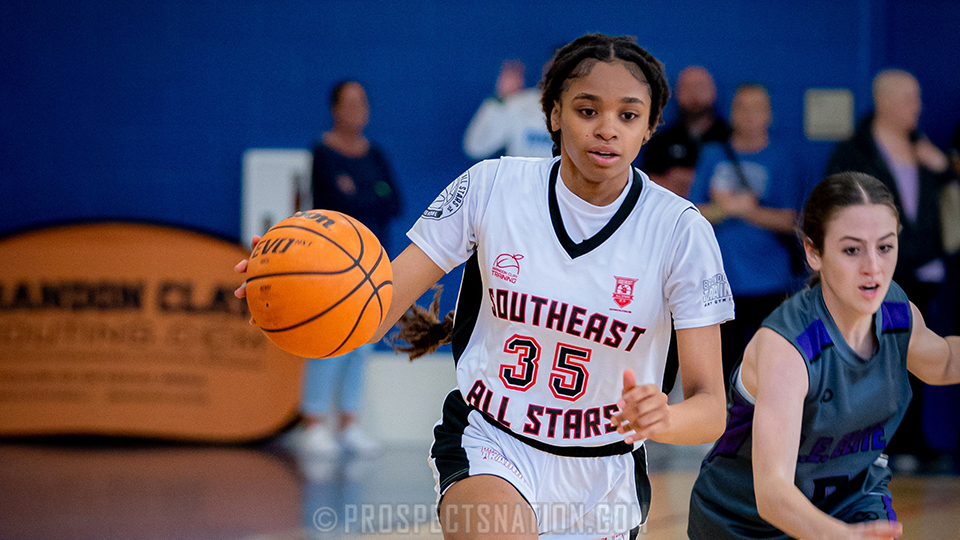 Tianna Thompson of Southeast Allstars White is one to know in the Champions League. *Photo by Anthony Lugardo.
Spring is here and with the new evaluation period comes new opportunities. For the 2023 club season, the Nike Tournament of Champions is launching The Champions League, a national collection of teams competing in the spring that will culminate in Championships in Chicago this July.
The programs in the league span from TruGame in Alaska to Southeast All Stars in Georgia and Florida to the Central PA Elite and VK Gold out of British Columbia, Canada.
The Champions League competition will kick off during the April 21-23 viewing period at Boo Williams in Virginia and the Elite Is Earned Spring Invitational in California. Here are some players to know heading into CL.
Team: Tree of Hope Idaho CL
Latta is a 5-foot-10 guard from Paul, Idaho, who has a natural creative style to her game. She's a smooth operator with the ball in her hands and she's a capable scorer at all three levels, with a nearly unblockable one-legged fadeaway that allows her to score in traffic. She was an 4A All Idaho selection as a junior averaging 25 points 5.6 rebounds 3.6 assists and 3.2 steals per game for Minico High School. She holds several offers from Big Sky, Big West and Mountain West programs heading into the spring.
Team: Southeast All Stars Black CL
Harpring will play with one of three Southeast All Stars (Black) 17u Champions League rosters. She is coming off of a 12-month run that saw her receive multiple offers from NCAA Tournament programs nationwide and win Region Player of the Year as a freshman. After averaging 23 points per game as a freshman, Harpring is considered one of the nation's premier rising sophomore prospects.
Team: Southwest Premier CL
Majarucon will play with the Southwest Premier 17u Champions League roster. She was on point during the Nike Tournament of Champions in Phoenix over the winter. Majarucon will give Donnis Henry's team a complete guard who can make positive things happen on or off the ball. Her skill set lends itself to fast-paced play.
Team: Southeast All Stars White CL
Thompson will play with one of three Southeast All Stars (White) 17u Champions League rosters. She enters the spring as one of the premier available guards in the country. Thompson also won Region Player of the Year and has offers from multiple NCAA Tournament programs over the past couple of years in Alabama, Georgia Tech, Mississippi State, Princeton and Virginia Tech amongst others.

Brandon Clay serves as the Director of Scouting for ProspectsNation.com and owns The BrandonClayScouting.com Evaluation Report, which is read by more than 200 colleges and universities nationwide. He also serves as the Executive Skills Director for the Brandon Clay Scouting Academy Series.

Chris Hansen is managing editor of ProspectsNation.com and serves on the McDonald's All-American and Naismith Trophy selection committees. He was a co-founder of and the national director of scouting for ESPN HoopGurlz from 2005 until 2012 and is the director of the Check Me Out Showcase and ELITE is EARNED events. He can be reached at chris@chrishansenbasketball.com.