Brown, Pack Shine At Maya Moore ESA
Posted
6 years 10 months ago
LAWRENCEVILLE, Ga., -- The inaugural Maya Moore Girls Elite Skills Academy provided some of the top prep prospects around the country with the opportunity to train, compete, and showcase their skills with Maya Moore and the Peach State Basketball staff. The two-day event saw players get after it in the skills portion of camp and then take it to another level once games started.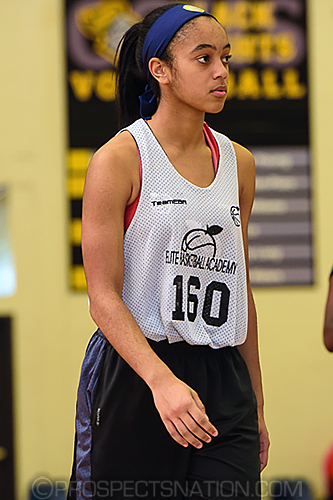 ELITE 60 guard Jenna Brown.
*Photo by Ty Freeman.A class of 2018 guard, Brown is quickly becoming a household name. Last summer Brown was an invite to USA Basketball trials in Colorado Springs, Colo., and although she didn't make the final roster, we saw her game grow and mature as a result of the experience. This year however, Brown has turned her game up another notch and is starting to develop into one of the premier guards in the country, regardless of class.
This weekend at the Maya Moore: Girls Elite Skills Academy, we saw Brown take a leadership rule from the start of things. As a result of her being vocal and energetic in the drills she helped set a tone for camp and maintain the buzz in the gym through both days. When she finally had the opportunity to play and showcase her skills, Brown proved to be as tough a one on one cover as there was in the gym. She consistently got to the rim and made plays off the bounce, showed she was comfortable pulling up and making the intermediate jumper when needed, all while also knocking down catch and shoot jumpers behind the perimeter.
SPOTLIGHT PLAYER
Pack has seen her stock explode as of late. The 6-foot-3 post has the ability to be impactful scoring the ball in the post but is skilled enough to face the rim and make plays on the perimeter. It will be tough for college programs to address their frontcourt needs in 2017 and as a result, Pack will be in high demand. Programs such as Miami, Clemson, and Princeton are already involved with Pack but expect that list to grow in April.
AROUND THE RIM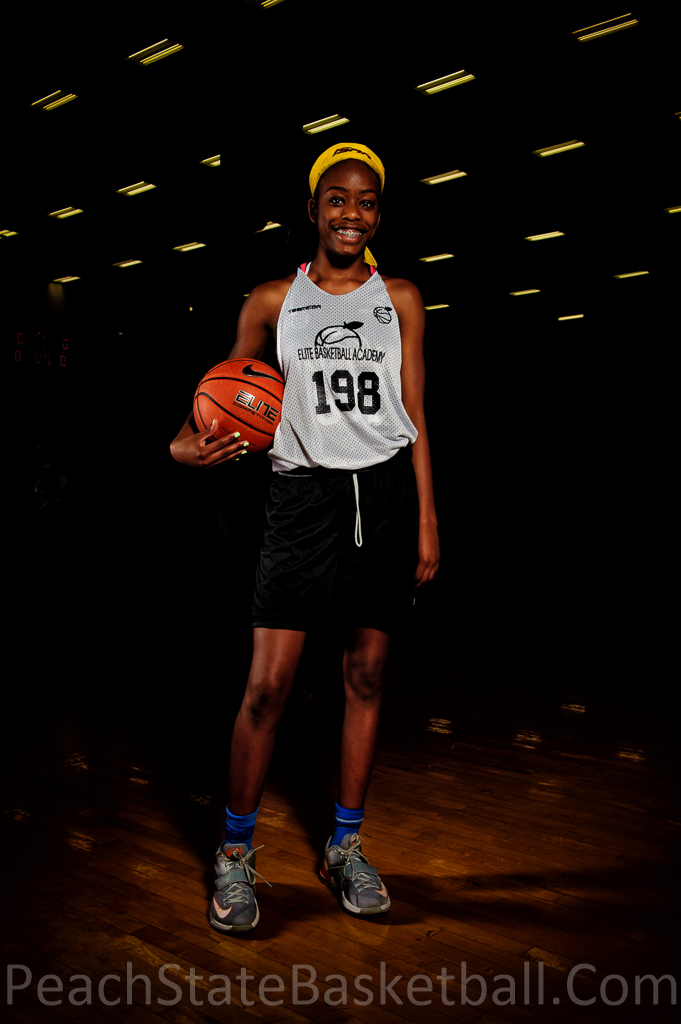 Nia Jordan came from Philly to the
Maya Moore ESA. *Photo by Ty
Freeman.It's still early for class of 2019 wing Nia Jordan of Philadelphia, Pa., but if she can keep developing and showing the kind of versatility that she was able to show this weekend, mark her down as a name to remember. At 6-0, Jordan is a match up problem with her length and ball handling ability. She plays the game with toughness and isn't afraid of physicality either.
Unsigned senior guard Morgan Towells of Atlanta, Ga., is a playmaker that will improve a roster upon arriving on a college campus. Towells hit a game-winning pull-up jumper this weekend. Look for her to land at a school this spring.
Any conversation about shooters with quality size has to include 2018 wing Mary Martha Turner of Atlanta, Ga. Turner, who stands 5-11, has the size to play multiple positions on the floor and is a very capable perimeter shooter. In recent evaluations we have seen her expand her game as she has shown comfort attacking the rim off the bounce and finishing in traffic.
One player who jumped on our radar with her play this weekend is Arlene Alexandra Gonzalez Roca of Guatemala. Roca is a class of 2018 guard who flew to Atlanta from Guatemala for camp. This weekend she showed good quickness with the ball in her hands and a willingness to compete.

Keil Moore is the Director of Scouting for the JumpOffPlus.com National Scouting Report and international scouting report. He serves on the Naismith Trophy Board of Selectors and has been a member of the women's basketball community for more than eight years as a trainer and evaluator. He can be reached at keil@prospectsnation.com.