BCT Back In The Peach State
Posted
1 year 2 months ago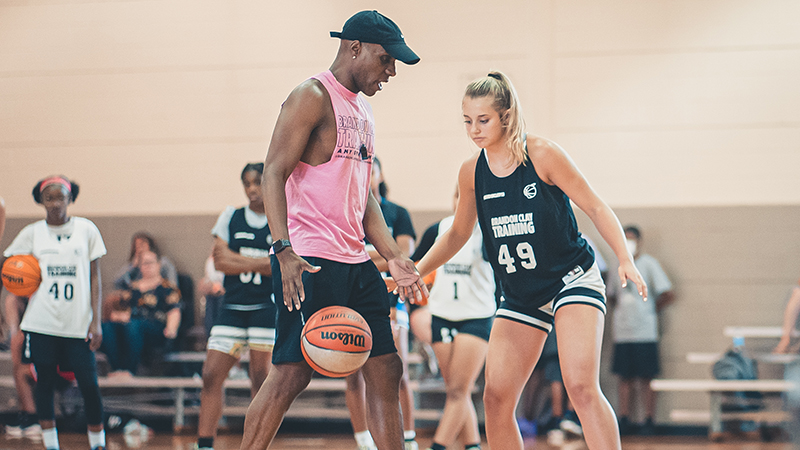 Karson Martin works with Brandon Clay at Bogan Park in Buford, Georgia, at the 2021 BCT Academy. *Photo by Anthony Lugardo.
BUFORD, Georgia, - Close to 40 prospects from eight states convened at Bogan Park to refine their skills at the Brandon Clay Training Academy. It takes a unique type of player to achieve technical mastery. There were several players who are on their way to elevating themselves to that level. Here are some impressions from day one.
Malia Haney of Powder Springs, Georgia, is a veteran of our academies and it shows already. The class of 2026 point guard is polished in her fundamentals and a dynamic playmaker.
Class of 2025 guard Derrica Motley of Prattville, Alabama, returned the academy for more work in the gym. Her footwork and quickness are skills that jumped out to us during drill work.
Skyler Ellison is another prospect from the Palmetto State. She showed instincts in the competition portion of the camp, which will be useful as she enters high school next year.
Class of 2025 point guard Paige Fears of Atlanta, Georgia, is one of the quickest guards in the gym. She can boogie past defenders while also having the vision to set up her teammates.
Brooke White spread her wings as a Lone Star Standout on Saturday. She has a pretty release on her jumper and an infectious high energy attitude.
Class of 2023 guard Karson Martin of Woodstock, Georgia, is committed to the fundamentals of the game. She has trained with us many times and expands her game each time. She is showing confidence with her handle while also being a consistent perimeter shooter.
Taryn Thompson of Atlanta, Georgia, was a standout prospect at several of our spring tourneys this year. The class of 2026 wing is a high IQ individual on and off the court. We expect big things from her in upcoming years.
Class of 2024 wing Lily Miller of Ellerslie, Georgia, has strength and size that is ideal for the position. We will write more on her in upcoming weeks with her Platinum Evaluation.
We have sung the praises of Karishma Ortiz of Orlando, Florida, in the past year. She brought the energy and shot making to the gym once again on Saturday. The class of 2024 guard has the size and skill to put her on a high trajectory.
Class of 2023 guard Allison Hoffman of Atlanta, Georgia, is consistently one of the top shooters at our academies. She has the size and the determination to be a top prospect of interest in the Southeast.
Like Hoffman above, Cayla Cowart of Cumming, Georgia, is a deadeye shooter. We like her length and the athleticism that she brings to the backcourt. The class of 2022 guard is already picking up interest from college coaches this summer.
AROUND THE RIM
If you are looking for a sleeper prospect to emerge from the Metro Atlanta Area in the next 18 months, look no further than class of 2022 Ananda Mayhew of McDonough, Georgia. She has the physical tools and the skills to be a difference maker. How much time she puts into her craft will be the determining factor.
Class of 2023 guard Layla Aleem of McDonough, Georgia, shot the ball well during the academy. We will keep a close eye on her game during day two to see how she impacts the game when the ball is not in her hands.
We were impressed with the vocal leadership that Kendall Davis of Peachtree City, Georgia, brought to the floor. There is reason for optimism with the 5-foot-9 wing in the class of 2024.
Armani Cooke of Statesboro, Georgia, has the length and athleticism to be a two-way factor. We will be paying attention to see how she impacts the game in a 5 on 5 setting.
Surayyah Aleem of McDonough, Georgia, was the youngest player in the gym, but it did not show. Her confidence with her ball handling and footwork are advanced.
We liked the tough-minded attitude of Taylor Wessel of Anderson, South Carolina. She approaches the game with purpose and has plenty of confidence in her jumper.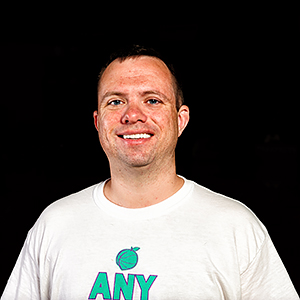 Jonathan Hemingway is the Assistant Director of Scouting for the JumpOffPlus.com National Scouting Report, is on the Naismith Trophy Board of Selectors and owns CoachHemi.com, the go-to source for coaches for X's and O's. He is the floor director of #TeamEBA camps, a site director for #TeamPSB tournaments and can be reached at jonathanhemingway@peachstatebasketball.com.