BCS Middle School 2024 Spotlight
Posted
2 years 7 months ago
ATLANTA, Georgia – The BrandonClayScouting.com All American Middle School Showcase has become arguably the nation's premier proving ground for the next generation. With campers representing 17 different states, the 2020 edition was no different. My favorite part of the showcase is working with campers during our Spotlight Session Workout. Here's my takeaway from the upperclass session:
Kyia Barrett – South Habersham (Mount Airy, GA) – 2024
A talented guard, Barrett came in ready to work from the start. I've seen her play multiple times in tournament settings but had not seen her in a training format. Barrett's willingness to take instruction without getting down on or frustrated with herself really jumped out at me.
Bre'Aria Cannon – Eagleville School (Eagleville, TN) – 2024

Bre'Aria Cannon of Tennessee.Cannon's length caught my attention right away. Physically, she has the tools to be a consistent threat on both ends. Cannon is a potential major stock riser over the next couple of years if she'll stay committed to skill development.
Nicole Carreno – Kids Community Charter (Orlando, FL) – 2024
Carreno is a fantastic prospect as a hybrid forward. She possesses legitimate size with a shooting touch that allows her to be effective facing the rim as well. As Carreno gets more and more comfortable with her footwork, her game should continue to develop as a result.
Kaelyn Gowdy – Fultondale (Fultondale, AL) – 2024
Gowdy is a smooth, competitive option in the backcourt. She has the end-to-end speed to be a factor on both ends of the hardwood. Offensively, Gowdy's ability to develop a consistent knock down long range jumper will be a major separator in her and other guards in her size range.
Beckham Hockley – Farnell (Tampa, FL) – 2024
Simply put, Hockley is a shooter's shooter. She can let it fly from deep but showed a surprisingly consistent form for a middle school prospect. Hockley's ability to be a vocal, efficient position defender will go a long way in determining her on floor production.
Kaylynn "KJ" Janes – Westminster Christian Acad. (Town and Country, MO) – 2024
Janes has an outstanding build for a young frontcourt prospect. She scored on an array of finishes at the rim. Janes willingness to run the floor and be a presence on the interior bodes well for her future. As she increases her face up shooting range, her game will expand as well.
Jennah Johnson – Woodbridge (Woodbridge, NJ) – 2024
Johnson was a dynamic threat especially in the open floor. She got some clean looks from the wing during gameplay and like how she picked her spots to shoot it. With her athleticism and length, Johnson could be a premier perimeter option in the northeast.
Gabby Robinson – St. Paul Lutheran (Yorba Linda, CA) – 2024
After flying all the way from California, Robinson came into the workout ready to work. She's a developing threat scoring the ball off the bounce and was effective letting it fly from the outside. Robinson has the build and size to be a good defender as well. That area of her game would elevate her into the next echelon of prospects.
Delaney Roller – Shiloh Christian (Fayetteville, AR) – 2024
In a gym full of shot makers, Roller shined bright all the same. She was a consistent threat from the outside with range out beyond the 3-point line. She's a hard worker and competitive too. Becoming more confident vocally to speak on what she's seeing appears to be the next step in her progression.
Ameli Sanchez – Palos South (Palos Park, IL) – 2024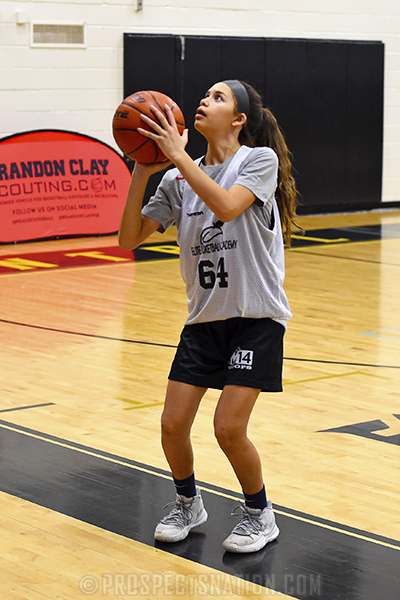 Amelia Sanchez of Illinois.Sanchez brought a fantastic, no frills type of work ethic to the gym this weekend. I loved it. She's a highly skilled guard who is still putting it all together as her frame fills out. She has a world of potential and her ability to handle the ball against pressure is a major part of how her game will round out.
Reagan Sipla – St. Charles East (St. Charles, IL) – 2024
Sipla has both length and sharp shooting on the perimeter. She attacked a couple of times off the bounce showing diversity in her game in the process. Adding strength to give opposing guards a tough time defensively will only enhance what Sipla brings to the roster.
Joirdyn Smith – Hamilton Southeastern (Fishers, IN) – 2024
Smith is a tough cookie. She competes, has a solid build and is a force on both ends of the floor already. Her willingness to battle and do whatever it takes to be good jumped off the page in this setting. Smith's ability to keep defenses honest with her jumper will be a major aspect in her growth.

Brandon Clay serves as the Director of Scouting for ProspectsNation.com and owns The BrandonClayScouting.com Evaluation Report, which is read by more than 200 colleges and universities nationwide. He also serves as the Executive Skills Director for the Brandon Clay Scouting Academy Series.