BCE 100 Session II Spotlights
Posted
7 months 11 hours ago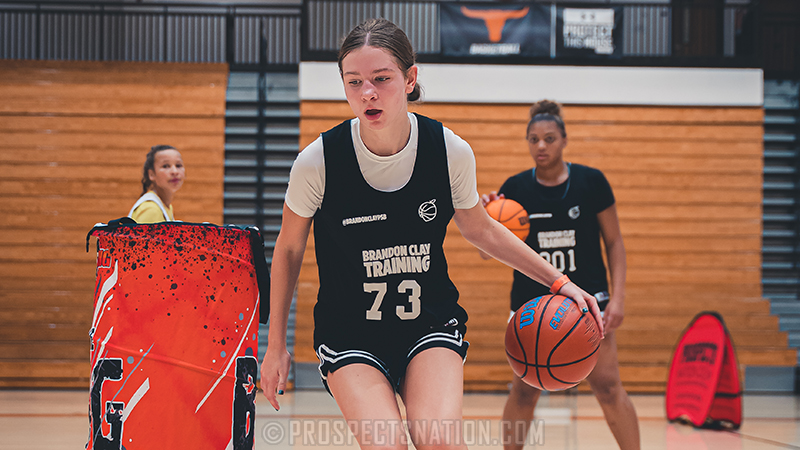 Reese Kimball made the trip north from Florida to get work in the Greater Atlanta Area. *Photo by Anthony Lugardo.
BUFORD, Georgia – The Brandon Clay Elite 100 Showcase South Session II allowed some of the nation's elite prospects to start working on their games coming out of the July evaluation period. We offered a spotlight training session ahead of the start of the sessions. Here are the first set of takeaways from that workout:
Fields continues to show that she'll put the time in on her game. She has an excellent understanding of how to train. As a result, her jump shot and perimeter skill are coming around at a rapid rate. Fields has the potential to be one of the class most versatile prospects before it's all said and done.
Elle Geerlings (Northville, Michigan), Michigan Crossover -- 2027
She took what we worked on in the spotlight session and put it to use during game play. Her shooting mechanics are in a solid space. Expect her shot selection during elite play to grow with time as well. With another year left in middle school there is still plenty of room for her to grow her game.

Gluesing has a good feel for both the skill portion and gameplay inside of our showcases. When her elbow is under her jumpshot, it's going in more times than not. In time, Gluesing has to get physically stronger to play through contact when the game speed picks up. As her confidence level continues to rise, so will her production.
Fuessel can really shoot it. She has the size and ability to create some off the bounce too. Fuessel hit multiple 3-pointers during gameplay on both days. When she one-two's into her shot on the move instead of hopping, she gives herself a chance to be a consistent driver too. She is extremely coachable.
Simply put, Fuessel can hoop. She was looking for chances to create offensively throughout the weekend while also serving as a plus defender. As Fuessel matures physically, she has a chance to be an elite level guard inside the state of Colorado. She has the skill to play on or off the ball longterm. Fuessel's ability to play through contact will be worth watching.

Harpring capped off what has been an elite summer full of growth and high level recruiting with another session in which she was dialed in from the opening drill. Harpring's biggest attribute is that she attacks each and every session as if it's all brand new to her. That outlook will allow her to continue to build and grow from here.

Kimball has real size on the interior and good touch around the rim. She is able to pick up on small details inside of skill instruction. The key for her the next 12 months is going to be playing against quality competition to improve the speed in which she plays the game.
Kinley Reed (Morrisville, Missouri), Marion C. Early -- 2028
As the youngest prospect in the building, Reed was tasked with competing against kids two to three years her senior. She passed the test with flying colors. Reed's jumpshot and knowledge of the game allowed her not only to hold her own but to stand out to our staff. Continuing to focus on a high followthrough on every shot will let Reed's game keep expanding.

It's easy to tell that Sebok has been in the gym working on her game consisently since flying to work with us in January. She is shooting it better from long range, and her overall skill set is more crisp. As Sebok's frame fills out, her game will go up another level. Sebok's tools were on display against some of the East Coast's top high school prospects.

Brandon Clay serves as the Director of Scouting for ProspectsNation.com and owns The BrandonClayScouting.com Evaluation Report, which is read by more than 200 colleges and universities nationwide. He also serves as the Executive Skills Director for the Brandon Clay Scouting Academy Series.