2015 Rankings Roundtable Part I
Posted
9 years 7 months ago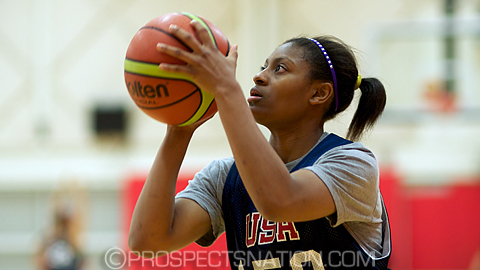 With players like Teniya Page on the scene, the scoring guard is definitely making a comeback. *Photo by Chris Hansen.
Tweet
The Rankings Roundtable will cover several topics throughout this week on the recently revised PropsectsNation.com ELITE 60 prospect rankings for the Class of 2015.
Read the 2015 ELITE 60 release here.
See the full 2015 ELITE 60 rankings here.
The class of 2014 was loaded with point guards. Does this class have a theme or anything that jumps out as an obvious strength?
The Class of 2015 features the return of the scoring guard. There are a number of guards in this class who can fill up the bucket at all three levels. It starts with the No. 1 ranked player, Asia Durr of Douglasville, Ga. Her dynamic ability to score the ball solidified her reputation as the top ranked prospect. However, the class is deeper than just Durr at this position when you consider No. 10 Stephanie Watts of Wesley Chapel, N.C., No. 14 Taja Cole of Richmond, Va., and No. 16 Teniya Page of Chicago, Ill. All of these prospects are players who are exciting with the ball in their hands and should force double teams when they are on the court. Players like this make the game of women's basketball exciting to watch.
-- Jonathan Hemingway
One of the things I really like about this class is the overall quality of post play and interior play that could be coming to a college campus near you. For the most part the prospects in our ELITE 60 have shown potential as they enter their junior year and, with the exception of a few players, we are working on long-term potential and not immediate production. With that said there are a number of posts in this class that have shown potential to be difference makers. At the top you have dynamic post scorers like Kalani Brown of Salem, La., and Batouly Camara of New York, N.Y. There are also impact rebounders and shot blockers such as Beatrice Mompremier of Miami, Fla., and Theresa Ekhelar of Burlington, N.J. Overall there are 12 true post players in the ELITE 60 and all of them have shown the potential make an impact down the road.
-- Keil Moore
Looking at the revised ELITE 60 rankings we have 34 prospects standing at 6 feet tall or more. The game continues to grow in terms of the size and versatility of players, especially at the forward positions. No. 4 Napheesha Collier of O'Fallon, Mo., No. 2 Katie Lou Samuelson of Fullerton, Calif., and No. 5 Jessica Shepard of Lincoln, Neb., all have displayed the skill sets to play multiple positions on the offensive end of the floor. At the same time, they have the size and length of prospects who have typically been pigeonholed as strictly back-to-basket post players. As the women's game continues to get more television time, we expect this trend to become more of the norm.
-- Brandon Clay
The top of the 2015 class is simply fantastic and with at least four players having the physical ability to make the impact needed to No. 1 at any given time, the resume of competition appears to be what will separate this group. What is interesting about this group is that the top four –Durr, Samuelson, Te'a Cooper and Collier – all play different positions and have very different strengths. So you could ask four different people that are looking for something specific in their 2015 recruiting classes and find four different players atop their recruiting boards. These four players are supremely talented but I think the strength of this class is that I expect all four will get noticeably better over the next 12 months.
-- Chris Hansen
---
Follow @BrandonClayPSB
Clay is the owner of the JumpOffPlus.com International Scouting Report, PeachStateBasketball.com and ProspectsNation.com. He can be reached at brandon@prospectsnation.com.
Follow @ChrisHansenPSB

Hansen is managing editor of ProspectsNation.com and a McDonald's All-American selection committee member. He was the national director of scouting for ESPN HoopGurlz from 2005 until 2012. He can be reached at chris@prospectsnation.com.
Follow @JLHemingwayPSB

Hemingway is the Assistant Director of Scouting for the JumpOffPlus.com National Scouting Report. He can be reached at jonathanhemingway@peachstatebasketball.com.
Follow @KeilMoorePSB

Moore is the Director of Scouting for the JumpOffPlus.com National Scouting Report and international scouting report. He has been a member if the women's basketball community for more than six years as a trainer and evaluator. He can be reached at keil@prospectsnation.com.