Posted
8 years 8 months ago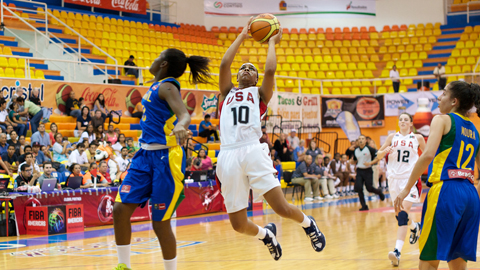 Asia Durr remains the top ranked player in the 2015 class in the ELITE. *Photo by Haley Weit.
Tweet
With the summer and fall evaluation weekends for 2013 now complete, Prospects Nation's evaluation staff has updated the ELITE 60 for the 2015 class. While the top three players remain unchanged – Asia Durr, Katie Lou Samuelson and Te'a Cooper -- three players from outside the top prior top 10 have made the cut at this point.
Moving up to No. 4 in the class is Napheesa Collier of O'Falon, Mo., a 6-foot-1 wing-forward who was phenomenal this summer with her Missouri Phenom club team. Moving up from 11th to No. 5 was Nebraska commit Jessica Shepard of Lincoln, Neb., a 6-2 forward with terrific versatility. The biggest riser in the new top 10 was North Carolina commit Stephanie Watts of Wesley Chapel, N.C., a 5-10 wing-guard who can impact both ends of the floor.
Beatrice Mompremier, a 6-4 post from Miami, Fla., is the highest ranked new player in the ELITE 60 at No. 35 overall. She brings toughness and embraces physical play like few in the class. But Mompremier wasn't the only previously unranked post to work her way into the ELITE 60 as Deja Strother of Bothell, Wash., Jenna Allen of Bedford, Ind., and Theresa Ekhelar of Woodbridge, N.J.
See the new ELITE 60 here.
Check back with ProspectsNation.com this week for a look at the recruitment of many of the players ranked in the ELITE 60 and their respective recruitment. Follow @ChrisHansenPSB

Hansen is managing editor of ProspectsNation.com and a McDonald's All-American selection committee member. He was the national director of scouting for ESPN HoopGurlz from 2005 until 2012. He can be reached at chris@prospectsnation.com.