2015 FIBA U19 Worlds Preview
Posted
8 years 2 months ago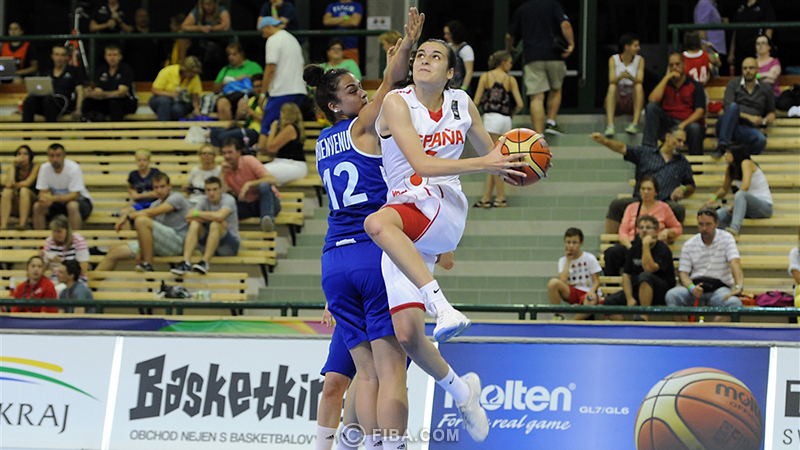 Angela Salvadores will lead Spain in the FIBA U19 World Championships this July. *Courtesy of FIBA.com.
The U19 World Championships are set to begin this weekend in Russia. The United States has won the last five U19 World Championships for Women but this year's Russian squad is talented and defending its home turf. Any race for gold that doesn't include Spain is ill advised. Most of the Spanish players who came within a possession of winning gold last season are back this year.
Predictions
Gold: United States
Silver: Russia
Bronze: Spain
Australia
The Aussie's have a deep roster with talent both in the front court and the backcourt. There are also a couple of notable names that will be on a college campus this fall.
Madeleine Dennis (Dayton)
Alexandra Sharp (Wake Forest)
Alana Smith (Stanford)
Canada
Canadians are known to come south of the boarder for college in the US. This year there are a number of elite Canadian prospects headed to US colleges and the number certainly is not limited to the players on this year's U19 team.
Jaelyne Kirkpatrick (Illinois)
Bridget Carleton (Iowa State)
Lauren Yearwood (Oregon)
Julia Chandler (Syracuse)
Netherlands
ACC fans will get a regular dose of two of the best players to come out of Europe to the US this year in point guard Laura Cornelius and post Emese Hof. The Netherlands are growing to become a basketball power in Europe, and with that, expect more and more college prospects from Holland.
Laura Cornelius (Miami)
Emese Hof (Miami)
Serbia
Serbia is a basketball country. Period. They love it there and as a result it has become a fertile recruiting ground for US schools interested in recruiting Europe. Juca Vojinovic was highly recruited by a number of US programs.
Julijana "Juca" Vojinovic (Dusquense)
Spain
To a certain degree, Spain has become as strong of a recruiting ground as Canada for US schools. This Spanish team is strong and poised to challenge Russia and the US for a gold medal.
Laia Raventos (Charlotte)
Maria Cazorla (Oregon)
Angela Salvadores (Spain)
Maria Conde (Florida State)

Keil Moore is the Director of Scouting for the JumpOffPlus.com National Scouting Report and international scouting report. He serves on the Naismith Trophy Board of Selectors and has been a member of the women's basketball community for more than eight years as a trainer and evaluator. He can be reached at keil@prospectsnation.com.