Posted
8 years 9 months ago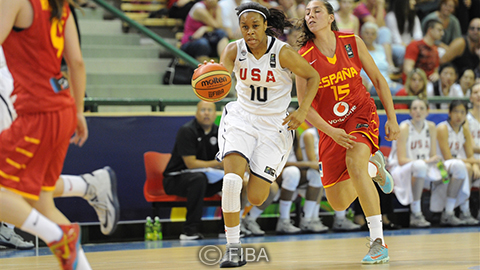 Asia Durr earned honors from ProspectsNation.com as MVP of the summer. *Courtesy of FIBA.com.
With July in the books we take a look at some of the best individual performances from the long month of hoops. Here are nine players who caught our eye for different reasons.
Summer MVP
Asia Durr (Douglasville, Ga./Georgia Pistols/USA Basketball)
In large part because of her clutch performances at USA Basketball, Asia Durr nudged out Destiny Slocumb in the MVP race. Despite a little rust early on in July after coming back from the Czech Republic with a FIBA gold medal, Durr managed to make her presence felt game in and game out, leading her Pistols team to the semifinals at Nike Nationals.
Runner Up: Destiny Slocumb
Most Notable July
Destiny Slocumb (Meridian, Idaho/Boise Hoop Dreams)
More than any other player in the country, class of 2016 guard Destiny Slocumb won the month of July. Slocumb is an elite offensive talent who plays with an aggressiveness that you just don't find very often. She is good enough offensively to create her own shot, play in the pick-and-roll, and drive it and find open teammates and this July she showed the full repertoire. She's a kid that plays full throttle regardless of the score and situation.
Runner Up: Joyner Holmes
Most Dominate Post
Lauren Cox (Flower Mound, Texas/Texas United)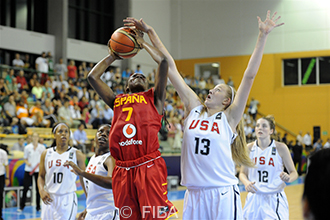 Top ranked '16 post Lauren Cox. *Courtesy of FIBA.com.
Having the ability make an impact on a game in a variety of ways, Lauren Cox makes her presence on the floor almost impossible to ignore. She is an elite shot blocker and shot changer, she can score with her back to the basket, makes perimeter jumpers, and, as a rebounder, she has the ability to control both the offensive and defensive glass while also throwing one of the best outlet passes the summer circuit has seen in a long time. Having Cox as an anchor in the post will help any team.
Runner Up: Deja Strother
Defensive Player Of The Summer
Kylee Shook (Colorado Springs, Colo./New Mexico Heat)
With incredible length and mobility, Shook has the ability to make a defensive impact as an elite level shot blocker. She does a great job keeping the offensive player away from her body and using her length to change and block shots at the rim. Her mobility is also a weapon in this department.
Runner Up: Beatrice Mompremier
Biggest Stock Riser
Maci Morris (Pineville, Ky./Kentucky Premier/UK Commit)
Morris went out this summer and proved that she had the ability to carry the scoring load and be a consistently productive offensive contributor. She is a strong perimeter shooter with the will to put her head down and make a play headed towards the basket.
Runner Up: Kiah Gillespie
Rookie Of July
Jenna Brown (Atlanta, Ga./ Georgia Metros)
As a member of the class of 2018, combo guard prospect Jenna Brown was a key contributor for the Georgia Metros Nike EYBL team. As one of only a handful of rising ninth graders playing in the league this summer, Brown stood out as one of the future players to watch for years to come.
Runner Up: Honesty Grayson
Long Distance Award
Madi Guebert (Apple Valley, Minn./North Tartan/SD State Commit)
All summer long Guebert earned a reputation as a deadly perimeter shooter. She has deep range and was very consistent making her looks this summer. Her ability to force defenses to respect her perimeter shooting allows her to attack the rim in spots as well.
Runner Up: Tyanna Robinson
Upside Award
Leanna Odom (Los Angeles, Calif./Cal Storm)
Standing 6 feet 2, with length and elite athleticism, Leanna Odom has a special package of tools. She can handle the basketball well enough to get to the rim and is an improving perimeter shooter. Her ability to go get a rebound and make a play in the open floor puts her in a rare class of dynamic wings with the size to play the four and the athleticism to play on the perimeter but the skill to truly be able to do both.
Runner Up: Ayanna Clark
Sixth Woman Of The Summer
Megan Walker (Richmond, Va./Boo Williams)
Walker is the No. 1 player in the class of 2017 and to be truly honest, if she were to go to the class of 2016 she would certainly be in the discussion for the top three in that class if not the No. 1 overall spot. That said, all summer long Boo Williams brought the uber-talented prospect off the bench, making Walker the best sixth person in the country. Walker, who played behind wings such as UConn commit DeJanae Boykin and North Carolina commit Stephanie Watts, managed to more than hold her own all summer long.
Runner Up: Amber Melgoza Follow @KeilMoorePSB

Moore is the Director of Scouting for the JumpOffPlus.com National Scouting Report and international scouting report. He has been a member if the women's basketball community for more than six years as a trainer and evaluator. He can be reached at keil@prospectsnation.com.