WSU Lands International Duo
Posted
7 years 7 months ago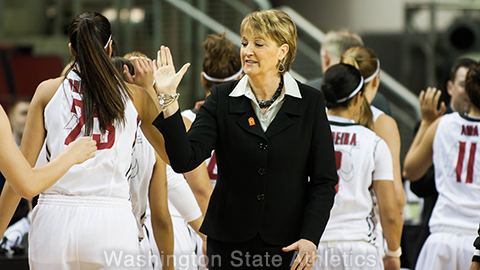 Washington State coach June Daugherty. *Courtesy of Washington State Athletics.
Tweet
Over the past couple of years, Washington State coach June Daugherty and her staff have been very active recruiting international prospects. This year's roster currently has five players from outside of the US, and two of the American members come from Hawaii. In keeping with that trend, Daugherty and her staff went international again this week adding two four-star international prospects to their 2015 class -- 6-foot-3 post Maria Kostourkova of Lisbon, Portugal, and 6-0 wing Borislava Hristova of Varna, Bulgaria.
For Washington State, Kostourkova will give them a talented four-star post with the ability to score with her back to the basket. Kostourkova was the MVP of the FIBA U16 European Championships and has been a productive cornerstone for Portuguese youth national teams over the last couple of summers. In addition to Kostourkova's ability to score with her back to the basket, she can face the rim and drive it while also being a formidable shot blocker on the defensive end.
Hristova, is one of the more talented perimeter scorers in the European ranks. She has very good size and the ability to shoot the ball with range beyond the international 3-point line. Her arrival in Pulman will give WSU a shotmaker who can give them minutes at both wing spots and even play as a face-up four for stretches. Hristova is a young talent with the potential to develop into a playmaker as she gains experience.
The Cougars signed three international players in 2014, including Louise Brown of North Adelaide, Australia, who is the No. 2 prospect in the ProspectsNation.com International ELITE 25 for the 2014 class. The 6-1 forward was joined by 5-8 guard Pinelopi Pavlopulou of Athens, Greece, and 6-5 post Bianca Blanaru of Timisoara, Romainia.
In adding two quality international prospects this fall, Washington State is reaping the benefits of their focused efforts on international recruiting. Both Kostourkova and Hristova would be potential members of the ELITE 150 if they went to high school in the United States. With the game of basketball growing and becoming a global game, talented players are popping up all over the world. Washington State put the Cougar program in a position to benefit from the growth of the global game.
Follow @KeilMoorePSB

Moore is the Director of Scouting for the JumpOffPlus.com National Scouting Report and international scouting report. He has been a member if the women's basketball community for more than six years as a trainer and evaluator. He can be reached at keil@prospectsnation.com.