Posted
9 years 4 days ago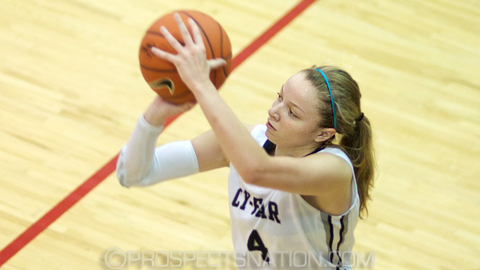 ELITE 150 Watch List guard Kennedy Leonard gives Colorado her verbal pledge. *Photo by Chris Hansen.
Tweet
What started with Recee' Caldwell in the 2014 class, committing to UCLA, has seemingly spilled over to the 2015 class as another highly touted Texas product is Pac-12 bound. Four-star junior guard Kennedy Leonard of Southlake, Texas, verbally committed to Colorado on Friday, giving the Buffs something else to be thankful for.
Leonard, a 5-foot-8 combo guard, chose the Pac-12 school after considering Baylor, Florida, Iowa State, Northwestern, Oklahoma State, Princeton and Stanford, among others. The Carroll (Southlake, Texas) junior, who has helped Terri Morrison's team off to a 7-2 start and top 10 ranking in Texas, is Buffalo's head coach Linda Lappe's first 2015 commit.
"I know at Colorado the coaching staff cares about me more as a person than just simply a basketball player and that means a lot to me," Leonard said. "They believe in me and I believe in them just as much. The town is amazing. I get the best of basketball, and the best of nature. I feel at home there, and the team has made me feel like one of them. I truly believe that at Colorado I can become the best person on and off the court. They will push me to be the best I can and that's what I want and that's what I know I will get."
Leonard is a versatile prospects who combines length, crafty passing and the ability to score. She can run as the lead guard, or as she showed this summer during the club season, she can play along side an elite point guard like Brooke McCarty and adapt her game.
In the 2014 class several notable prospects bucked the once unwritten law that players in Texas didn't leave. Caldwell of San Antonio, who is ranked No. 6 in the ProspectsNation.com ELITE 150, chose the Bruins, and was joined by McKenzie Calvert of Shertz, who signed with USC, JaLea Bennett of Grand Prairie, who signed with Arizona, Nicole Iademarco of The Woodlands, who chose Arizona State, and Brecca Thomas of Stafford, who will play three years with Leonard.
Leonard plays her club ball with the Cy-Fair Shock, the same program current Stanford senior All-American Chiney Ogwumike played in, along with her older sister Nneka, who also starred at Stanford and had a terrific rookie season with the WNBA's LA Sparks.
The exodus to the West may not be as egregious as last year as many of the in-state Big 12 programs have scored 2015 commitments early. But regardless, the emmigration from the Longhorn State has spread beyond the Stanford pipeline.
Washington State Goes Greek
Washington State was able to go across the water and add a talented guard in Greece national team player Pinelopi Pavlopulou. She is a 5-8 combo guard with the ability to create offense off the bounce and knockdown open perimeter jumpers. Pavlopulou, who played her high school basketball in Athens, Greece, was a big part Greece's national teams this summer. The three-star prospect made appearances for both the U19 Worlds and U18 European championship teams this year.
Pavlopulou will join current Washington State signees Ashley Bolston of Medford, Ore., Caila Hailey of Inglewood, Calif., and Nike McClure of Tenino, Wash. Bolston and Hailey are both ELITE 150 prospects while McClure holds a three-star rating from ProspectsNation.com.
Turner To St. Mary's College
St. Mary's was able to continue to develop the pipeline between its West Coast Conference school and Australia this fall. The Gaels staff was able to add Australian wing Carly Turner of Eltham, Australia.
Turner is a 5-11 wing that should be able to make an impact for Paul Thomas' St. Mary's program as she comes to the WCC with international experience and a host of high school and club team accomplishments.
Turner, who is rated a three-star prospect, is the second international player the Gaels signed in the 2014 class. Turner will join 6-0 perimeter player Stella Beck of Lower Hutt, New Zealand. Follow @ChrisHansenPSB

Hansen is managing editor of ProspectsNation.com and a McDonald's All-American selection committee member. He was the national director of scouting for ESPN HoopGurlz from 2005 until 2012. He can be reached at chris@prospectsnation.com.
Follow @KeilMoorePSB

Moore is the Director of Scouting for the JumpOffPlus.com National Scouting Report and international scouting report. He has been a member if the women's basketball community for more than six years as a trainer and evaluator. He can be reached at keil@prospectsnation.com.