WIR: UConn, South Dakota State Score
Posted
8 years 2 weeks ago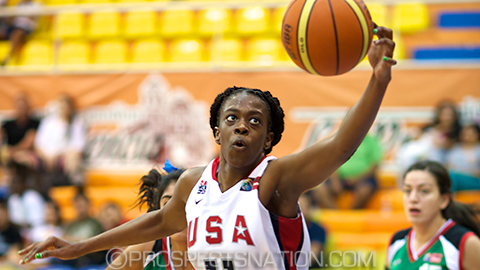 Connecticut pledge Dejanae Boykin won a FIBA gold medal with the USA Basketball U16 team last summer in Mexico. *Photo by Haley Weit.
Tweet
It was another busy spring weekend on the recruiting front with multiple commitments as well as players making early visits under the new NCAA legislation.
BOYKIN TO CONNECTICUT
After winning a national championship, Connecticut coach Geno Auriemma and his staff have been very busy recruiting the class of 2015. Earlier this spring they secured a verbal commitment from Napheesa Collier, a 6-foot-2 forward from O'Fallon, Mo., and this week its 6-2 Dejanae Boykin of Springdale, Va., who made the pledge to the American Athletic Conference school.
The combination of Boykin and Collier gives Connecticut two of the best forwards in the country as they prepare to go after what could potentially be the No. 1 recruiting class in the country. In addition to the two forwards already committed, Connecticut will work this summer to secure pledges from Asia Durr, Katie Lou Samuelson and Arike Ogunbowale, all ranked in the top seven of the Super 60, as well as a couple of others.
GUEBERT TO SOUTH DAKOTA STATE
South Dakota State secured a verbal commitment from one of the better perimeter shooters in the country this week when 5-9 shooter Madi Guebert of Apple Valley, Minn., decided to shut her recruitment down and make a verbal pledge to coach Aaron Johnston and his staff. Guebert had an excellent weekend in Hampton, Va., during the April evaluation period. She shot the ball well and stretched the floor for her North Tartan team. As a specialist she projects as a kid who could be a quality floor spacer, keeping defenses honest at the next level. For South Dakota State she could be a key contributor as a kid who can both hit the long ball and come of screens and score it at a quality rate. This is a quality pick up for the Summit League school as they beat out a number of programs to obtain the high three-star prospect.
Haley Gorecki made a verbal pledge to Duke last week. Read more about it here.
Brianna Jones made a verbal pledge to Louisville last week. Read more about it here.
VISITATION NATION QUICK HITTERS
With the new rule allowing Spring official visits for juniors, schools around the country have taken advantage of the early opportunity to get prospects on campus and build relationships with prospective student athletes. This week Duke took advantage of the opportunity as it had Faith Suggs of Plainfield, Ill., on campus. Suggs is a top-five wing prospect in the country and at 6-1 she has the size and length to be a very good perimeter defender at the next level. Suggs, a class of 2015 prospect, also has programs such as Michigan, Michigan State, Georgia Tech, and Stanford on her radar.
Utah also had a prospect on campus this weekend as Japreece Dean of Cedar Park, Texas, made an official visit to the PAC-12 school. Dean, a 5-6 point guard prospect, has had programs such as Texas Tech, Tulane, and Denver linked to her recruitment.
AROUND THE RIM
♦ 3-star guard Darks to Furman: Furman landed class of 2015 wing Taylor Darks of Cincinnati, Ohio, last week. Darks is a very good athlete who will also run track and field for the Southern Conference school.
♦ 3-star guard Duncan to Furman:Kaitlyn Duncan, a class of 2015 wing out of Commerce, Ga., made a verbal pledge to Furman this week. Duncan is a solid shooter with a long, lean frame.
♦ 3-star guard Williams to James Madison: A 2014 point guard, Candice Williams of Atlanta, Ga., was once committed to Louisiana Tech but has since decommited and will now play her college basketball at James Madison. Williams is a scoring-minded lead guard who likes to shoot the perimeter jumper. Follow @KeilMoorePSB

Moore is the Director of Scouting for the JumpOffPlus.com National Scouting Report and international scouting report. He has been a member if the women's basketball community for more than six years as a trainer and evaluator. He can be reached at keil@prospectsnation.com.