WIR: Spanish Imports, Influence
Posted
9 years 9 months ago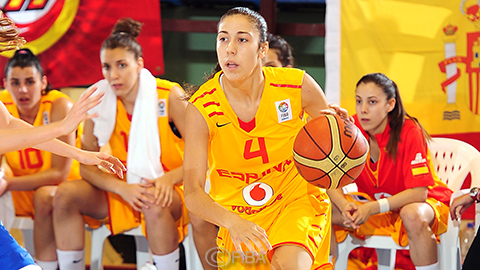 Laia Flores is the next in a line of Spanish players looking across the pond to make an impact on the sport. *Courtesy of FIBA.com.
Tweet
In the last couple of recruiting classes, college programs from around the country have turned to Spain to try and add talent to their programs. Over the last 20 years Spain has become a basketball hot bed as the country has seen the sport gain extreme popularity and produce a number of highly regarded players in men's and women's basketball.
Class of 2014 guard Laia Flores of Barcelona, Spain, is the latest Spanish National to come over the Atlantic Ocean and make a verbal pledge to play college basketball in the United States. Flores, a 5-foot-6 point guard has verbally committed to play her college basketball at South Florida.
Flores, a four-star prospect, is a cerebral lead guard who should be able to run a team and get players the ball in the right spots on the floor. Flores will join current South Florida freshman Adriana Pujol as the second Spanish national on the Big East school's roster and will join Portuguese wing Laura Ferreira as the second player in South Florida's 2014 recruiting class
With the sport gaining in popularity, Spain has become more and more competitive as evidenced by the 2012 silver medal at the U17 World Championships for the Spanish. Six players from that silver medal winning team are now freshmen here in the United States playing college basketball, guard Leticia Romero is at Kansas State leading them in socring (14.5 ppg), rebounding (5.7 rpg) and assists (4.7 apg), guard Pujol (5.7 ppg) is at South Florida, guard Marina Lizarazu (4.5 ppg) is at Texas Tech, forward Maria Navarro (5.3 ppg) is at Robert Morris, guard Yaiza Rodriguez (10.1 ppg) is at Boise State and forward Judith Sole is at Robert Morris.
AROUND THE RIM
Baylor gets Dry: Earlier this week we talked about Baylor's newest 2015 verbal commit, Alyssa Dry of Fort Worth, Texas. Dry was a former Texas verbal commit who decided to open her recruitment in February. Read More about Dry's decision to pick Baylor here. Follow @KeilMoorePSB

Moore is the Director of Scouting for the JumpOffPlus.com National Scouting Report and international scouting report. He has been a member if the women's basketball community for more than six years as a trainer and evaluator. He can be reached at keil@prospectsnation.com.