WIR: Murray, Ray, Danberry
Posted
8 years 9 months ago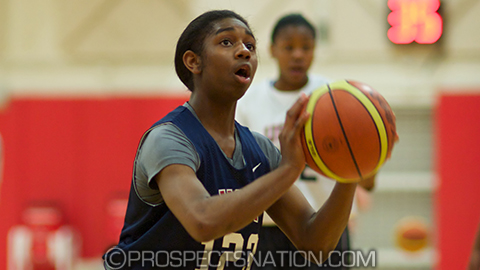 Kentucky lands the consummate point guard in Taylor Murray. *Photo by Chris Hansen.
Tweet
As it becomes official visit season, more and more players are coming off the board in the 2015 class. But the recent commitments in August haven't been limited to just the senior class.
Kentucky Get's Murray
Senior point guard Taylor Murray of Annapolis, Md., made a verbal pledge to Kentucky coach Matthew Mitchell and his staff. Murray, who is currently the No. 11 ranked player and the No. 3 ranked point guard in the class of 2015, will give the SEC school a speedy point guard in addition to a wealth of leadership as Murray is arguably the best pure point guard in the class. At 5 feet 6, her ability to create shots for her teammates and share the ball is her strongest attribute and when she is given the keys to the team she should be able to make her teammates better immediately.
One area where Murray will have to make improvements is her ability to consistently make perimeter jumpers. With her speed and quickness defenses will be more than willing to give her space and as she makes the move from prep basketball to college and she will have to be able to punish teams for playing off of her.
With the addition of Murray, Kentucky now has four verbal commitments for the class of 2015. Joining Murray in Lexington will be Batouly Camara of New York, N.Y., Maci Morris of Pineville, Ky., and Morgan Rich of Scottsville, Ky.
Texas Christian Gets Ray
First year Texas Christian coach Raegan Pebley has been very active on the recruiting trail this summer as she has picked up three big in-state verbal commitments before ever coaching her first game in Fort Worth, Texas. This week Pebley and her staff picked up their second verbal commitment in the 2016 class as Kianna Ray of Austin, Texas, made a pledge to the Big 12 school.
Ray is a 6-foot wing with the ability to make an impact on both sides of the ball. She has the size to guard on the perimeter and as she gets stronger could be able to guard the occasional four from time-to-time. Offensively she is a solid perimeter shooter who will be able to stretch the floor and keep defenses honest. With two of her Texas United teammates already committed to the Horned Frogs, class of 2015 post Jordan Moore and class of 2016 guard Mikayla Christian, both of Austin, Texas, Ray will be very familiar with some of her future teammates. For Pebley and her staff this is a great jump on securing elite in state talent.
Danberry to Arkansas
Class of 2015 point guard Jordan Danberry of Little Rock, Ark., decided to stay in state and play her college basketball in the SEC at Arkansas and first-year coach Jimmy Dykes. At 5-7 Danberry is a point guard with good size and length, she will have the ability to grow and learn how to play the point guard position in the SEC while also bringing some of her own individual scoring talents to the position. Danberry, who is the No. 53 ranked player in the ELITE 100 is the first player in the class to make a verbal pledge to Arkansas.
Maryland Scores In 2015
Kiah Gillespie of Meriden, Conn., made a verbal pledge to Maryland this week. Here is more about the class of 2015 forward's college decision: Reax.
North Carolina State Scores a Pair
North Carolina State has been busy over the last few weeks. In July they picked up a verbal commitment from class of 2016 shooter Lucky Rudd of Raleigh, N.C., and then right after July scored a verbal pledge from a class of 2019 prospect when Jada Peebles made a verbal pledge to the ACC school.
Now the Wolfpack are looking at the 2015 class with a pair of verbal commitments from two summer basketball teammates; 6-0 post Rydeiah Rodgers of Raleigh, N.C., and 5-8 point guard Kaila Ealey of Raleigh, N.C., have pledge to the N.C. State. Rodgers and Ealey will join another one of their summer basketball teammates, Amber Richardson of Garner, N.C., and Camile Anderson of Buford, Ga., as members of the ACC school's 2015 class.
AROUND THE RIM
3-Star Wright to Eastern Kentucky: EKU picked up a verbal commitment from 5-11 forward Abby Wright of Lebanon, Tenn. Wright has the ability to play both on the wing and as a stretch four for Eastern Kentucky as she is fairly versatile and plays with an endless motor.
3-Star Triggs to George Mason: Class of 2015 wing Jewel Triggs Thibodeaux, La., is headed to George Mason. Triggs, a 5-foot-11 wing will bring size and skill to the wing positions. She has the ability to defend multiple positions and score the ball in spots during her time on campus.
3-Star Coomber to Loyola Chicago: Class of 2016 wing Kianna Coomber of Fairbury, Ill., decided to stay in state and make a verbal pledge to Loyola Chicago. Coomber is an athletic wing who should be able to make an instant impact as she has the ability to score and create offensively. Follow @KeilMoorePSB

Moore is the Director of Scouting for the JumpOffPlus.com National Scouting Report and international scouting report. He has been a member if the women's basketball community for more than six years as a trainer and evaluator. He can be reached at keil@prospectsnation.com.