WIR: Johnson To Iowa State
Posted
7 years 7 months ago
Tweet
When Iowa State coach Bill Fennelly and his staff picked up a verbal commitment from four-star guard Raeannah Johnson of Alberville, Minn., they landed one of the top prospects in the class of 2017. Johnson, who projects as one of the better point guard prospects in her class, is a 5-foot-8 guard who can handle, pass, and shoot the basketball at a high level. Johnson joins Kristin Scott of Mantorville, Minn., a 6-2 post, as the second member of Iowa State's 2017 class.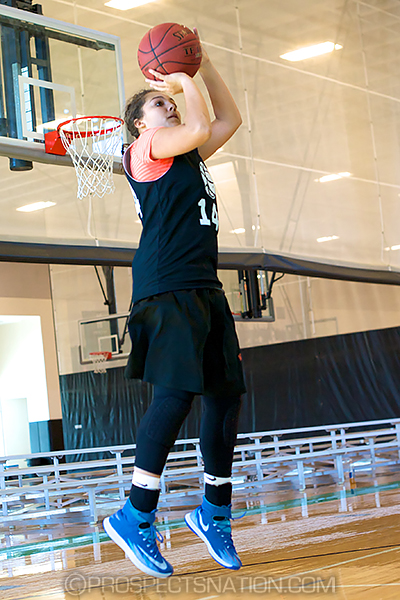 '17 ELITE 60 guard Rae Johnson.
*Photo by Chris Hansen.
While Johnson projects as a potential impact point guard prospect, she is one of the better shooters in the class as well. She combines a quality floor game with a lethal perimeter jumper, giving her quite the offense package for a class of 2017 guard. This fall at the Check Me Out Midwest Showcase in Minnesota, Johnson showed a savvy for operating in the pick and roll and making decisions with the ball in her hands. Her ability to shoot and score the basketball make her a lethal weapon in ball screen situations as defenses are forced to contain her penetration while also honoring her ability to step behind screens and shoot the basketball. This opens up the floor for her teammates and with Johnson's passing ability open teammates find scoring opportunities.
With two prospects already pledged for the class of 2017, Iowa State is in a position to be very selective with their remaining scholarships for that class. As its needs are already addressed far in advance, the staff can now target key impact kids and spend quality time trying to land specific targets. The class of 2015 was a top 25 group for coach Fennelly and his staff, look for Iowa State to make similar noise in 2017.
An Early Look at 2016
It's still very early for the class of 2016 but an early snap shot of the 2016 class rankings shows some familiar faces at the top of the list. Both Connecticut and Notre Dame have multiple members of the 2016 class pledged and would currently sit at the top of any class ranking list.
Connecticut currently holds verbal commitments from five-star point guard Crystal Dangerfield and four-star post Kayla Irwin while Notre Dame holds verbals from two four-star prospects -- Jackie Young and Erin Boley.
After Connecticut and Notre Dame there are a number of programs with multiple four-star prospects but only two with at least one five-star verbal. Washington, who is third on the list, currently holds a commitment from five-star guard Destiny Slocum and four-star forward Mai-Loni Henson and four-star point guard Aarion McDonald. Vanderbilt holds a verbal from five-star guard Chassity Carter. Follow @KeilMoorePSB

Moore is the Director of Scouting for the JumpOffPlus.com National Scouting Report and international scouting report. He has been a member if the women's basketball community for more than six years as a trainer and evaluator. He can be reached at keil@prospectsnation.com.