WIR: Edwards, Gray, Hickson commit
Posted
9 years 6 months ago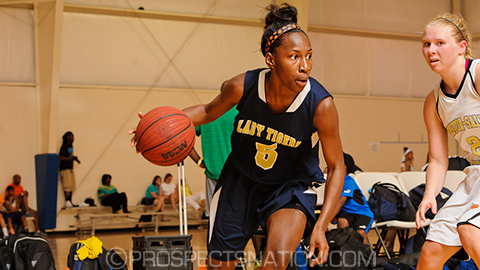 Yaktavia Hickson projects as an impact player at Tennessee Tech. *Photo by Ty Freeman.
Tweet
As the Early Signing Period wound down, players in both the senior class and underclasses made decisions on their future college homes. We recap some of the latest movement in the girls recruiting world over the past week.
Danielle Edwards of Perry Hall, Md., picked Clemson this week, giving the Tigers a dynamic guard to lead them inside the new-look ACC. Edwards, a four-star class of 2015 prospect, is on the bubble of the ELITE 60 Watch List and serves as a great start to the junior class for coach Audra Smith and her staff. At 5 feet 6, Edwards is a smaller guard, but what she lacks in size she more than makes up for with her speed and ability to affect the game scoring the basketball, especially in the open floor.
Miracle Gray of Stone Mountain, Ga., has chosen to attend Purdue. The class of 2016 point guard impressed the Boilermaker staff with her play this summer as a member of FBC Georgia. At 5-6, Gray isn't a super speedy guard at the point like current floor general K.K. Houser, but she does have the moxie that should endear her game to coach Sharon Versyp. A three-star prospect, Gray also has a solid build as well. She's a leader and competes on every play. She won't have to look far from home for position coaching as her sister, Nadine Morgan, is in charge of the guard development for the Big Ten powerhouse.
Yaktavia Hickson of Stone Mountain, Ga., chose Tennessee Tech this week after tearing through the fall exposure weekend with golden performances as the focal point of the Douglasville Lady Tigers. Her ability to score, especially in transition, has made her a guard that ACC and SEC schools took a hard second look at. Ranked No. 145 in the ELITE 150, the 5-11 perimeter threat gives the Golden Eagles a legitimate scoring option on the perimeter.
AROUND THE RIM
Bonar to South Dakota: Megan Bonar of Gardner, Kan., is a 6-1 prospect with the size and skill to play multiple positions on the floor. The three-star swing forward gives South Dakota a player who we project as a matchup issue for opposing teams. A class of 2015 graduate, Bonar plays her club and school ball for her father, Jim.
Top ranked Durr releases list: The No. 1 prospect in the 2015 ELITE 60, Asia Durr, told ProspectsNation.com this weekend she has narrowed her list of colleges to 13. Durr said her finalists are Baylor, Connecticut, Duke, Florida State, Georgia, Kentucky, LSU, Louisville, Maryland, Notre Dame, Rutgers, South Carolina and Tennessee. The 5-10 junior has her St. Pius X team off to a 5-2 start this season as well.
Bradley to South Carolina State: Jahmia Bradley of Augusta, Ga., proved this summer that she can be an effective option at the forward position. She has signed with emerging MEAC program South Carolina State. At 5-11, Bradley has enough size to be effective around the glass while maintaining enough ball skill to be an option handling the ball on the wing as well. Follow @BrandonClayPSB
Clay is the owner of the JumpOffPlus.com International Scouting Report, PeachStateBasketball.com and ProspectsNation.com. He can be reached at brandon@prospectsnation.com.