WIR: DeGrate, Mitchell Decide
Posted
9 years 2 months ago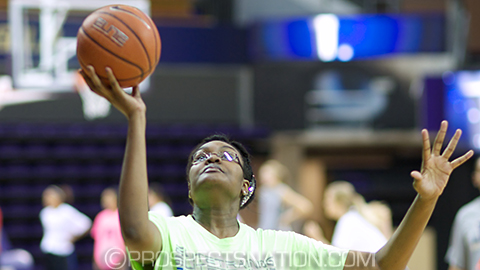 Erin DeGrate. *Photo by Chris Hansen.
Tweet
Another week of official visits leads to even more commitments. Here's a look at the week's headlines on the recruiting front.
Louisville Get's DeGrate
When Louisville secured a verbal commitment from class of 2015 post Erin DeGrate of Waco, Texas, it added one of the best uncommitted post players in the country to the roster. At 6 feet 4, DeGrate, who is the No. 36 ranked player in the ELITE 150, is a true post player who will rebound and defend at a high level for the ACC school very early in her career. DeGrate decided to head north to Louisville after also considering, Baylor, Kansas, Louisville, Texas A&M, Texas Tech and Washington.
Louisville, who secured the verbal commitment from DeGrate shortly after her official visit, was much in need of a true post in this class and DeGrate will fill that role. As DeGrate develops and continues to mature physically she could prove to be a formidable low post presence as she has shown flashes of being able to catch and make a move with her back to the basket as a prep prospect.
Louisville currently has one true five player on its roster, redshirt senior, Sheronne Vails. With Vails departing at the end of this upcoming season, there will be an opportunity for DeGrate to get on the floor early in her career and make an impact for Jeff Walz and his staff. In addition to DeGrate, Louisville currently holds verbal commitments from 5-8 guard Taja Cole of Richmond, Va., and 5-9 wing Brianna Jones of North Babylon, N.Y., and also are amongst the finalists for No. 1 overall Asia Durr of Douglassville, Ga., and No. 5 overall Arike Ogunbowale of Milwaukee, Wis.
Mitchell Geaux's Tiger
The No. 48 ranked player in the ELITE 150, Ayanna Mitchell of Conyers, Ga., picked Louisiana State over Auburn, Florida, Georgia and Louisville. Mitchell is a 6-2 post who will bring athleticism and energy with her to Baton Rouge.
While her offensive game is still developing, Mitchell is a catch and finish post who has learned to step out and operate effectively from 12 to 15 feet. Where her strength comes into play is the defensive side of the ball where she is an active defender with very good mobility. She plays with physicality and is a more than willing rebounder.
Mitchell will be a nice fit for the coach Nikki Caldwell and her staff because of her willingness to do the little things on the defensive side of the ball without needing a high volume of touches offensively. Mitchell is the first member of the 2015 class to make a verbal pledge to the SEC school.
Virginia Adds Two
In the past couple of weeks, Virginia has been active on the recruiting front as it has secured verbal commitments from No. 42 Mone Jones of Durham, N.C., and three-star post Shakyna Payne of Atlanta, Ga.
At 6-3, Jones has the potential to be a feature player for Virginia offensively. She has a developing skill set and brings good mobility to the forward positions. Developing her frame will be an early key for the four-star recruit. If she can continue to develop offensively and add strength to her frame Jones could be a steal for Joanne Boyle and her staff.
Payne is a 6-4 post who will add depth to the ACC school's frontline. She is a good athlete with good mobility. She will need some time to develop but she could ultimately become a solid contributor during her time in Charlottesville. In addition to Jones and Payne, Virginia also has a verbal commitment from 2015 post and three-star post Debra Ferguson of Madison Heights, Va.,
Auburn Goes to Florida
Two residents of the State of Florida made verbal commitments to Auburn -- class of 2015 forward Jonika Garvin of Lake Worth, Fla., and guard Jania McKay of Gainesville, Fla.
Garvin, a four-star prospect, is an athletic forward who is a bit of a tweener position-wise. At 6-1 she has shown the ability to play on the perimeter from time to time but will need to continue to add to and polish her skill set to be a primary option at the three in college. Right now she is better suited to be an athletic four player as she moves very well for the position and should be able to bring energy and athleticism to that position.
McKay, is a three-star guard who can control the tempo of a game from the point guard position. Garvin and McKay are the first two members of the 2015 class to make verbal pledges to the SEC school.
AROUND THE RIM
♦ 4-Star McClure to the MAAC: Quinnipiac added an ELITE 150 forward this week when Aryn McClure of New York, N.Y., picked the MAAC school over a number of programs including, Mississippi State, Seton Hall, Stony Brook and Ole Miss. McClure will have the ability to make an immediate impact at the MAAC school as she is a quality athlete with very good size and length. Her physical tools and skill set will give her the opportunity to be used both on the perimeter as well as around the basket.
♦ 4-Star McLaughlin to Seton Hall: Seton Hall picked up a verbal commitment from 2015 guard Aushanae McLaughlin of New York, N.Y., this week. McLaughlin is a crafty guard who can use the bounce to create and make plays for herself in one-on-one situations. She has a wiry frame and brings good quickness to both sides of the floor.
♦ 3-Star Sahar To Seattle:Tal Sahar, the 5-11 wing-guard from Calabasas, Calif., gave her verbal commitment to Seattle U. She made official visits to SU and Portland before deciding on the WAC school. Follow @KeilMoorePSB

Moore is the Director of Scouting for the JumpOffPlus.com National Scouting Report and international scouting report. He has been a member if the women's basketball community for more than six years as a trainer and evaluator. He can be reached at keil@prospectsnation.com.