WIR: Cole, Mahoney, '15 Leaders
Posted
8 years 11 months ago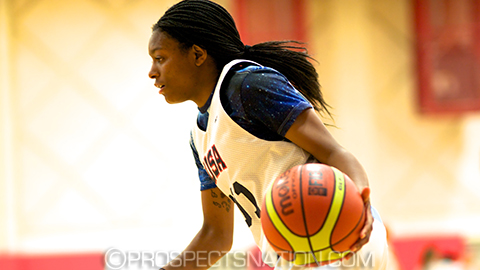 Taja Cole's commitment to Louisville was the biggest headline of the past week in recruiting. *Photo by Chris Hansen.
Tweet
This past week we saw two prospects from the class of 2015 make college decisions as 5-foot-8 guard Taja Cole of Richmond, Va., picked Louisville as her school of choice while later in the week 6-1 forward Kelsi Mahoney of Concord, N.C., made a verbal pledge to George Washington.
Read more about Taja Cole's potential impact on the Louisville program here.
Read more about Kelsey Mahoney's decision to pick George Washington here.
So far 19 of the top 60 prospects in the ELITE 60 for the class of 2015 have made verbal pledges to the college of their choice. Of those 19 players, Texas is the only school with two ELITE 60 prospects – No. 6 dLashann Higgs of Austin, Texas, and No. 21 Jordan Hosey of Houston, Texas. Outside of the ELITE 60 a number of schools have multiple 2015 commitments with schools like Alabama, Clemson, Michigan and Wake Forest all having three or more 2015 prospects committed.
An early look at the class of 2015 from a recruiting class stand point would have Texas in the lead for the No. 1 overall recruiting class. With two top 25 prospects as well as four-star Justis Szczepanski-Beavers of Aledo, Texas, and three-star Alyssa Dry, also from Aledo, the Big 12 school is off to an excellent start for the class of 2015.
Following right behind the Longhorns would be Nebraska, with five-star prospect Jessica Shepard of Lincoln, Neb., on the way; Louisville, with Cole and four-star guard Maya Benham of Douglassville, Ga.; Michigan, Wake Forest, Clemson and Alabama are all in position to make a move towards the top of the early 2015 recruiting class rankings. Several other schools such as Tennessee, North Carolina, and Notre Dame have a single highly ranked prospect committed that would put them in the discussion. Follow @KeilMoorePSB

Moore is the Director of Scouting for the JumpOffPlus.com National Scouting Report and international scouting report. He has been a member if the women's basketball community for more than six years as a trainer and evaluator. He can be reached at keil@prospectsnation.com.