WIR: Carolina Dials Canada
Posted
9 years 4 weeks ago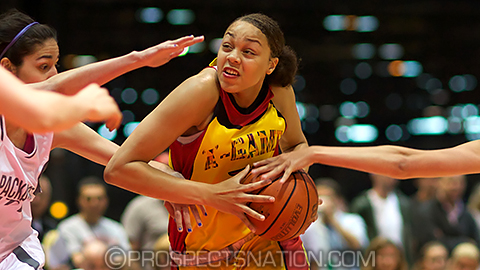 Eternati Willock gives the Tar Heels a second commitment in 2015. *Photo by Chris Hansen.
Tweet
Carolina Gets A Canadian
After her official visit to North Carolina this weekend, highly regarded four-star international post Eternati Willock of Hamilton, Ontario, gave a verbal commitment to the ACC school. Willock is an athletic, 6-foot-3 post who should be able to play both the four and the five in Chapel Hill. As a standout on both the U16 and U17 Canadian national teams, Willock proved that she was both a competent post scorer and a capable contributor on the offensive and defensive glass. Her addition to North Carolina's class of 2015 gives the Tar Heels elite size and a post that fits the kind of long, agile and quick prototype that North Carolina has historically recruited. Willock compares favorably to players who have had success playing under Sylvia Hatchell such as Latoya Pringle and Jessica Breland.
In addition to Willock, North Carolina has a 2015 verbal commitment from four-star guard Stephanie Watts of Monroe, N.C. With Willock and Watts now on board, Hatchell and her staff can look for the best available piece to round out their class of 2015. Prospects such as Chinese post Chen Yue and wing Maya Benham are also on the Tar Heels radar.
Ward to Butler
Brittany Ward, the 6-2 forward from Indianapolis, Ind., made a verbal pledge this week to play her college basketball at Butler. Ward, who becomes the third member of the class of 2015 for the Big East school, picked the Bulldogs over programs such as Dayton, Georgia and Illinois. Ward has the ability to make an instant impact at Butler as she will bring a nice combination of size and skill to the roster. Ward should be able to play both inside and out for coach Kurt Godlevske and his staff, exploiting match-ups and forcing double teams.
In addition to Ward, Butler currently holds verbal commitments from 5-7 guard Alexa Bailey of Bedford, Ind., and 5-7 guard Michelle Weaver of South Bend, Ind.
Charlotte Finds Hunter
UNC-Charlotte scored big this week when the 49ers picked up a verbal commitment from 5-9 guard Grace Hunter of Raleigh, N.C. Hunter, who had an excellent summer in which she earned a leap in the rankings to the No. 79 spot in the ELITE 150, will make an impact on both sides of the ball at the Conference USA school. She can score the ball at a high rate as she is both a solid perimeter shooter and a capable playmaker in traffic. Hunter should be able to guard on the wing while also getting into passing lanes and creating havoc.
Oregon Grabs Gildon
New Oregon head coach Kelly Graves picked up his second verbal commitment in the 2015 class as Otiona Gildon of Spokane, Wash., picked the Ducks last week. The 6-0 combo forward has terrific touch around the basket and the ability to face-up and score. She is a player that could develop into a wing player a year or two into her college career.
Earlier this year Oregon landed a commitment from the top post in British Columbia, 6-3 Lauren Yearwood of Victoria, B.C. These two 2015's will have one year with All-American Honorable Mention post Jillian Alleyne and Fresno State transfer Jactina Vandenberg. Oregon graduates three this year and still has at least two more roster spots for the 2015-16 school year.
AROUND THE RIM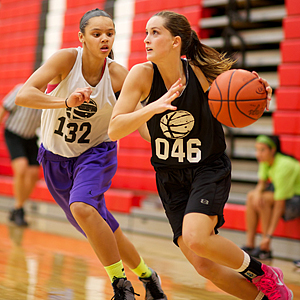 '15 combo guard Kendall Perry of Phoenix, Ariz.
*Photo by Glenn Nelson.
3-star Guard Perry to Bryant:Kendall Perry of Gilbert, Ariz., made the decision to go across country and play her college basketball in Rhode Island at Bryant University. Perry is a quick guard who can make shots and should be able to play both on and off the ball for the Northeast Conference school.
4-star Johnson To Middle Tennessee:Alex Johnson of Murfreesboro, Tenn., decided to stay close to home and play her college basketball at Middle Tennessee State. Johnson, a 6-2 power forward, has the ability to stretch the floor with her perimeter shooting ability while still rebounding and defending on the other side of the floor.
3-star Guard Pardee To WVU: West Virginia added one of the better athletes in the class when it scored a verbal commitment from 5-8 wing Katrina Pardee of Cedar Park, Texas. Pardee should be able to develop into a defensive stopper for the Big 12 school as she has good length and the ability to stay in front of players on the perimeter.
4-star Forward Harrell to Boise State: Boise State picked up size and athleticism for its frontline when Joyce Harrell of Seattle, Wash., made a verbal pledge to the Mountain West school. Harrell, who had a very good summer helping her Tree of Hope team make an appearance in the championship game of Nike Nationals, should be able to develop into a double-double type contributor during her time at Boise State. She drew interest in July from schools in the Big 12, Big Ten and Pac-12 but chose the school that had been recruiting her for several years.
3-star Forward Harmyer to Belmont: Belmont added shooting and defense to its team with the addition of Ellie Harmeyer of Kenosha, Wisc. Harmeyer should be able to play inside and out at the Ohio Valley Conference School as she has the ability to shoot the basketball from the perimeter and play around the rim in spots.
3-star Guard Fallis to IPFW: Sharpshooter Peyton Fallis of Indianapolis, Ind., made a verbal pledge to play her college basketball at Indiana Purdue-Fort Wayne. At 5-9 Fallis brings very good size to the perimeter positions and she can stretch the floor with her ability to make shots. Follow @KeilMoorePSB

Moore is the Director of Scouting for the JumpOffPlus.com National Scouting Report and international scouting report. He has been a member if the women's basketball community for more than six years as a trainer and evaluator. He can be reached at keil@prospectsnation.com.