WIR: April's Commitment Craze
Posted
9 years 1 month ago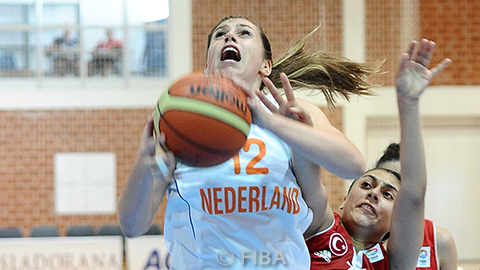 Britt Zappeij of the Netherlands choosing Fordam was just one of the commitments in a busy week of recruiting news. *Courtesy of FIBA.com.
Tweet
With April in full swing prospects are starting to spring forward in their recruiting processes. In just the last week we saw an international player, a senior and multiple underclassmen make verbal pledges.
Boykin to Duke
Duke reached into the class of 2017 to secure an early verbal commitment from one of the standout prospects in that class, Mikayla Boykin of Clinton, N.C. Boykin, a 5-foot-9 guard was starting to make a name for herself on the college scene as programs such as Maryland, North Carolina, and North Carolina State had all expressed an interest in the current high school freshman. Boykin's addition to Duke's 2017 class gives them the first underclass commitment in 2015, 2016, or 2017. Boykin's older cousin, Dejanae Boykin of Springdale, Md., is considering Duke as well, among her many other finalists and is a highly regarded prospect in her own right.
Fortune to Georgia Tech
Georgia Tech scored a verbal commitment from 6-3 center Martine Fortune of Philadelphia, Pa., after she took an official visit to the ACC school this weekend. Fortune is one of the best defensive post prospects in the class of 2015 as she is a long limbed, mobile defender with a great feel for how to block shots. Her addition to Georgia Tech's class of 2015 gives the staff its first verbal commitment and a high four-star prospect to start the efforts for the 2015 recruiting class. In addition to Georgia Tech, programs such as Stanford and St. John's were interested in Fortune.
Burich to Colorado
Class of 2015 prospect Monica Burich of Roseville, Minn., became the third member of the class of 2015 to make a verbal pledge to Colorado. Burich, a 6-1 forward will give the PAC-12 school a lot of versatility in its frontcourt as she should be able to play time on the wing as well as in the paint. Burich's addition is great for Colorado coach Linda Lappe and her staff as she joins current Colorado pledges Kennedy Leonard and Alexis Robinson. The trio gives the Buffaloes an excellent jump to their 2015 class. Robinson and Leonard are both ELITE 100 caliber players while Burich is a four-star prospect.
Koshuta to Virginia Tech
Virginia Tech added size and production to its future frontline as class of 2015 post Kelly Koshuta of Vienna, Va., made a verbal pledge to the ACC school late last week. Koshuta, a 6-2 post, is known for finishing around the rim and playing the game with good energy. She is a true post player with good size and soft hands who has mastered finishing around players and using her body to shield defenders in traffic. In addition to Virginia Tech, Koshuta had a number of programs pursuing her including Clemson, James Madison, and George Washington.
AROUND THE RIM
3-star guard Sina to Binghamton: Binghamton picked up a verbal commitment from class of 2014 point guard Jasmine Sina of Warren, N.J. Before making the pick, Sina was one of the best remaining point guard prospects on the board and will bring crafty playmaking and solid perimeter shooting to the America East program.
3-star forward Zappeij to Fordham:Britt Zappeij of the Netherlands made a verbal commitment to Fordham last week and picked the A-10 school over Providence and Wright State. Zappeij is a nice addition for Fordham as she has the ability to make an impact on both sides of the ball. She is a skilled offensive player who can stretch the floor with her perimeter jumper while also bringing good physicality and energy to the defensive side of the ball. Follow @KeilMoorePSB

Moore is the Director of Scouting for the JumpOffPlus.com National Scouting Report and international scouting report. He has been a member if the women's basketball community for more than six years as a trainer and evaluator. He can be reached at keil@prospectsnation.com.