Who Might Outplay Their Rank -- 2020
Posted
3 years 11 months ago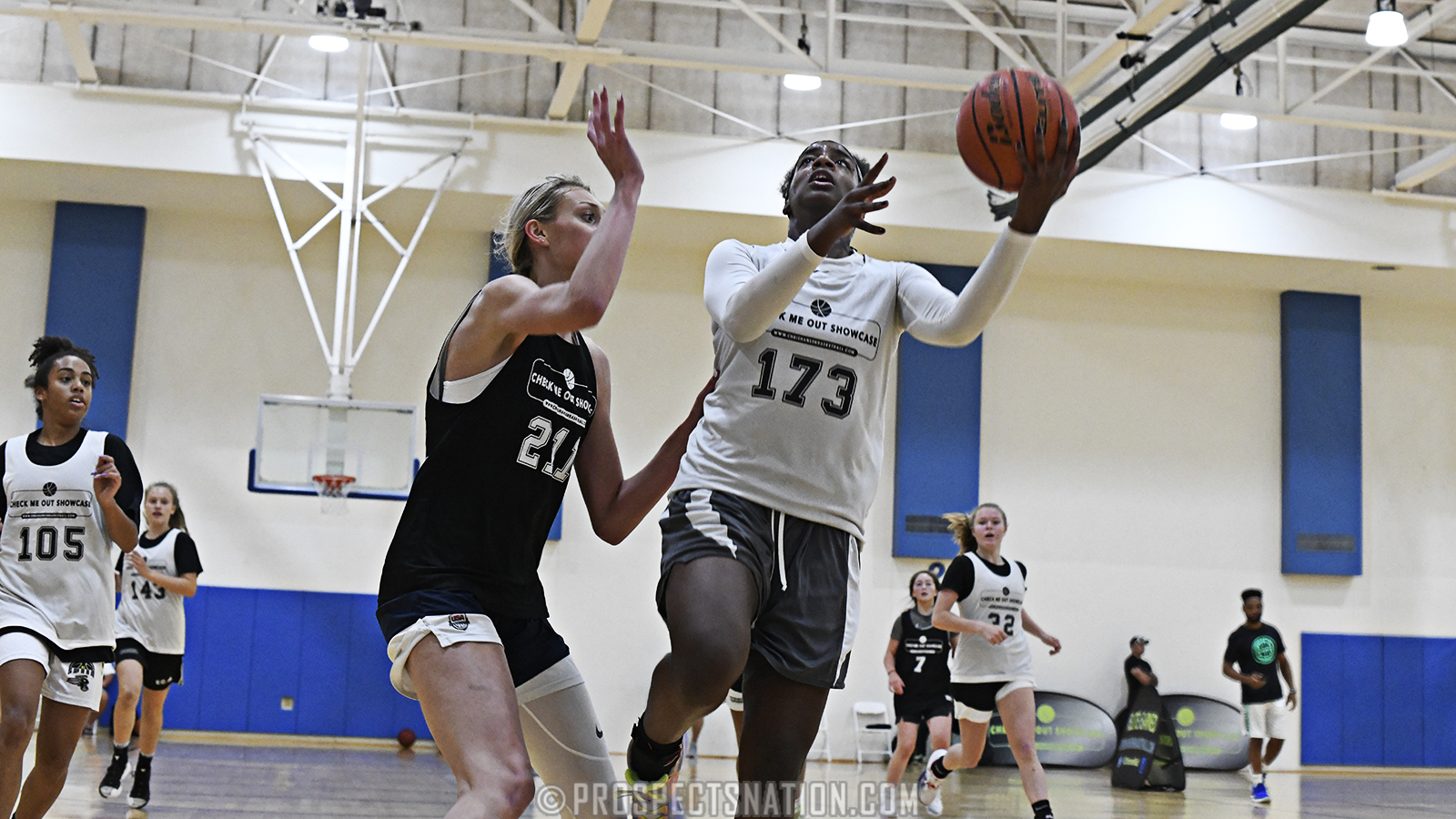 Jordyn Jenkins drives on Cameron Brink at the 2019 Check Me Out Showcase in Seattle. *Photo by Glenn Nelson.
With the release of the latest class of 2020 Elite 150 national rankings, I take a look at five players from various groups inside the 150 who could easily outplay their current overall rankings at the college level.
BrandonClayScouting.com Podcast
For a player ranked inside the Elite 25, Ware committed at the end of the summer with as little fanfare around her decision as any player in the country. Ware, who also excels at volleyball, chose Arizona giving them a legit frontcourt piece to build around for the future. The Wildcats have already had success with Aari McDonald and Cate Reese fulfilling the high expectations when they pulled up to Tucson. If Ware's recovery from a knee injury suffered earlier in the year goes as scheduled, there's no reason why Adia Barnes staff shouldn't expect her to be as good as any frontcourt signee nationwide before she leaves the desert.
Jenkins has been a steady riser in the rankings over the past 12 months. Her play at the Check Me Out Showcase in Seattle cemented her status as an up and coming frontcourt prospect nationally. Jenkins still has plenty of room to develop especially on the offensive end of the floor with polishing her skill set. In that way, her game has still not matched her athletic ability just yet leaving her a world of potential still to achieve.
Bryant's game is tailor made for the Wolfpack system. She can make shots and distribute the ball as well. Can she learn the offensive calls in a timely fashion once she hits campus next summer? If she can, expect Bryant to be a potential major contributor for Wes Moore's group. Bryant's size or lack thereof will produce some doubters but she's an ideal bookend guard to compliment All-ACC post Elissa Cunane for two seasons.
Lauterbach's length and ability to alter shots alone would have put her in the mix for this category. Adding in Kansas State's ability to utilize interior talents such as Bre Lewis and Peyton Williams over the past five seasons only enhances Lauterbach's chances of being a bigtime player in the Big XII before her career comes to a close. The Wildcats will look to increase Lauterbach's core as well as overall strength once she arrives in Manhattan to deal with the elite level of post players she'll face in conference.
There is a lot to like about Sarah Ashlee Barker's toolbox. When healthy, Barker is one of the more athletic guards I've seen in the class to date. She has missed some large chunks of time the past couple of years but possesses all the tools to give Joni Taylor's program an elite level backcourt addition next fall. Barker, who as an extremely high ceiling talent wise, might have as much upside next level on paper as any prospect not currently inside the 100.
Brandon Clay serves as the WNBA Director of Scouting for ProspectsNation.com and owns The JumpOffPlus.com International Report, which is picked up by more than 150 colleges and universities nationwide. He serves as the Executive Camp Director for the Elite Basketball Academy Camps. He serves on the Naismith Trophy Men's / Women's College Player of the Year Academy and is chairman of the HS Boys / Girls Board of Selectors and is on the McDonald's All-American Selection Committee. He also is the publisher of BrandonClayStyle.com.