What We Learned: New Year's Resolution
Posted
9 years 4 months ago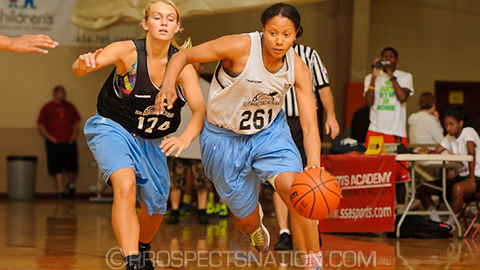 Sadie Edwards was one of the high profile players injured an unable to compete in the New Year's Resolution. *Photo by Ty Freeman.
Tweet
PATTERSON, N.J. -- Three days of quality high school basketball can reveal a lot about players, teams, and the level of competition. With a number of highly regarded prospects competing this weekend in New Jersey we were able to take a lot away from it. Here is a look at some of the major headlines that presented themselves.
Michigan Recruiting The Northeast
Michigan coach Kim Barnes-Arico made the move to Ann-Arbor, Mich., from St. John's University in New York, N.Y., and although she left the confines of the Atlantic Region of the United States, she certainly has found a way to tap into its strong recruiting resources. So far Michigan has done a great job adding talent from the northeast and has a number of prospects in the 2014 and 2015 classes from states such as New York, Pennsylvania, New Jersey, and Maryland on the way.
On display this weekend in New Jersey were two of Michigan's prospects, class of 2014 signee Jillian Dunston of Silver Spring, Md., and class of 2015 verbal commit Lauren "Boogie" Brozoski of Cambria Heights, N.Y., both of whom played multiple games this weekend. In addition to Dunston and Brozoski, Michigan has gone to New Jersey to get 2014 signee Katelynn Flaherty of Point Pleasant, N.J., Pennsylvania to earn a verbal commitment from 2015 prospect Nicole Munger of Doylestown, Pa., and New York for another one of its 2014 signee's Maria Backman of Bronx, N.Y.
Injuries Rule the Day
Despite the high quality of talent on the floor this weekend in New Jersey, there were a number of notable names on the injured reserve list as well. Life Center Academy has been hit the hardest by the injury bug with three highly regarded four-star prospects -- Maryland signee Aja Ellison of Voorhees, N.J., St. John's signee Crystal Simmons of Hamilton, N.J., and ELITE 60 junior Theresa Ekhelar of Woodbridge, N.J. -- out of action.
Another school hit by the injury bug was Blair Academy who just got LITE 60 junior Batouly Camara of New York, N.Y., back from a shoulder injury only to have Connecticut signee Sadie Edwards of Meriden, Conn., go down with an ankle sprain.
Lastly on the injured list there was class of 2015 Penn State verbal commit Jaylen Williams of North Easton, Mass. Follow @KeilMoorePSB

Moore is the Director of Scouting for the JumpOffPlus.com National Scouting Report and international scouting report. He has been a member if the women's basketball community for more than six years as a trainer and evaluator. He can be reached at keil@prospectsnation.com.